América
About. TIBÁ - Tecnología Intuitiva y Bio-Arquitectura. Es un lugar de encuentros, fundado en 1987 por Rose y Johan van Lengen para difundir un conocimiento más profundo de cómo interpretamos nuestro medio ambiente y la realización de una conciencia ambiental más plena.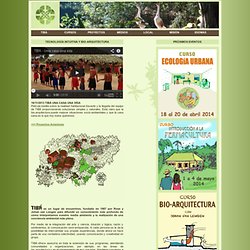 Por medio de la integración del arte y ciencia, intuición y lógica, razón y sentimientos, la comunicación será enriquecida. A cada persona se le da la posibilidad de intercambiar sus propias experiencias, donde ahora se hace parte de una verdadera colectividad, usando comunicación y creatividad en grupo. TIBÁ ofrece asesoría en toda la extensión de sus programas, atendiendo comunidades y organizaciones, por ejemplo, en las áreas de bio-arquitectura y en el planeamiento de eco-posadas. Mantiene convenios e intercambios con instituciones, grupos y personas organizadas con el mismo fin.
Brasil
Casa da Música. The past thirty years have seen frantic attempts by architects to escape the domination of the "shoe-box" concert hall.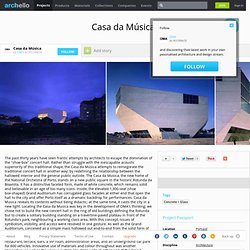 Rather than struggle with the inescapable acoustic superiority of this traditional shape, the Casa da Musica attempts to reinvigorate the traditional concert hall in another way: by redefining the relationship between the hallowed interior and the general public outside. The Casa da Musica, the new home of the National Orchestra of Porto, stands on a new public square in the historic Rotunda da Boavista. It has a distinctive faceted form, made of white concrete, which remains solid and believable in an age of too many icons. Inside, the elevated 1,300-seat (shoe box-shaped) Grand Auditorium has corrugated glass facades at either end that open the hall to the city and offer Porto itself as a dramatic backdrop for performances.
Casa da Musica reveals its contents without being didactic; at the same time, it casts the city in a new light.
Colombianas. Paisajes emergentes. Lab.pro.fab. MOBILIARIO URBANO/ESTACIÓN MULTIUSOS « lab.pro.fab. Venezolanas. Ecuatorianas. Usa. CR.
---