Yemen
Land of the Black Flag - By Casey Coombs. JAAR, Yemen - "Al Qaeda, they don't have a country," my Yemeni security guard said as we passed through the thirteenth and final military checkpoint along a rugged, potholed road leading to the town of Jaar, al Qaeda's newest stronghold in southern Yemen.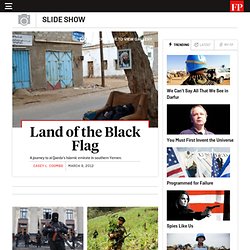 "When they see places quiet from the government -- a lazy government -- they go. " Under the moniker Ansar al-Sharia, or Partisans of Islamic Law, al Qaeda handily seized Jaar in March 2011. They quickly renamed the peaceful hamlet Waqar -- it means "respect" or "majesty," according to one of its new inhabitants -- and instituted a strict Islamic government. Yemen: Al-Qaida's new haven. ABYAN PROVINCE, Yemen — After a brief respite in the air assault on al-Qaida militants in Yemen, Sanaa and Washington's warplanes are again scrambling.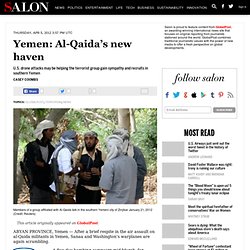 A five-day bombing campaign mid-March, for instance, killed at least 60 militants across central and southern parts of the country. Most of the strikes — launched from warships, jets and drones — occurred in Yemen's Abyan Province, a region on the Gulf of Aden that has become the latest and perhaps most important front in the war against al-Qaida. Ceasefire in Yemen | The Majalla. Where to next for Yemen's Arab Spring?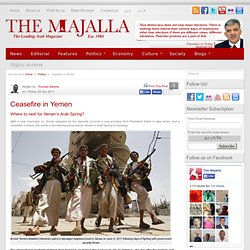 With a new resolution on Yemen adopted by the Security Council, a new promise from President Saleh to step down, and a ceasefire in place, the world is wondering anew where Yemen's Arab Spring is heading. Armed Yemeni dissident tribesmen patrol a damaged neighbourhood in Sanaa on June 9, 2011 following days of fighting with government security forces The international spotlight alighted, then lingered, on Yemen this past week. On 21 October—the day after the capture and then death of Libya's Qadhafi—the UN Security Council adopted a resolution calling on Yemen's Present President Saleh to accept a Gulf Cooperation Council (GCC)-brokered deal to relinquish his 33-year hold on power.
Yemen's State Within a Failed State - Photos By Tom Finn. It was a year ago this week that young men and women first flooded into Yemen's streets en masse to demonstrate against the regime of President Ali Abdullah Saleh.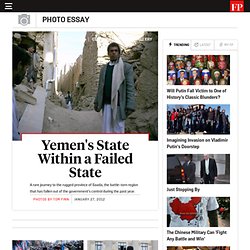 On Jan. 27, 2011, at least 16,000 Yemenis protested in the capital of Sanaa, demanding an end to Saleh's 33-year rule. It has been a strange, bloody, and maddening journey ever since. Saleh for Sale | The Majalla. Between You and Me Now that Saleh has left Yemen, steps must be taken to ensure his extended influence is also removed.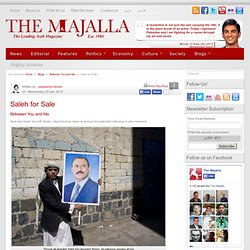 Though Ali Abdullah Saleh has departed Yemen, his influence remains strong. What's next for Yemen? | The Majalla. Three Scenarios for Yemen's Future As the country teeters on the brink of potential civil war, The Majalla proposes three possible scenarios for Yemen's near future.
Yemen has endured the least productive uprising of a momentous year in the Arab World, and now is consumed by divisions. Examined here are the stress points of a divided nation, specifically looking at where the cracks will form should President Saleh cling to power, become the victim of a coup, or instigate transition. Yemeni President Ali Abdullah Saleh addresses supporters in the southern city of Aden 11 September 1999. With the world's attention focused on Tunisia, Syria, and Iran, developments in Yemen have made few headlines recently. A Reluctant Leader | The Majalla. Vice President of Yemen, Abd Rabbu Mansour Al-Hadi Yemen's Vice President Abd Rabbu Mansour Al-Hadi is the interim government's consensus candidate for the upcoming presidential elections.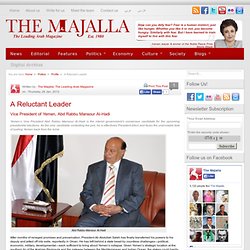 As the only candidate contesting the poll, he is effectively President-Elect and faces the unenviable task of pulling Yemen back from the brink. Yemen's Turn | The Majalla. With presidential elections due in February, what lies ahead for Yemen?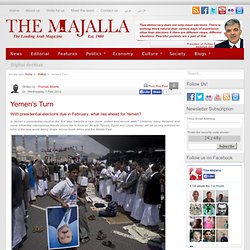 Is Yemen's presidential election the first step towards a new, more unified and secure state? Certainly many Yemenis and some influential international friends would like to think so. As with Tunisia, Egypt and Libya, Yemen will be closely watched for hints of the new world taking shape across North Africa and the Middle East. A supporter of Ali Abdullah Saleh unwittingly carries the out-going President's portrait upside-down Yemen will hold a presidential election on 21 February. Freezing Saleh's Power | The Majalla. In a December speech at Chatham House, Nobel Laureate Tawakul Karman addressed the London public.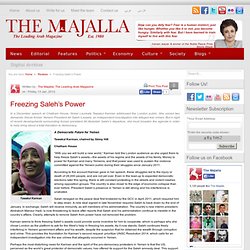 She voiced two demands: freeze former Yemeni President Ali Saleh's assets, an independent investigation into alleged war crimes. But in light of recent developments surrounding former president Ali Abdullah Saleh's departure, she must broaden the agenda in order to help bring about a total transition to democracy. A Nobel Prize for the Yemeni People. Yemeni human rights activist Tawakkul Karman was announced last night as one of the winners of the Nobel Peace Prize.
For once, the Nobel committee really got it right. Karman has been a tireless, creative and effective advocate for human rights, media freedoms, and democracy in Yemen for years. And Yemen's struggle for change has been largely forgotten by the world in spite of its almost unbelievable resilience in the face of dim prospects for success. She represents the very best of the new Arab public. Now let us hope that the award sparks the international community to refocus on Yemen's forgotten revolution and push hard for the political transition which it so desperately needs and deserves.
Fighter at a Neglected Front | The Majalla. Tawakkul Karman, Yemeni Activist and Nobel Prize Winner Tawakkul Karman, a Yemeni journalist and activist, is one of three women awarded the 2011 Nobel Peace Prize. She becomes the first Arab woman to win the prize. The End(s) of Stability. In September 2010, Saudi Arabia marked the anniversary of the 1962 Republican Revolution in Yemen by funding lavish parties in the country's capital.
Large numbers of Yemenis thronged the Saudi Arabian embassy in Sana'a to collect the cash dispensed to commemorate this momentous occasion. Such a degree of profligateness in Saudi foreign policy is hardly new, but the pretence of solidarity demonstrated in their celebration of the Republican Revolution is particularly perplexing—even by Saudi standards of prevarication. On 26 September 1962, a small group of army officers in North Yemen ended the thousand-year-old Imamate overnight and established the Yemen Arab Republic (YAR). The Republican Revolution, supported by Nasserite Egypt, sparked a number of significant internal upheavals in Saudi Arabia. 90 dead as suicide bomber strikes military parade in Yemen capital Sanaa.
Monday 21 May 2012 22.12 At least 90 people are now known to have died in this morning's suicide bomb attack in the Yemeni capital, Sanaa. A police source said a man in a soldier's uniform blew himself up at a military parade rehearsal. Hundreds of injured are being treated in seven hospitals across Sanaa. All the dead and injured are soldiers. Let's Talk about Yemen. The Carnegie Endowment for International Peace dissects the economic challenges facing Yemen, and finds that political insecurity is the root cause of economic frailty. A Yemeni soldier shades himself from the sun as anti-government protesters perform the weekly Friday prayers during a rally the the capital in Sanaa, on April 13, 2012 Yemen's weaknesses and strengthens are the focus of a recent report by the Carnegie Endowment. On one side, the author stresses the country's natural resources, with oil and natural gas on the frontline. On the other, the report stresses Yemen's incapability of managing these same resources (and many others) due to both its political structure and insecurity in the region more generally.
The Cultural Roots Of Kidnapping in Yemen. Students perform morning exercises before attending a lecture on the impact of terrorism in Sanaa. (photo by REUTERS/Khaled Abdullah) Author: Al-Hayat (Pan Arab) Posted May 15, 2012 March 14 was an ill-fated day for Zu Yazen Sadeq Nasser, a 13-year-old Yemeni sixth grader.
Yemen's Hijacked Revolution. What Next for Yemen? Patriotic Criticism. Yemen Bomb Plot Thwarted. The struggle for security and against terrorism in Yemen: in whose interests? Signature Strikes in Yemen | Waq al-Waq. Yémen - Yemen.
---