Libya
People Power 2.0. The force of laughter: Graffiti on a wall in Tripoli represents the Libyan leader, Colonel Qaddafi, as a fleeing rat.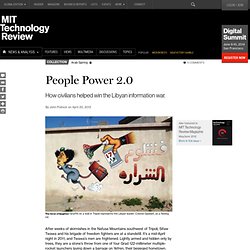 After weeks of skirmishes in the Nafusa Mountains southwest of Tripoli, Sifaw Twawa and his brigade of freedom fighters are at a standstill. It's a mid-April night in 2011, and Twawa's men are frightened. Lightly armed and hidden only by trees, they are a stone's throw from one of four Grad 122-millimeter multiple-rocket launchers laying down a barrage on Yefren, their besieged hometown. These weapons can fire up to 40 unguided rockets in 20 seconds. Each round carries a high-­explosive fragmentation warhead weighing 40 pounds. "Leaving Lockerbie Behind" by Jason Pack. Exit from comment view mode.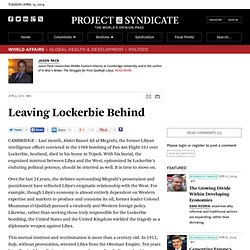 Click to hide this space CAMBRIDGE – Last month, Abdel Basset Ali al-Megrahi, the former Libyan intelligence officer convicted in the 1988 bombing of Pan Am Flight 103 over Lockerbie, Scotland, died in his home in Tripoli. Libyan resilience on a hot day in June. While Libyans are quietly proving that they can forgive, forget and move forward together, the current political and military powers in Libya seem intent on proving the opposite to the rest of the world.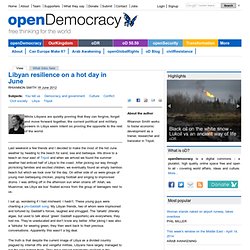 Last weekend a few friends and I decided to make the most of the hot June weather by heading to the beach for sand, sea and barbeque. We drove to a beach an hour east of Tripoli and when we arrived we found the summer weather had enticed half of Libya to the coast. After picking our way through picnicking families and excited children, we eventually found an empty bamboo beach hut which we took over for the day. Jamming Tripoli: Inside Moammar Gadhafi's Secret Surveillance Network | Threat Level. The Internet enabled surveillance on a scale that would have been unimaginable with the old tools of phone taps and informants.Photo: Michael Christopher Brown He once was known as al-Jamil—the Handsome One—for his chiseled features and dark curls.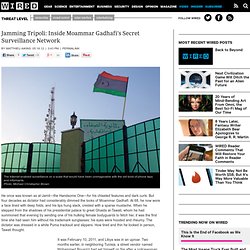 But four decades as dictator had considerably dimmed the looks of Moammar Gadhafi. At 68, he now wore a face lined with deep folds, and his lips hung slack, crested with a sparse mustache. When he stepped from the shadows of his presidential palace to greet Ghaida al-Tawati, whom he had summoned that evening by sending one of his hulking female bodyguards to fetch her, it was the first time she had seen him without his trademark sunglasses; his eyes were hooded and rheumy. The dictator was dressed in a white Puma tracksuit and slippers. Has El-Sebsi's interim government hijacked Tunisia's Jasmine Revolution? | The Majalla. Has El-Sebsi's interim government hijacked Tunisia's Jasmine Revolution?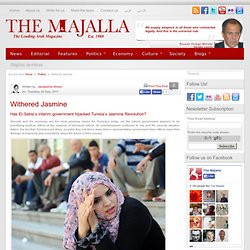 Security and the economy are the most pressing issues for Tunisians today, yet the interim government appears to be prioritizing political reform at the expense of structural reform. As unemployment continues to rise and the security situation falters, the fact that Tunisians are three, possibly four, elections away from a representative government does little to ease their feelings of insecurity and uncertainty about the future of their country. Tunisian youths sit on the steps of a theatre as they pass time while awaiting employment opportunities The residents of Mohammed Bouazizi's hometown, Sidi Bouzid, are not pleased. Located in one of the poorest parts of Tunisia, they are raising their voices in almost daily demonstrations against what has become—for them—another disappointing government that ignores their ongoing socio-economic challenges while pursuing its own elitist political agenda.
Legitimizing Impunity in Libya. On : Tuesday, 8 May, 2012 Hearts and Minds Libya has enacted a new law that effectively grants impunity to war crimes committed during the civil war.
Though it is intended as a measure that will at the same time force the country to deal with its other numerous challenges, it appears to be a tactical move to appease the worries of militias who are concerned that they will lose everything they have gained if they lay down their weapons. Zuwarah fighters inspect their ammunitions on April 4, 2012 The transitional government in Libya has faced a number of gargantuan challenges since it took power last year.
Behind Qatar's Intervention In Libya. Among the many countries that supported Libya's rebels in their fight to unseat Muammar al-Qaddafi, Qatar was a particularly enthusiastic partner.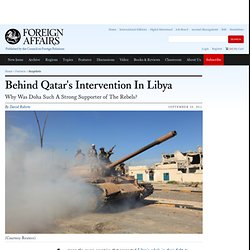 The Arab emirate of just 1.6 million people, rich in oil and gas, was the first Arab country to recognize the rebel government, the Transitional National Council. It sold Libyan oil on behalf of the rebels to avoid sanctions and supplied them with gas, diesel, and millions of dollars in aid. And Al Jazeera, the satellite broadcaster based in Doha, covered the struggle of the Libyan rebels in even greater detail and depth than it has the Arab world's other revolutionary movements.
On the surface, such actions appear in line with Qatar's recent behavior. Since the mid-1990s, Qatar has pursued an activist foreign policy, using its affluence, unthreatening military position, and skills as a mediator to interject itself in conflicts around the Middle East and beyond. How Qaddafi Fooled Libya and the World - Max Fisher - International. Though he sold himself as either a costumed buffoon, a wild-eyed terrorist, or a wary reformer, Qaddafi's rule from his unlikely rise to his inevitable fall was one of the most cunning and improbable feats of modern dictatorships Qaddafi speaks to the summit meeting of the nonaligned nations in Sri Lanka, August 1976 / AP In the first few months of 1969, Libya was so filled with rumors that the country's senior military leadership would oust the king in a bloodless coup that, when the coup actually happened on September 1, nobody bothered to check who had led it.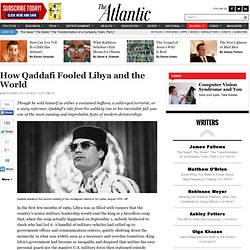 A handful of military vehicles had rolled up to government offices and communication centers, quietly shutting down the monarchy in what was widely seen as a necessary and overdue transition. King Idris's government had become so incapable and despised that neither his own personal guard nor the massive U.S. military force then stationed outside Tripoli intervened. The Death of the Qaddafi Generation. In March 2008, Muammar al-Qaddafi took the podium at an Arab League summit in Damascus to deliver one of his famously long-winded and rambling speeches.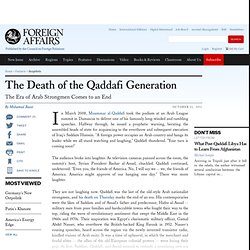 Halfway through, he issued a prophetic warning, berating the assembled heads of state for acquiescing to the overthrow and subsequent execution of Iraq's Saddam Hussein. "A foreign power occupies an Arab country and hangs its leader while we all stand watching and laughing," Qaddafi thundered. "Your turn is coming soon! " What Post-Qaddafi Libya Has to Learn From Afghanistan. Sounds of celebration echoed from several quarters yesterday after Libya's interim government announced the death of former leader Muammar al-Qaddafi.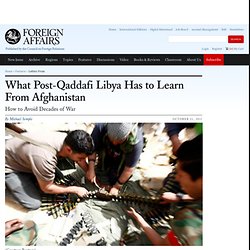 The European Union, members of which led the NATO campaign that contributed to Qaddafi's ouster, said that his death marked "the end of an era of despotism. " U.S. President Barack Obama said that it brought to a close a "long and painful chapter for the people of Libya. " Full: Hisham Matar on Libya's awakening. One morning in late September, as Libyan rebels launched their final advance on Sirte, Muammar Qaddafi's hometown, Hisham Matar explained to a small, rapt audience at the century-old Chicago Club why the removal of repressive long-time dictators, though great, had not been the most meaningful achievement of the Arab Spring. "Our collective imagination - a whole array of expectations about our governments, our institutions, our dreams - has just shifted," he said. "The horizon has moved much further than even the most audacious of us would have suggested.
" Matar speaks softly, but with confidence and precision. "You can see it on people's bodies, in their eyes and their faces, hear it in their voices," he adds during an interview in the lobby of his downtown hotel later that morning. Threatened Freedom | The Majalla. Weapons circulate easily and militias refuse to disarm.
Is the new government doing enough to improve security in Libya? The newfound freedom of which Libyans are justly proud is gradually giving way to insecurity and disorder. The inability of the new government to disarm militias and stem the circulation of weapons, including missiles and other heavy arms, is causing alarm in Libya and abroad. Libya: How They Did It by Nicolas Pelham. How To Move On? | The Majalla. Hearts and Minds Following the extrajudicial killing of Muammar Qadhafi, his son and once heir apparent to the Colonel, has established indirect contact with the International Criminal Court suggesting he is willing to surrender to the UN body only.
However, Libyan officials are contesting these attempts arguing that Saif al Islam, who is wanted for crimes against humanity, must face justice in Libya. Rumors are circulating that Saif Al-Islam has made contact with the ICC. Let Tripoli Try Saif al-Islam. A moment of sudden, bloody vengeance ensured that Muammar al-Qaddafi, Libya's longtime dictator, would never face justice in a court. But his son Saif al-Islam has been captured, and will face trial. The only question is where: in Libya, or at the International Criminal Court in The Hague.
The ICC established its claim to hold the trial when it issued arrest warrants in June against Colonel Qaddafi, Saif al-Islam, and the former Libyan intelligence chief Abdullah al-Senussi (who remains at large). The Bitter Harvest | The Majalla. Libya After the Liberation: The Wounded Are Everywhere Muammar Qadhafi's authoritarian rule of Libya ended amidst catastrophic civil war, leaving grief and destruction in its wake. However, there is some comfort for the Libyan people in the fact that—as well as being rid of their long-standing and malignant leader—the aftermath of the recent battles will carry a different tone to the violence of years gone by. Children have not been spared the physical and emotional trauma of civil war in Libya To read the article in the original Arabic, please click hereDuring the former regime, Libyans used to retell stories of soldiers who were physically wounded during the Chadian-Libyan conflict and who were not allowed to return to their families.
It is said that those soldiers were disposed of in the sea, because the Qadhafi regime did not want the people to be reminded of the conflict. 'Cleansed' Libyan town spills its terrible secrets. Muammar Qaddafi's Death and Legacy. The Case for Libya's Future | The Majalla. Top Ten Myths about the Libya War. Is the U.S. Really Responsible for Post-War Libya? - Joshua Foust - International. Was the Libyan Intervention Really an Intervention? - Anne-Marie Slaughter - International. Representing a New Libya on K Street - Chris Frates - Politics. The Enigmatic Reformer | The Majalla. The Accomplice | Politics. Gaddafi's Defenders Face Uncertain Future Under Rebel Control Of Tripoli‬ Tiny-burkina-faso-confronts-gadhafis. Former Qaddafi Mercenaries Describe Fighting in Libyan War - Peter Gwin - International. Rebuilding the Ruins of Qaddafi - Barak Barfi. Slow to Change | The Majalla.
A New Hope? | The Majalla. "Libya's Transition to Transition" by Barak Barfi. Liberalizing Libya. "Iraqi Libya" by Mohammad-Mahmoud O Mohamedou. Women: The Libyan Rebellion's Secret Weapon | People & Places. Libya's New Government Unable to Control Militias. Separation Anxiety. Convulsions in Libya. A Road to Perdition. A 'Hung Democracy' in Libya. In Libya, a Trial's Delays Reflect Judicial Disarray. Catching the Butcher. Italy seizes billions in Qaddafi assets. Libya's Un-Silent Spring. After War, Elections. Tunisia, Egypt Elections Teach Libyan Liberals to Coordinate. Why The Islamists Lost in Libya. Libya, One Year Later. Libya's Militia Menace. Women: The Libyan Rebellion's Secret Weapon | People & Places. Good Fences Make Good Neighbors | The Majalla. Libya shockwaves felt in Mali? "NATO's Libyan Lessons" by John D Podesta.
Libya's De-Professionalized Army Needs Help. Libya's Shadow.
---