Arab Revolutions
Le_Nouvel_Ordre_du_Monde_Arabe. Al Jazeera and Others Visualizing Twitter and Unrest. Qatar-based Al Jazeera may be completely responsible for the lack of productivity amongst university students, in many different disciplines, all over the world.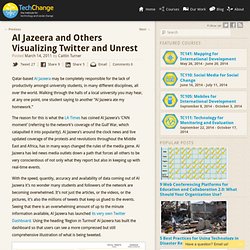 Walking through the halls of a local university you may hear, at any one point, one student saying to another "Al Jazeera ate my homework." The reason for this is what the LA Times has coined Al Jazeera's 'CNN moment' (referring to the network's coverage of the Gulf War, which catapulted it into popularity). Al Jazeera's around the clock news and live updated coverage of the protests and revolutions throughout the Middle East and Africa, has in many ways changed the rules of the media game. Al Jazeera has led news media outlets down a path that forces all others to be very conscientious of not only what they report but also in keeping up with real-time events.
Ethan Zuckerman What if Tunisia had a revolution, but nobody watched? On December 17, a 26 year old Tunisian man named Mohamed Bouazizi reached the end of his rope.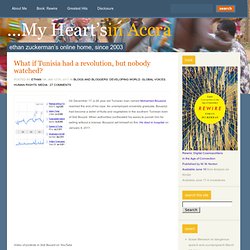 An unemployed university graduate, Bouazizi had become a seller of fruits and vegetables in the southern Tunisian town of Sidi Bouzid. When authorities confiscated his wares to punish him for selling without a license, Bouazizi set himself on fire. He died in hospital on January 4, 2011. Tunisia and Egypt promised G8 help on path to democracy | World news. G8 leaders has promised $20bn (£12bn) of loans and aid to Tunisia and Egypt over the next two years and suggested more will be available if the countries continue on the path to democracy.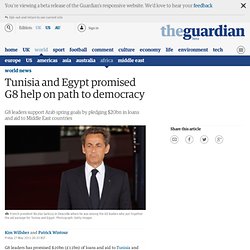 David Cameron revealed he had intervened to prevent the package from being presented as more generous than it was in reality, suggesting that some at the G8 had wanted to present it as worth as much $40bn. "I argued through my officials that we should stick to the lower figure," said the prime minister, warning that if the higher figure had been used, "people go through it, realise that it falls apart, and that is actually very damaging to the whole process, which is why the lower figure is in there. " The $20bn is being provided by multilateral institutions such as the World Bank, the IMF and, for the first time, the European Bank for Reconstruction and Development (EBRD).
Egypt. The Online Islamic Academy. Twitter network of Arab protests - interactive map | World news. Tahrir Squared | Multiplying the Tahir Square effect. Tahrir Squared (tahrirsquared) Middle East Protest Tweets Mapped. Arab spring: an interactive timeline of Middle East protests | World news. I Love The Warm Colors on This Map....The Redder They Are The Better [Middle East Revolution Map] L'exil des réfugiés de Libye raconté par les données. Près d'un demi-million de réfugiés de toutes nationalités ont quitté la Libye depuis février, principalement vers la Tunisie et l'Égypte.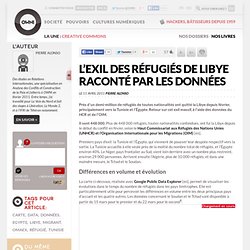 Retour sur cet exil massif, à l'aide des données du HCR et de l'OIM. Il sont 448 000. Plus de 448 000 réfugiés, toutes nationalités confondues, ont fui la Libye depuis le début du conflit en févier, selon le Haut Commissariat aux Réfugiés des Nations Unies (UNHCR) et l'Organisation Internationale pour les Migrations (OIM) [en]. Premiers pays d'exil: la Tunisie et l'Égypte, qui viennent de pousser leur despote respectif vers la sortie. Amnésie européenne » Article » OWNI, Digital Journalism. Les réactions inquiètes des Européens aux révolutions en cours de l'autre côté de la Méditerranée ont parfois des relents d'islamophobie.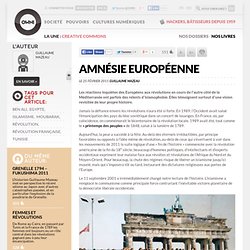 Elles témoignent surtout d'une vision revisitée de leur propre histoire. Jamais la défiance envers les révolutions n'aura été si forte. Moyen-Orient : la note que le gouvernement a ignorée. Il y a tout juste six ans, le Centre d'analyse et de prévision (CAP) du ministère des Affaires étrangères rédigeait une note qui annonçait largement les événements actuels dans le monde arabe.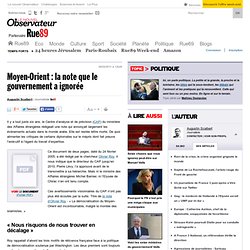 Elle est restée lettre morte. De quoi alimenter les critiques de certains diplomates sur le mépris dont fait preuve l'exécutif à l'égard du travail d'expertise. The First WikiLeaks Revolution? | WikiLeaked. Tunisians didn't need any more reasons to protest when they took to the streets these past weeks -- food prices were rising, corruption was rampant, and unemployment was staggering. But we might also count Tunisia as the first time that WikiLeaks pushed people over the brink. These protests are also about the country's utter lack of freedom of expression -- including when it comes to WikiLeaks. Tunisia's government doesn't exactly get a flattering portrayal in the leaked State Department cables. The country's ruling family is described as "The Family" -- a mafia-esque elite who have their hands in every cookie jar in the entire economy. "President Ben Ali is aging, his regime is sclerotic and there is no clear successor," a June 2009 cable reads. Call to arms. CAIRO - When Egyptian president Hosni Mubarak resigned after 18 days of public demonstrations here last winter, Tahrir Square instantly took its place in the world's iconography of peaceful protest.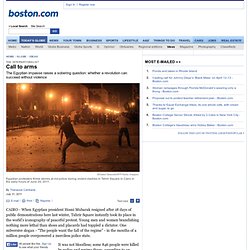 Young men and women brandishing nothing more lethal than shoes and placards had toppled a dictator. One subversive slogan - "The people want the fall of the regime" - in the mouths of a million people overpowered a merciless police state. It was not bloodless; some 846 people were killed by police and regime thugs, according to an Egyptian government inquiry.
But for the protesters, and for people watching around the world, Egypt's uprising appeared a heartening entry in the history of successful nonviolent movements stretching from Gandhi and Martin Luther King to the "velvet revolutions" that unraveled the Iron Curtain in 1989. Révolutions, or noir : la fin du monde ? Accueil | Articles | Les Rédacteurs | Les Rapports spéciaux | Aide | La Chronique Agora est mondiale Que pensez-vous de La Chronique ?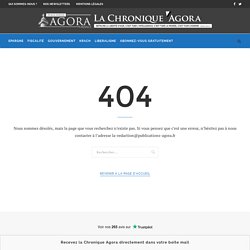 Faites-nous part de votre avis en remplissant ce questionnaire . Révolutions, or noir : la fin du monde ? Par Françoise Garteiser Samedi 26 Février 2011▪ Je voulais vous parler Libye, cher lecteur -- révolutions, pétrole, changements de régime et Grande Correction... et puis j'ai trouvé quelqu'un qui s'en est chargé mieux que moi : Jean-Claude Périvier. Don't credit Bush for Arab Spring. U.S. Mideast policy in a single phrase - Glenn Greenwald. The CIA's spokesman at The Washington Post, columnist David Ignatius, recently announced that the glorifying term "Arab Spring" is no longer being used by senior intelligence officials to describe democratic revolutions in the Middle East.
It has been replaced by the more "neutral" term "Arab transition," which, as Ignatius put it, "conveys the essential truth that nobody can predict just where this upheaval is heading." Note that what was until very recently celebrated in American media circles as a joyous, inspirational awakening of "democratic birth and freedom" has now been downgraded to an "upheaval" whose outcome may be odious and threatening.
That's not surprising. Trois révolutions arabes, trois flops français » Article » OWNI, Digital Journalism. Visite de Kadhafi à Paris en 2007, réaction tiède au changement de régime et tribulations de Michèle Alliot-Marie en Tunisie… Depuis 2007, la France s'est ringardisée dans le monde arabe. Comment en est-on arrivé là ? « La France n'a rien vu venir », « on pensait que Ben Ali tiendrait », « on n'a toujours rien compris de ce qui s'est passé en Tunisie ». Deux mois après la chute du président tunisien Zine el Abidine Ben Ali, on se remet doucement, dans les allées du pouvoir français, de la surprise causée par la révolution tunisienne.
Et le manque de discernement de l'ambassadeur de France alors en poste à Tunis, Pierre Menat, qui prédisait que Ben Ali pouvait reprendre la main quelques heures avant sa fuite en Arabie Saoudite, a bon dos. Wadah Khanfar: A historic moment in the Arab world. Islam et démocratie : la Turquie peut-elle être un modèle ? Has the Arab Spring Stalled? Autocrats Gain Ground in Middle East - SPIEGEL ONLINE - News - International. According to the "Fundamental Law of Revolution," regimes fall when those at the bottom are fed up with the status quo and those at the top are no longer capable of remaining in power. That was the experience of Vladimir Ilyich Lenin. But difficulties arise when there is one thing those at the top are still quite capable of doing, namely deploying tanks to deal with their opponents -- as is the case in Syria and Libya. Last week, the Syrian regime sent heavy artillery into the rebel city of Dara'a, while its forces attacked protesting students with clubs in the previously calm city of Aleppo, in Banias on the Mediterranean coast and in the northwestern Syrian town of Homs.
According to Amnesty International, by last Tuesday 580 Syrians had died in the unrest. The United Nations human rights office puts the number of deaths at up to 850. Egyptian Activists Stage 'Second Revolution' Rally | North Africa. Thousands of Egyptians are gathered on Cairo's Tahrir Square for a so-called "second revolution" just three months following President Hosni Mubarak's ouster. The activists are demanding the ruling military government quicken the pace of democratic reforms, including rooting out official corruption. They say military-leaders have included too many members of Mubarak's ruling party in the reform process. However, Egypt's best organized political force has criticized the demonstration. The Muslim Brotherhood cautioned protest organizers against "driving a wedge" between the military and the people.
Social Networks, Social Revolution. and Anonymous (Al Jazeera Empire) Livni's guidance on Arab democracy. I don't have a string of letters following my name, and so I am not qualified to make clinical judgements. But it seems to me that for a brief period, at least, following the attacks of September 11, 2001, Israeli Prime Minister Ariel Sharon went crazy. On October 4, 2001, Sharon made a speech - more of a rant, really - which literally shocked official Washington. He attacked US efforts to generate support among Arab countries for the coming war on terror. "Do not try to appease the Arabs at our expense," he said.
Unrest in the Arab world. Arab Revolution - Economist Shoe-thrower's Index and Ranking. AL-BAB: an open door to the Arab world. The Arab spring: protest, power, prospect. Les femmes, actrices essentielles dans les révolutions arabes. Arab insurgencies, women in transition. "The rising of the women means the rising of us all" The women of Benghazi.
---
p45c4l Apr 12 2013

I feel like cleaning up around here. Any suggestions?
---