AR Startups
In The Future, We Won't Even Know How To Open A Cereal Box Without A Mobile Phone
The Mobile World Congress kicks off next week in Barcelona and sure to be a relevant part of that week-long conversation will be Augmented Reality. With several companies bringing new AR services to the market, Metaio sent out a press release this morning with yet another demo illustrating the value of the concept. Hot on the heels of their recent campaign with USA Today, this little demo video surfaces to show how "markerless computer vision" can assist with everyday activities. I have to tell you, I battle with our office printer weekly, and I am waiting for an AR demo to surface that puts a big bull's-eye on it so I can go all "Office Space" on that thing. Metaio, can you please hook us up with one?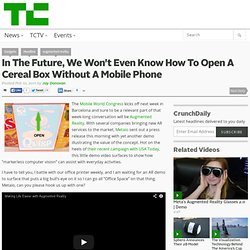 Ray-Ban's Virtual Glasses Fitting Shop Window - Augmented By Activ'screen and Total Immersion
Super Bowl augmented reality from USA TODAY
Layar Player lets others embed augmented reality in iPhone apps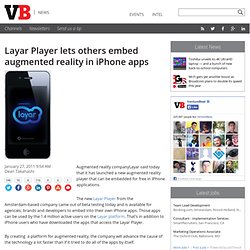 Augmented reality companyLayar said today that it has launched a new augmented reality player that can be embedded for free in iPhone applications. The new Layar Player from the Amsterdam-based company came out of beta testing today and is available for agencies, brands and developers to embed into their own iPhone apps. Those apps can be used by the 1.4 million active users on the Layar platform. That's in addition to iPhone users who have downloaded the apps that access the Layar Player. By creating a platform for augmented reality, the company will advance the cause of the technology a lot faster than if it tried to do all of the apps by itself. Augmented reality offerings like Layar can add layers of data and information on top of what you're pointing your smatphone's camera at.
Best iPhone Apps: Top Augmented Reality apps of 2010 by apurva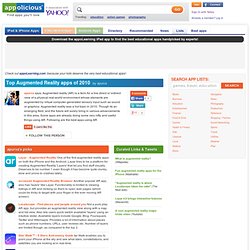 Check out appoLearning.com, because your kids deserve the very best educational apps! apurva says: Augmented reality (AR) is a term for a live direct or indirect view of a physical real-world environment whose elements are augmented by virtual computer-generated sensory input such as sound or graphics. Augmented reality was a hot topic in 2010. Though its an emerging field, and the future will surely bring in various advancements in this area, Some apps are already doing some very nifty and useful things using AR.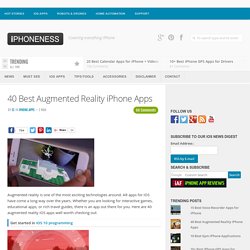 Augmented reality is one of the most exciting technologies around. If you have watched some of those modern Hollywood movies, you have probably seen how our world would look like 20-30 years from now. Who knows when augmented applications become mainstream but they are already making their way to the iPhone platform.
37 Best Augmented Reality iPhone Applications
Home » Campaigns, News, TI, web Expresso Design a digital creation agency based in Italy have put together the ultimate experience to enable everyone with a web camera to experience a high speed light cycle battle. The campaign is of course based around the Disney blockbuster Tron Legacy. The demo features a rather snazzy augmented reality aspect that lets you experience scenes from the movie. As usual, printing a marker and holding it up to the webcam will result it an engaging AR experience. Unusually however the Tron campaign supports multiple markers.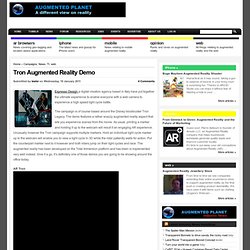 Awesome Tron Augmented Reality Demo
Word Lens - Amazing language translator
Total Immersion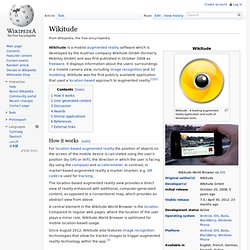 Wikitude
Wikitude is a mobile augmented reality software which is developed by the Austrian company Wikitude GmbH (formerly Mobilizy GmbH) and was first published in October 2008 as freeware. It displays information about the users' surroundings in a mobile camera view, including image recognition and 3d modeling. Wikitude was the first publicly available application that used a location-based approach to augmented reality.[1][2] How it works[edit] For location-based augmented reality the position of objects on the screen of the mobile device is calculated using the user's position (by GPS or Wifi), the direction in which the user is facing (by using the compass) and accelerometer.
Lonely Planet Launches Augmented Reality Apps
Metaio
visualcard.me | Bringing Augmented Reality to Business Cards
Augmented Reality Business Card
Augmented Reality Business Card