Apps
Available on the App Store Diet Coda takes everything we've ever learned about world-class web code editing , and wraps it up to-go. It's packed with features, bathed in fun, ready to work. So go on, take a vacation and only pack your iPad — you'll get your job done, quickly and delightfully.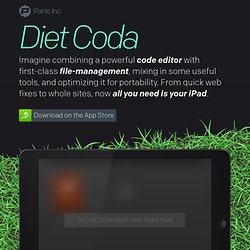 Diet Coda
Home | Apps for Good
iOS 5: Newsstand — Apple News, Tips and Reviews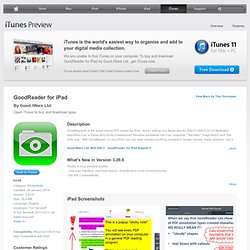 GoodReader for iPad for iPad on the iTunes App Store
Description GoodReader® is the super-robust PDF reader for iPad - the #1 selling non-Apple app for iPad in USA in 2010! Mashable describes it as "a Swiss Army knife of awesome!" Reviews worldwide hail it as "essential," "the best," "magnificent" and "the killer app". With GoodReader on your iPad, you can read virtually anything, anywhere: books, movies, maps, pictures. Use it once and you'll be hooked.
Dragon Mobile Apps - Dragon Dictation, Dragon Search, Dragon for E-Mail
Documents To Go 3.0 Main App - Android Market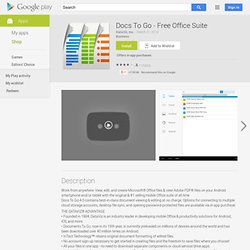 FREE! View native Microsoft Word, Excel and PowerPoint files & attachments with Documents To Go Main App. Supported file formats include .doc,. docx,. xls,. xlsx,. ppt,. pptx.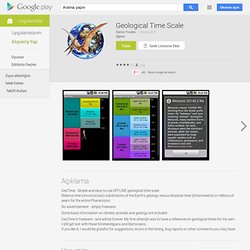 Geological Time Scale - Android Market
GeoTime - Simple and easy to use OFFLINE geological time scale. Relative time (chronostratic) subdivisions of the Earth's geology versus absolute time (chronometric) in millions of years for the entire Phanerozoic. No advertisement - simply freeware. Some basic information on climate, animals and geology are included. GeoTime is freeware - and will be forever.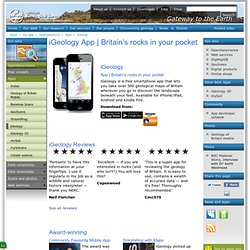 What is iGeology? iGeology is a free smartphone App that lets you take a geological map of Britain with you wherever you go to help you learn about the rocks beneath your feet. And with the phone's GPS, you'll know exactly where you are. Free iGeology download iPhone or iPad from iTunes or the App Store Android from Google Play
iGeology App | Britain's rocks in your pocket | British Geological Survey (BGS)