Apps
Available on the App Store Diet Coda takes everything we've ever learned about world-class web code editing, and wraps it up to-go. It's packed with features, bathed in fun, ready to work. So go on, take a vacation and only pack your iPad — you'll get your job done, quickly and delightfully.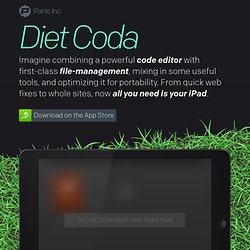 Diet Coda
Home | Apps for Good
Along with many other changes, iOS 5 ushers in Newsstand, Apple's centralized hub for dealing with subscription-based digital newspapers and magazines. Many existing iOS apps already support Newsstand, so you may already have noticed it at work. The first thing you'll notice about Newsstand is that it takes your iOS subscription apps and removes their icons from your home screen — instead, Newsstand compatible apps appear as issues lined up on a shelf when you tap open the Newsstand app itself. Each issue will display the most recently released cover, so you can tell at a glance if there's something new.
iOS 5: Newsstand — Apple News, Tips and Reviews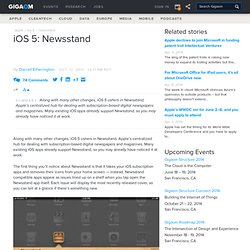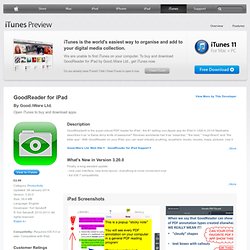 GoodReader for iPad for iPad on the iTunes App Store
Description GoodReader® is the super-robust PDF reader for iPad - the #1 selling non-Apple app for iPad in USA in 2010! Mashable describes it as "a Swiss Army knife of awesome!" Reviews worldwide hail it as "essential," "the best," "magnificent" and "the killer app". With GoodReader on your iPad, you can read virtually anything, anywhere: books, movies, maps, pictures. Use it once and you'll be hooked.
Documents To Go 3.0 Main App - Android Market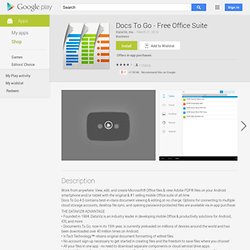 The world's No. 1 mobile office today!# Installed on over 120 million devices in 205 countries# Over 40,000 registrations per day# No. 1 app in Google Play Business category OfficeSuite is a universal document viewer for Android enabling you to open, view, print and share native Microsoft DOC, DOCX, DOCM, RTF, TXT, LOG, ODT, XLS, XLSX, XLSM, CSV, ODS, PPT, PPTX, PPS, PPSX, PPTM, PPSM, ODP, EML, PDF and ZIP files and attachments ANYWHERE, ANYTIME!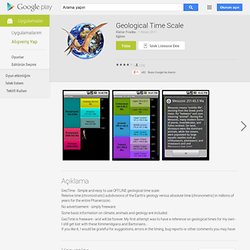 Geological Time Scale - Android Market
GeoTime - Simple and easy to use OFFLINE geological time scale. Relative time (chronostratic) subdivisions of the Earth's geology versus absolute time (chronometric) in millions of years for the entire Phanerozoic. No advertisement - simply freeware. Some basic information on climate, animals and geology are included. GeoTime is freeware - and will be forever.
iGeology App | Britain's rocks in your pocket | British Geological Survey (BGS)
App Inventor for Android lets people create apps for Android phones by manipulating programming blocks in a web browser. Since July 2010, Google has run App Inventor as a large-scale public web service as a part of its Google Labs suite. With the wind down of Google Labs, as of December 31, 2011, Google ended support of App Inventor. In order to ensure the future success of App Inventor, Google Research has funded the establishment of the Center for Mobile Learning at the MIT Media Lab.
What is EduApps? EduApps consists of eight useful software collections that are free for you to download and use. The EduApps Family covers a range of user requirements to support teaching and learning, so just choose the one that's right for you. AccessApps, provides a range of solutions to support writing, reading and planning, as well as sensory, cognitive and physical difficulties.TeachApps, is a collection of software specifically designed for teachers or lecturers.LearnApps, as its name implies, is specifically designed for learners.