Apps
PhoneGap. HTML5 Framework for Desktop and Mobile Devices. Build HTML5 Apps for Any Browser. | Sencha. Diet Coda. About It was tricky, but the greatest things usually are.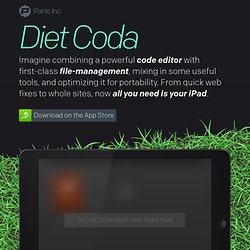 Coda for Mac started with a powerful text editor, then added essential web tools, wrapped in a clean interface. When the iPad came out, we decided we'd do it all again, but this time: to-go. Home | Apps for Good. Google Android. Zite: Personalized Magazine for iPad. Echofon. iOS 5: Newsstand — Apple News, Tips and Reviews. GoodReader for iPad. Description GoodReader® is the super-robust PDF reader for iPad - the #1 selling non-Apple app for iPad in USA in 2010!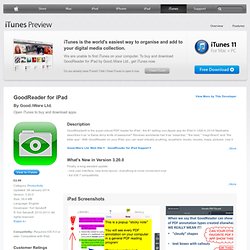 Mashable describes it as "a Swiss Army knife of awesome!" Reviews worldwide hail it as "essential," "the best," "magnificent" and "the killer app". With GoodReader on your iPad, you can read virtually anything, anywhere: books, movies, maps, pictures. Use it once and you'll be hooked. Documents To Go 3.0 Main App - Android Market. The world's No. 1 mobile office today!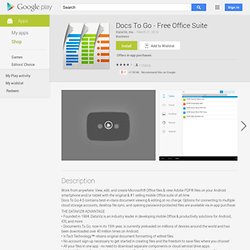 # Installed on over 120 million devices in 205 countries# Over 40,000 registrations per day# No. 1 app in Google Play Business category OfficeSuite is a universal document viewer for Android enabling you to open, view, print and share native Microsoft DOC, DOCX, DOCM, RTF, TXT, LOG, ODT, XLS, XLSX, XLSM, CSV, ODS, PPT, PPTX, PPS, PPSX, PPTM, PPSM, ODP, EML, PDF and ZIP files and attachments ANYWHERE, ANYTIME! Geological Time Scale - Android Market. GeoTime - Simple and easy to use OFFLINE geological time scale.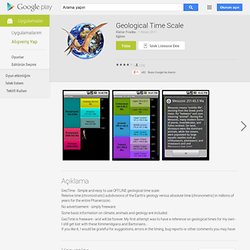 Relative time (chronostratic) subdivisions of the Earth's geology versus absolute time (chronometric) in millions of years for the entire Phanerozoic. No advertisement - simply freeware. Some basic information on climate, animals and geology are included. GeoTime is freeware - and will be forever. iGeology App | Britain's rocks in your pocket. Services. App Engine - Google Code.
About - App Inventor for Android. Eduapps.
---