Apps vs. Web
The Future Isn't About Mobile; It's About Mobility - David Armano. By David Armano | 8:03 AM July 18, 2012 While the globe grapples with uncertain economic realities, "mobile" appears to be gold.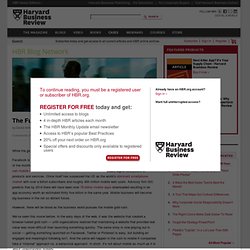 Facebook is expected to announce their uniquely targeted mobile advertising model before the end of the month. Amazon is talking to Chinese manufacturer Fox Conn with ambitions of building their own mobile device to serve as a complement to Amazon's considerable digital ecosystem of products and services. Sir Mix-a-Lot: Seattle's king of (r)app. Sir Mix-A-Lot's Facebook profile pic Seattle's own Sir Mix-a-Lot, aka Anthony Ray, has a new iPhone app based on his 1992 multi-platinum hit "Baby Got Back," and the press release announcing it is about as cheeky as the song's music video, which was once banned from MTV but seems almost quaint by today's standards.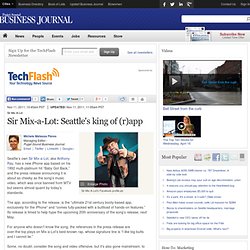 The app, according to the release, is the "ultimate 21st century booty-based app, exclusively for the iPhone" and "comes fully-packed with a buttload of hands-on features." Its release is timed to help hype the upcoming 20th anniversary of the song's release, next May. For anyone who doesn't know the song, the references in the press release are over-the-top plays on Mix-a-Lot's best-known rap, whose signature line is "I like big butts and I cannot lie." Native App vs. Web App: Which Is Better for Mobile Commerce?
The Mobile App Trends Series is supported by Sourcebits, a leading product developer for mobile platforms.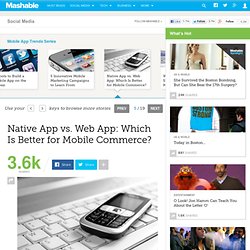 Sourcebits offers design and development services for iOS, Android, Mobile and Web platforms. Follow Sourcebits on Twitter for recent news and updates. One of the primary beneficiaries of the smartphone (and now tablet) boom is the mobile commerce space. 157 Mobile App Stats You Should Know About. Mobile Web vs. mobile app: When and why. April 14, 2011 Tony Long is senior technologist at Band Digital The world is a big, diverse place where more than 1.7 million species of animals, plants and algae exist, all subject to the same cycle of extinction and evolution that has been taking place over millions of years.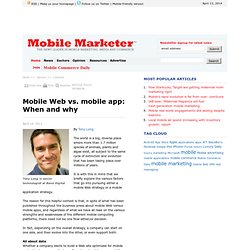 It is with this in mind that we briefly explore the various factors that go into pursuing either a mobile Web strategy or a mobile application strategy. The reason for this helpful context is that, in spite of what has been published throughout the business press about mobile Web versus mobile apps, and regardless of what we have all read on the various strengths and weaknesses of the different mobile computing platforms, there need not be one final either/or decision. Apps vs the Web - Matt Legend Gemmell. The Financial Times recently launched their new web app, replacing their dedicated iPad app.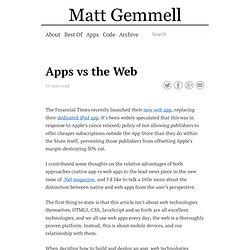 It's been widely speculated that this was in response to Apple's (since relaxed) policy of not allowing publishers to offer cheaper subscriptions outside the App Store than they do within the Store itself, preventing those publishers from offsetting Apple's margin-destroying 30% cut. I contributed some thoughts on the relative advantages of both approaches (native app vs web app) to the lead news piece in the new issue of .Net magazine, and I'd like to talk a little more about the distinction between native and web apps from the user's perspective. The first thing to state is that this article isn't about web technologies themselves. HTML5, CSS, JavaScript and so forth are all excellent technologies, and we all use web apps every day; the web is a thoroughly proven platform. Instead, this is about mobile devices, and our relationship with them.