MFL
iPod Touch training in MFL at Medina High. As a follow up to my participation in last month's innovative ICT Day at Medina High School on the Isle of Wight, I spent last Monday afternoon with the MFL department looking at ways they could use a class set of iPod Touches to engage their pupils and enhance language learning.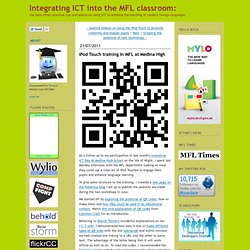 To give some structure to the training, I created a new page on the Posterous blog I set up to publish the podcasts we made during the two workshops in June. We started off by exploring the potential of QR codes, how to make them and how they could be used in an educational context. Watch this nice explanation of QR codes from Common Craft for an introduction.
Referring to Sharon Tonner's wonderful explanations on her I-C-T wiki, I demonstrated how easy it was to make different types of QR code with the site Sparqcode and within minutes we had created one linking to a URL and the other to some text. 40 iPad Apps For Language Learners. iPad is no doubt a great device for almost all purpose in today's lifestyle.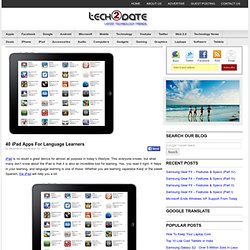 This everyone knows, but what many don't know about the iPad is that it is also an incredible tool for learning. Yes, you read it right. It helps in your learning, and language learning is one of those. Whether you are learning Japanese Kanji or the sweet Spanish, the iPad will help you a lot. Apps pour le français! Technology and World Languages - Catherine Ousselin - World Language Tech Consultant.
---