Apps for Education
39 Sites For Using iPads in the Classroom. Pages - Menu This Blog Linked From Here Sites to Follow Friday, October 7, 2011 39 Sites For Using iPads in the Classroom.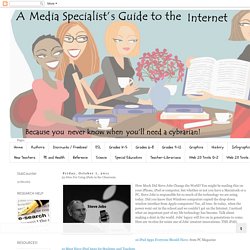 MasteryScan Turns Your iPad Into a Grading Machine | iPad Apps for School. iPad As.... App Lists. 60 Educational Apps in 60 Minutes by Clint Stephens on Prezi. iMovie Trailers - RNPS iPad Trial. Education - Resources - Teachers and Administrators. Learning App for Kids | MyCreate. Top 10 Apps for Physical Education Teachers. Physical education involves more than playing games all period long.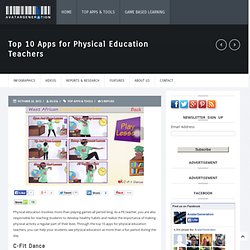 As a PE teacher, you are also responsible for teaching students to develop healthy habits and realize the importance of making physical activity a regular part of their lives. Through the top 10 apps for physical education teachers, you can help your students see physical education as more than a fun period during the day. 5 Must-Have iOS Apps For Writers. For students, essays are a necessary evil of the experience of getting an education.
For teachers, helping students write their essays can be time consuming, and once the students go home, they may lack the support they have in your classroom. It doesn't mean they have to go it alone, though, when there is electronic help available. Check out these top 5 Apple applications for essay writing to make getting organizing and presenting your thoughts in a coherent manner a much easier process. - 20 Web 2.0 Sites Not Requiring Student Email. 0 Comments August 25, 2012 By: David Kapuler Aug 25 Written by: 8/25/2012 1:17 PM ShareThis.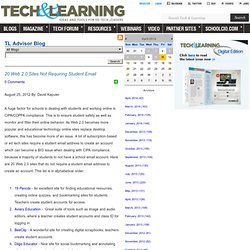 1000 Recommended Apps Sorted by Subject Area. With more than 500,000 apps available for use on the iPad, which ones are best for education?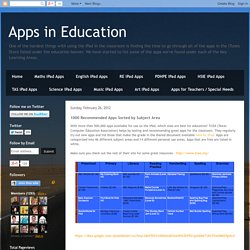 TCEA (Texas Computer Education Association) helps by testing and recommending great apps for the classroom. They regularly try out new apps and list those that make the grade in the shared document available here for iPad. Using cel.ly in the classroom or other ways. I am new to the idea of allowing kids to use cell phones in school.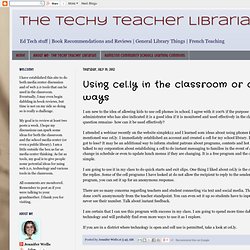 I agree with it 100% if the purpose is valid and I have an administrator who has also indicated it is a good idea if it is monitored and used effectively in the classroom, but the question remains- how can it be used effectively? I attended a webinar recently on the website simplek12 and I learned som ideas about using phones in class- one website mentioned was cel.ly. I immediately established an account and created a cell for my school library. I decided what have I got to lose? 7 Tech Tools for Collaboration. Remember when collaborating with your colleagues was limited to early morning meetings or an epically long professional day?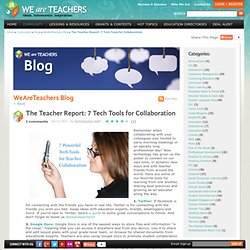 Now technology has given us the power to connect on our own time, in dynamic new ways and with teacher friends from around the world. Here are some of our favorite tools for learning from one another, sharing best practices and growing as an educator along the way. 1. Twitter: If Facebook is for connecting with the friends you have in real life, Twitter is for connecting with the friends you wish you had.
450 Free Online Courses from Top Universities. Try Audible Now & Get a FREE Audiobook!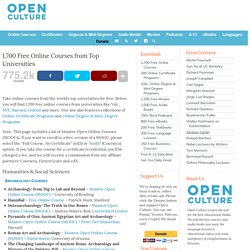 Get free online courses from the world's leading universities – Stanford, Yale, MIT, Harvard, Berkeley, Oxford and more. You can download these audio & video courses (often from iTunes, YouTube, or university web sites) straight to your computer or mp3 player. Learn 40 Languages for Free: Spanish, English, Chinese & More. How to learn languages for free?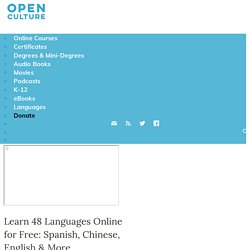 This collection features lessons in 40 languages, including Spanish, French, English, Mandarin, Italian, Russian and more. Download audio lessons to your computer or mp3 player and you're good to go. Arabic Arabic for Global Exchange – Web siteFrom Carnegie Mellon, a mini-course for individuals with no proficiency or extremely limited knowledge of Arabic language and culture who are about to begin study or work in an Arabic-speaking context.Arabic Language Lessons - iTunes FreeThe US Peace Corps serves up 10 free lessons that will teach you the Arabic spoken in Jordan. The web site includes a useful transcript.Arabic for Beginners 1 – YouTube FreeA series of video lessons from Dalarna University in Sweden.ArabicPod - iTunes FreeIncludes mp3s and PDF transcripts.Foreign Service Institute Basic Amharic - Web siteLessons in dialogues, drills, exercises, and narratives. | Diigo. A Nice Guide to iPad App Evaluation.
50 Best iPad Apps for STEM Education | Online Universities. iPad/iPod Resources. The Top 10 Apple iPod Touch Apps for English and Language Arts Teachers. 6.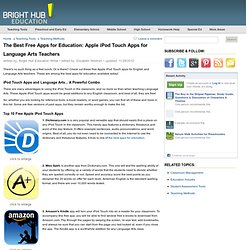 Grammar Up (Free Edition) has over 50 multiple choice questions, over 10 categories, to provide a quick test of your student's grammar abilities. Adjectives, adverbs, verb tenses, prepositions, and conjunctions are just some of the categories covered with this handy app. Choose a timer mode, shake the Touch to skip a question, and enjoy the progress bars that show you how well you are doing with each category. 7. Paper Hangman (Lite) is the first of three word games on this list. Apps in Education. iPad Recommended Educational App Lists. - Special Needs Apps for Kids (SNApps4Kids.com) Educreations. - Top 10 Sites for Educational Apps.
7 Comments January 6, 2012 By: Jan 5. 5 iPad Apps Every Teacher Should Have - HOME - Edgalaxy: Where Education and Technology Meet. Proof in Study: Math App Improves Test Scores (And Engagement) Digital Tools Teaching Strategies Motion Math The first iPad was released in April 2010, and since then, its potential as a learning device has been explored by educators, app developers, and the exploding ed-tech industry. These days, it's not uncommon to read about school districts handing out iPads as textbook replacements.
Skeptics, though, don't believe the hype. From a New York Times article in January: "There is very little evidence that kids learn more, faster or better by using these machines," said Larry Cuban, a professor emeritus of education at Stanford University, who believes that the money would be better spent to recruit, train and retain teachers. - Manipulative Math Apps for the iPad to meet the Common Core Standards. 0 Comments May 16, 2012 By: Vicki Windman May 16 Written by: 5/16/2012 3:10 AM. High School iPad Apps. Create and publish your own wikis and blogs. Use these web services to communicate and collaborate with your friends and coworkers.
It's easy to edit this page and create new wikis. To edit this page, click the Log In (lock) button, log in as a wiki administrator and click the Edit (pencil) button. To create a new wiki, log in, then click the Add (+) button and choose New Wiki. Elementary School iPad Apps. Middle School iPad Apps. Three Ring | An App for Teachers to Create Educational Portfolios of Student Work with an iPhone, iPad, or Android Smartphone. - My Ten Most Used Apps to Become Fluent on the iPad. iPad Lessons. 60in60 - home.
Reflection App Brings iOS Device Mirroring to the Mac. - Top 10 Apps for Digital Storytelling. 10 educational iPad apps recommended by Explore Knowledge Academy - Tuesday, Feb. 21. - Free apps to find more free apps. New App Tells Teachers When Students Are Confused. - Apps for Common Core Math Standards, Grades 9-12. - Apps for Common Core Math Standards, Grades 6-8. 100 iPhone Apps for Kids. The Must-Have App Review Rubric. 80 Apps to Learn a New Language. - Apps for Core Literature Standards, grades 6-12.
- Apps for K-5 core language standards.
---