Apprendre l'anglais
Simply help anyone who wish to develop his/her command of the English language with infos on Language schools, blogs, free ressources, new ideas, etc... florian.damien May 31
pilgrimsblog.co
トヨタの車はどの車も乗りやすく、中でもプリウス大人気ですよね。これを買取り査定をして貰うんですか?しかも高く売りたいと言うのであれば、ココで紹介するサイトで車一括買取査定を頼めば、全て無料で複数社の査定見積もりが届くから高額期待できるかも!! トヨタプリウスの買い取り査定★おすすめランキング 中古車の買取価格を 中古車の買取価格を高くと言われても、中々難しいですよね。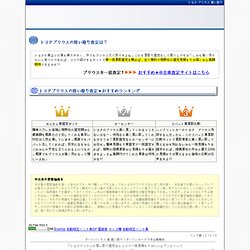 Scanbrit - Séjours linguistiques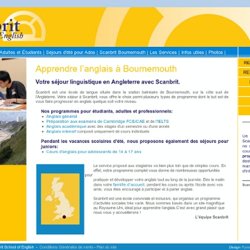 Scanbrit est une école de langue située dans la station balnéaire de Bournemouth, sur la côte sud de l'Angleterre. Votre séjour à Scanbrit, vous offre le choix parmi plusieurs types de programme dont le but est de vous faire progresser en anglais quelque soit votre niveau. Nos programmes pour étudiants, adultes et professionnels: Anglais général
Il y a un petit mois je vous parlais d 'EnglishCentral , un site qui permettait de s'entrainer en répétant les sous-titres de vidéos diverses mais plutôt des interviews! Donc quelque part très sérieux, Un site tout à faire exceptionnel à mon goût. Aujourd'hui j'ai testé lyricstraining.com qui permet de s'entraîner de façon ludique en Anglais et un peu en Espagnol et demain peut-être dans d'autres langues. Le but du jeu est de transcrire les paroles d'une chanson qui passe sur votre écran, avec trois niveaux. Même le premier niveau pose des problèmes parfois.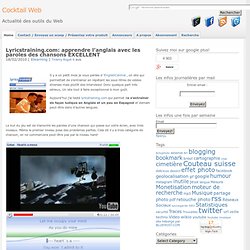 OISE Séjours linguistiques
Depuis 40 ans, nos séjours linguistiques en immersion sont adaptés à tous les âges. Les plus jeunes bénéficient de séjours intensifs pour découvrir ou approfondir leurs connaissances de l'anglais, de l'allemand et de l'espagnol.Par la suite, nos formations les aideront à préparer leurs examens et les différents tests de langues. OISE a fait de la préparation aux Concours CPGE, sa spécialité. C'est en suivant des formations ciblées, définies et réactualisées chaque année pour les différents filières de classes Prépa, que OISE prépare ses étudiants à l'excellence.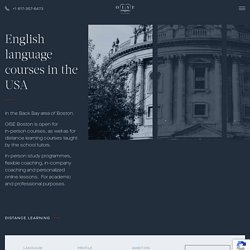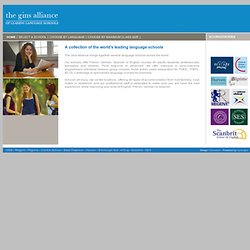 The Gins Alliance brings together several language schools across the world. Our schools offer French, German, Spanish or English courses for adults, students, professionals, teenagers and children. From beginner to advanced, we offer intensive or semi-intensive programmes, individual lessons, group courses, home tuition, exam preparation for TOEIC, TOEFL, IELTS, Cambridge or specialised language courses for business. Schools all enjoy city centre locations, offering all types of accommodation from host families, local hotels or residence, and our professional staff is dedicated to make sure you will have the best experience, while improving your level of English, French, German or Spanish.
Language Schools across the world