Applications Portables
Portable App Builder
Launch Portable Apps with CodySafe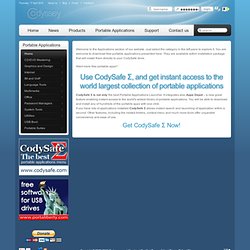 Welcome to the Applications section of our website. Just select the category in the left pane to explore it. You are welcome to download free portable applications presented here. They are available within installation package that will install them directly to your CodySafe drive. Want more free portable apps?
64bit Portable Software
Portables => Index
Retour à la liste des applications portables Vous trouverez ci-dessous une liste de logiciels libres "portables", c'est à dire pouvant fonctionner de manière autonome sur clé USB (ou autre média amovible). Cette liste n'est évidemment pas exhaustive et repose donc sur la volonté de chacun de l'utiliser et de l'améliorer. Pour proposer une application à portabiliser, vous pouvez utiliser ce formulaire . Page des stats de téléchargement Indispensables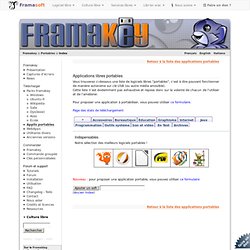 portable apps
News
Papoo (1043)
Suite à l' article précédent , qui explique les enjeux des et pour vous aider à trouver ceux qu'il vous faut, je vous propose une liste des sites qui les répertorient ou qui vous proposent de les télécharger sous forme de packs. La voici : </b>*}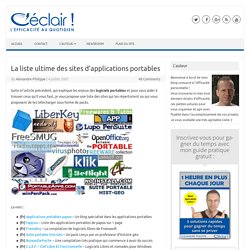 Les clefs usb sont en train de changer notre vie numérique. Nous les utilisons pour stocker de plus en plus de données, pour leur transport ou pour leur conservation. Certains ont adapté leurs logiciels libres favoris pour pouvoir les utiliser depuis une clef usb, sans installation. C.L.E.F.