Mac - Web
Tucan Manager - Homepage. Adium - Download. Firewall personale per Mac. 5feb Semi seguite da un po', saprete che faccio molto affidamento sui softwareopen-source o free.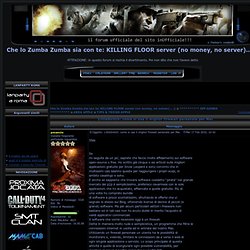 Ho scritto già cinque o sei articoli sulle miglioriapplicazioni gratuite per Snow Leopard e sono convinto che inmoltissimi casi bastino queste per raggiungere i propri scopi, inambito casalingo e soho.E anche se sappiamo che trovare software cosìdetto "pirata" nel grandemercato del p2p è semplicissimo, preferisco cavarmela con le soleapplicazioni che ho acquistato, affiancate a quelle gratuite. Più diuna volta ho comprato bundledi software a prezzi scontatissimi, sfruttando le offerte che visegnalo io stesso sul Blog, ottenendo license di decine di piccoli (egrandi) software.
NoobProof firewall configuration tool. NoobProof NoobProof is a IPFW firewall configuration tool for Mac OS X.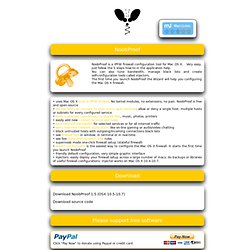 Very easy, just follow the 5 steps how-to in the application help. You can also tune bandwidth, manage black lists and create self-configuration tools called injectors. The first time you launch NoobProof the Wizard will help you configuring the Mac OS X firewall. • uses Mac OS X built-in IPFW firewall. Little Snitch. A firewall protects your computer against unwanted guests from the Internet.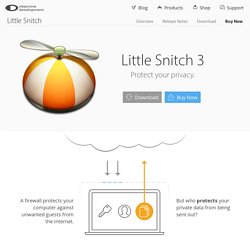 But who protects your private data from being sent out? Little Snitch does! Gruml | Google Reader for Mac OS. Vienna RSS | The Free and Open Source RSS/Atom Reader for Mac OS. MacTubes. Sparrow - The New Mail for Mac. Twitter Clients for Mac. The Ultimate List of Twitter Software for Mac. Twitter: What started as an obscure and seemingly doomed social network has grown into a huge force on the web.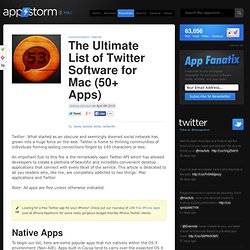 Twitter is home to thriving communities of individuals forming lasting connections forged by 140 characters or less. An important fuel to this fire is the remarkably open Twitter API which has allowed developers to create a plethora of beautiful and incredibly convenient desktop applications that connect with every facet of the service. This article is dedicated to all you readers who, like me, are completely addicted to two things: Mac applications and Twitter. Note: All apps are free unless otherwise indicated. Atebits. Buzzbird Twitter Client. Canary. Open, free, and with no ads. Echofon. The Nambu Network | Twitter and Social Messaging for OS X. Twitter for Mac Bookmarklet. YoruFukurou. YoruFukurou (NightOwl) YoruFukurou (NightOwl) is a native Twitter client for Mac OS X.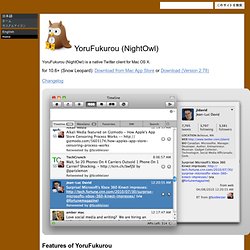 Features of YoruFukurou Create Tabs from Rules and Lists You can filter tweets by defining rules with user IDs, keywords, and regular expression. The tabs are highly configurable, so you can tailor the application to your own needs. µTorrent.
---