iPhone
Posté par deherve le 26 oct, 2010 dans iPhone-iPod , Mobilité | 1 commentaire Cela faisait un moment qu'il était attendu et le voilà arrivé, le plus célèbre des lecteurs multimédia, j'ai nommé , débarque sur les . Le logiciel permet après une copie dans des films à voir, directement dans la section de l'application. Le lecteur est plus que promettant, léger et rapide, il permet la lecture de façon très aisé de vos films et sans avoir des pixels ou lags constaté durant mes tests. Vous rêvez de visionner vos vidéos favorites pendant vos voyages, transports, files d'attentes, etc. N'hésitez plus un instant et récupérez cette application gratuite qui vous fera vivre une très belle expérience.
VLC Media Player pour iPhone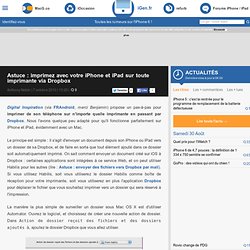 Astuce : imprimez avec votre iPhone et iPad sur toute imprimante via Dropbox
Digital Inspiration (via FRAndroid , merci Benjamin ) propose un pas-à-pas pour imprimer de son téléphone sur n'importe quelle imprimante en passant par Dropbox .
I can distinctly remember the day when Intel Corp. launched the Pentium processor. It was the day the desktop computing changed for me and for a lot of others. It was also the day when Intel started to put a gap between itself and all its wannabe processor rivals.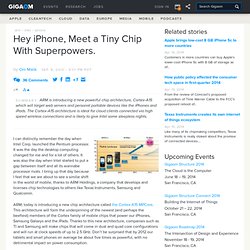 Hey iPhone, Meet a Tiny Chip With Superpowers. «
Google Translate
I just went through the case program for my brand new iPhone 4 , but I'm still poking around to see if there's one worth buying that I might also pick up in addition to the free one.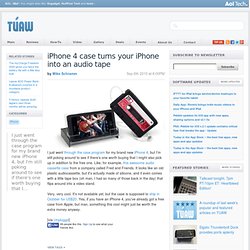 iPhone 4 case turns your iPhone into an audio tape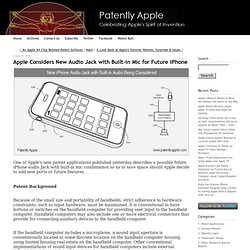 Apple Considers New Audio Jack with Built-in Mic for Future iPhone
One of Apple's new patent applications published yesterday describes a possible future iPhone audio Jack with built-in mic combination so as to save space should Apple decide to add new ports or future features. Patent Background Because of the small size and portability of handhelds, strict adherence to hardware constraints, such as input hardware, must be maintained.
Rattrapage : une petite astuce iPhone qui manquait à notre catégorie trucs et astuces iPhone en ce dimanche : L'iOS 4 a introduit les répertoires permettant de ranger des applications . Ceux-ci ont un nom proposé par défaut lors de la création mais il peut bien entendu être modifié.
Astuce iPhone (iOS 4) : ajouter des caractères graphiques à vos noms de répertoires - iPhone 4, iPad, iPod Touch : le blog iPhon.fr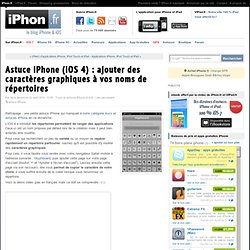 Posté par deherve le 23 août, 2010 dans iPhone-iPod | 2 commentaires Depuis l'arrivée du sous , certaine application compatible avec reste ouverte après avoir appuyé sur le bouton ' ' de votre . Nous allons voir comment ces applications pour libérer la mémoire de l'appareil. Très simplement en faisant appel à la barre des tâches et en restant appuyé sur l'icône de l'application, jusqu'à l'apparition du symbole ' ' sur celle-ci. Une fois le symbole visible, appuyez sur celui-ci et l'application va s' arrêter complètement.
iPhone : comment arrêter une application sous iOS4 ?