Apple
Remembering Steve Jobs. Steve Jobs Solved the Innovator's Dilemma - James Allworth. By James Allworth | 11:38 AM October 24, 2011 In the lead up to today's release of the Steve Jobs biography, there's been an increasing stream of news surrounding its subject. As a business researcher, I was particularly interested in this recent article that referenced from his biography a list of Jobs's favorite books. There's one business book on this list, and it "deeply influenced" Jobs. That book is The Innovator's Dilemma by HBS Professor Clay Christensen. What Kind of Buddhist was Steve Jobs, Really? | NeuroTribes.
Hello there!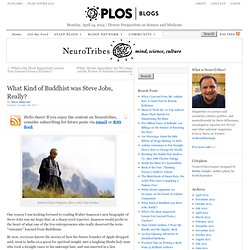 If you enjoy the content on Neurotribes, consider subscribing for future posts via email or RSS feed. Kobun Chino Otogawa, Steve Jobs' Zen teacher. One reason I was looking forward to reading Walter Isaacson's new biography of Steve Jobs was my hope that, as a sharp-eyed reporter, Isaacson would probe to the heart of what one of the few entrepreneurs who really deserved the term "visionary" learned from Buddhism. By now, everyone knows the stories of how the future founder of Apple dropped acid, went to India on a quest for spiritual insight, met a laughing Hindu holy man who took a straight razor to his unkempt hair, and was married in a Zen ceremony to Laurene Powell in 1991. Jony Ive's Steve Jobs Eulogy - Geoff Coffey's Posterous. Steve Jobs. Not long after Steve Jobs got married, in 1991, he moved with his wife to a nineteen-thirties, Cotswolds-style house in old Palo Alto.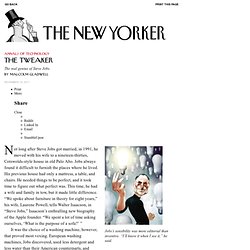 Jobs always found it difficult to furnish the places where he lived. His previous house had only a mattress, a table, and chairs. He needed things to be perfect, and it took time to figure out what perfect was. This time, he had a wife and family in tow, but it made little difference. An incredible 50 minute Steve Jobs interview you probably haven't seen (including out-takes)
From the Series Machine That Changed the World, The Program Paperback Computer.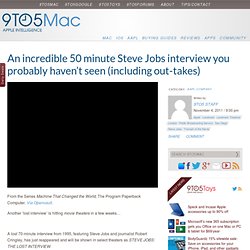 Via Openvault. Another 'lost interview' is hitting movie theaters in a few weeks… A lost 70-minute interview from 1995, featuring Steve Jobs and journalist Robert Cringley, has just reappeared and will be shown in select theaters as STEVE JOBS: THE LOST INTERVIEW. The film, which is described as the "best TV interview Jobs ever gave," will screen at select Landmark Theaters in 19 U.S. cities on November 16 & 17. Steve Jobs: The parable of the stones. A story -- just one story -- from the 1995 "lost interview" showing at theaters tonight Video still: Robert Cringely Steve Jobs really turned on the charm for Robert X.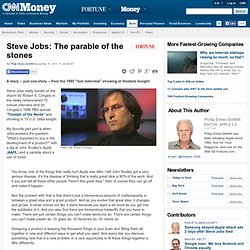 Cringely in the newly rediscovered 70 minute interview shot for Cringely's 1996 PBS special "Triumph of the Nerds" and showing in 19 U.S. cities tonight. My favorite part part is when Jobs answers the question "What's important to you in the development of a product? " A Sister's Eulogy for Steve Jobs. The Tale of Steve Jobs and the Five Dragons. Steve Jobs resurrected Apple by slaying five dragons.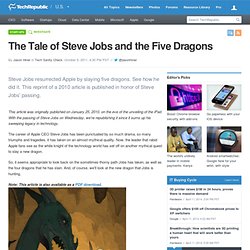 See how he did it. This reprint of a 2010 article is published in honor of Steve Jobs' passing. Steve Jobs On Gaming: It's The Future Of Learning [Video. This video of Steve Jobs from 1990 is an interesting artifact for a couple of reasons.
For one thing, it's the clip in which Steve pioneered his famous "bicycle for the mind" analogy, which I've always felt is one of the most beautiful things ever said about computers. What is also interesting, though, is how gung ho Steve Jobs is about video games in this clip, even going as far as to suggest that video games are the future of learning, and even the future of the Library of Congress. 18 Stunning Steve Jobs Infographics. Steve Jobs, co-founder of Apple Inc, changed the world with his thoughts and creative ideas.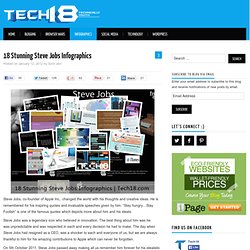 He is remembered for his inspiring quotes and invaluable speeches given by him. "Stay hungry…Stay Foolish" is one of the famous quotes which depicts more about him and his ideals. Steve Jobs was a legendary icon who believed in innovation. The best thing about him was he was unpredictable and was respected in each and every decision he had to make. Steve Jobs and Japan. When Steve Jobs passed away on October 5, 2011, the world lost a great man.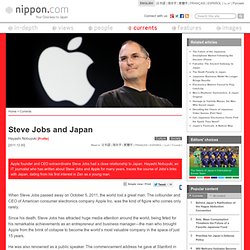 The cofounder and CEO of American consumer electronics company Apple Inc. was the kind of figure who comes only rarely. Since his death, Steve Jobs has attracted huge media attention around the world, being feted for his remarkable achievements as an entrepreneur and business manager—the man who brought Apple from the brink of collapse to become the world's most valuable company in the space of just 15 years. He was also renowned as a public speaker. The commencement address he gave at Stanford in 2005 moved people around the world and has been used in English textbooks for Japanese high schools.
Steve Jobs remembered by Stephen Wolfram | From the Observer | The Observer. 'Clarity': Steve Jobs in 1981.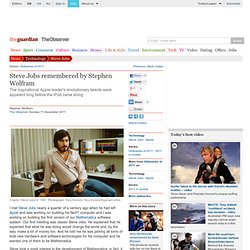 Photograph: Tony Korody/ Tony Korody/Sygma/Corbis I met Steve Jobs nearly a quarter of a century ago when he had left Apple and was working on building his NeXT computer and I was working on building the first version of our Mathematica software system. Our first meeting was classic Steve Jobs. He explained that he expected that what he was doing would change the world and, by the way, make a lot of money too. Steve Jobs - Person of the Year 2011. I thought of Steve almost as a brother, and he never ceased to amaze me.
I was fortunate enough to go down to Apple many times and see the early development of his products. One time Steve said, "You know, everybody has a cell phone, but I don't know one person who likes their cell phone. I want to make a phone that people love. " That was the foundation of what became the iPhone. Or he would say, "What if you could have a thousand songs in your pocket? " Steve Jobs' 100-year legacy: Humanizing technology. What will the legacy of Steve Jobs be a century from now? It won't have much to do with business or marketing. Learn what it will be and why. This article was originally published on October 11, 2011. Since the passing of Steve Jobs and the discussion of his contributions to the technology industry was one of the most important tech stories of 2011, we're bringing back this piece as we close out and sum up the year.
Who is doing the most important work in the tech world and which technologies are going to have the largest long-term impact on humanity? Vintage Steve Jobs footage on Apple. First So we're sitting in the payphone trying to make a blue box call. And the operator comes back on the line. And we're all scared and we'd try it again. … And she comes back on the line; we're all scared so we put in money. Steve Jobs: From Garage to World's Most Valuable Company. Apple - Think Different.
---