Hommage
Biographies : Steve Jobs et Steve Wozniak. Les destinées de Steve Jobs et de Stephen Wozniak ont été intimement liés depuis leur rencontre au Homebrew Computer Club, où ils se retrouvaient régulièrement avec d'autres bidouilleurs, aux premières heures de l'histoire de l'informatique.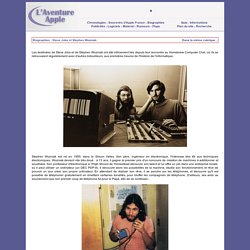 Stephen Wozniak est né en 1950, dans la Silicon Valley. Son père, ingénieur en électronique, l'intéresse très tôt aux techniques électroniques. 8 Things We Learned From Dan Lyons's Interview With Steve Wozniak. "We also got robbed at gunpoint once.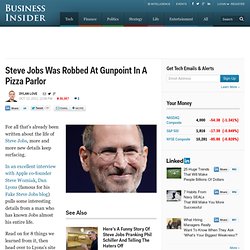 This was in a pizza parlor in Sunnyvale. Two guys looked like they might be interested [in buying a blue box]. We took them back to a pay phone and made a call to Chicago for them. An Infographic on Steve Jobs' Life. Hommage d'Adobe. Rip-steve-jobs-thanks-somewhat-topical-ecards-someecards. 'Wired' Puts Out Steve Jobs E-Book. While other publications scrambled to put out ink-on-paper editions on Steve Jobs, Wired turned to the e-book format for a commemorative product.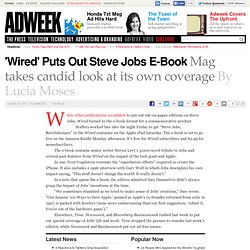 Staffers worked late into the night Friday to get "Steve Jobs, Revolutionary" in the Wired container on the Apple iPad Saturday. The e-book is set to go live on the Amazon Kindle Monday afternoon. It's free for Wired subscribers and $2.99 for nonsubscribers. The e-book contains senior writer Steven Levy's 5,000-word tribute to Jobs and several past features from Wired on the impact of the tech giant and Apple. In one, Fred Vogelstein recounts the "superheroic efforts" required to create the iPhone. High-tech : Plein Ecran du 8/10/2011: Un monde sans Steve. Boom! [all about Steve Jobs.com] Wozniak Tearfully Remembers His Friend Steve. Don't miss this 30th birthday video Apple made for Steve Jobs. This little-known video was put together by Apple employees to celebrate Steve Jobs' 30th birthday back on February 24th 1985.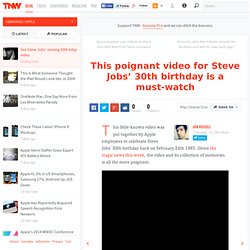 Given the tragic news this week, the video and its collection of memories is all the more poignant. As Harry McCracken notes, the film contains a number of photos and events that are not widely known outside Job's closest circles and Apple employees, portraying a playful side to his character that few saw. The song playing in the video is 'My Back Pages' by Bob Dylan, one of his idols and favourite musicians. President Obama on the Passing of Steve Jobs: "He changed the way each of us sees the world." President Barack Obama: The world has lost a visionary.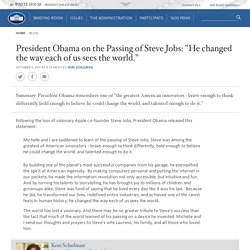 And there may be no greater tribute to Steve's success than the fact that much of the world learned of his passing on a device he invented. Thank You Steve Jobs. (Hybrid Theory writing session, Apple Computer, circa 1998) My family's first computer was an Apple (a IIe, I think).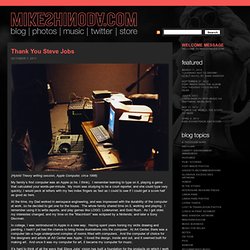 I remember learning to type on it, playing a game that calculated your words-per-minute. MINDY KALING – People I Love Who Invented Things That I Love: Steve Jobs. If you're like me, when you heard about the passing of Steve Jobs, you had a panicked moment where all you could think about was how much more Mr.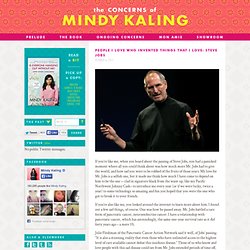 Jobs had to give the world, and how sad you were to be robbed of the fruits of those years. My love for Mr. Photos du mur. The Meaning Of Steve Jobs. Gawker curmudgeon Hamilton Nolan is right: "Steve Jobs was not God," read the headline to his recent post slamming those "whose remembrances have already taken on a quasi-religious tone" and advising them to "seek help.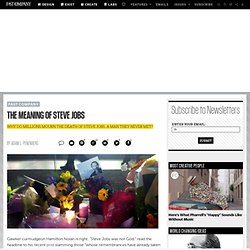 " He was responding to the flood of grief that consumed the media, media watchers, and many others in the hours and days after Jobs' death was announced. And a mighty flood it was. Journalists recounted their interactions with Jobs over the years while others reminisced about their first Apple computers. Steve Jobs.
Steve Jobs. Life. Resigned. Wednesday, 24 August 2011 Reading around the web an hour ago, looking for confirmation of the then-minutes-old news that Steve Jobs had resigned as CEO, I repeatedly encountered and bridled each time at use of the adjective "shocking" to describe the announcement.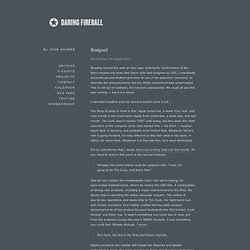 But my initial resentment was unwarranted. This is not out of nowhere, it's not even unexpected. Steve Jobs's Best Quotes - Digits. 'Your Heart Running Around Outside Your Body' Steve Jobs: il était le père de tous les entrepreneurs. 7 octobre 2011 5 07 /10 /octobre /2011 15:08 Hier quand j'ai appris la mort de Steve Jobs j'ai été envahi de tristesse et de nostalgie.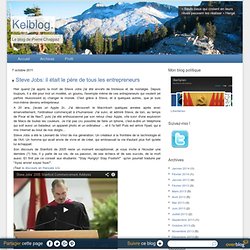 Depuis toujours, il a été pour moi un modèle, un gourou, l'exemple même de ces entrepreneurs qui veulent (et parfois réussissent à) changer le monde. C'est grâce à Steve, et à quelques autres, que je suis moi-même devenu entrepreneur. Jobs has lighted our way | Yalim's Lodge. August 25th, 2011 My father lives as if it is 1975. He refuses to interact with a computer. My Neighbor, Steve Jobs | Lisen's "Blog" – An Angle of PrismWork. My neighbor, Steve Jobs, has been in the news lately. The talk of the town is the recent announcement he will be stepping aside to let other seeds grow at Apple. The business press, the general press, the blogosphere, and just about everybody else has waxed poetic about the "greatest CEO of all time" saying that this "boy wonder" has shaped the very nature of our lives with his genius.
As a 12-Year-Old Kid, Allen Paltrow Met Steve Jobs. My Experience with Jobs and Apple.
---