Corpo
Apple's new 'Student Jobs' website: Offering internships to students and jobs to graduates - TNW Apple. Apple has launched a new Student Jobs website that offers internships and retail positions to current students and serves as a place to recruit recent graduates.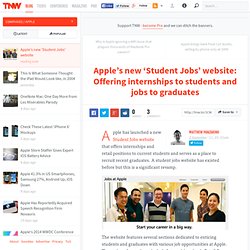 A student jobs website has existed before but this is a significant revamp. The website features several sections dedicated to enticing students and graduates with various job opportunities at Apple. The options for students include Internships, Apple Retail Store positions and a position as an Apple Campus Representative. Apple describes being a Campus Rep this way: As an Apple Campus Rep, you'll host workshops, deliver demos, throw events, and build relationships on campus. L'évolution de la mode selon Steve Jobs. À la question "qu'emporteriez-vous sur une île déserte ?"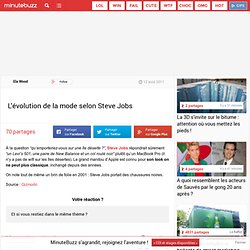 , Steve Jobs répondrait sûrement "un Levi's 501, une paire de New Balance et un col roulé noir" plutôt qu'un MacBook Pro (il n'y a pas de wifi sur les îles désertes). Le grand manitou d'Apple est connu pour son look on ne peut plus classique, inchangé depuis des années. On note tout de même un brin de folie en 2001 : Steve Jobs portait des chaussures noires. Source : Gizmodo. Apple Briefly Becomes the World's Most Valuable Company. UPDATE: Apple was worth Exxon for much of the day, but when the market closed at 4 p.m.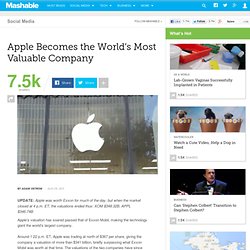 ET, the valuations ended thus: XOM $348.32B, APPL $346.74B. Apple's valuation has soared passed that of Exxon Mobil, making the technology giant the world's largest company. Around 1:22 p.m. ET, Apple was trading at north of $367 per share, giving the company a valuation of more than $341 billion, briefly surpassing what Exxon Mobil was worth at that time. The valuations of the two companies have since been crossing back and forth in a volatile day on Wall Street. Apple Now Has More Cash Than The U.S. Government. Toute l'histoire d'Apple en neuf chiffres clés. Le 1er avril 1976, Steve Jobs et Steve Wozniak, alors âgés d'une vingtaine d'années, créent Apple Computer.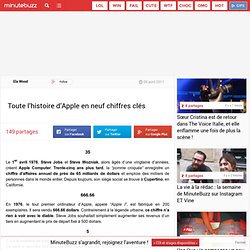 Trente-cinq ans plus tard, la "pomme croquée" enregistre un chiffre d'affaires annuel de près de 65 milliards de dollars et emploie des milliers de personnes dans le monde entier. Depuis toujours, son siège social se trouve à Cupertino, en Californie. En 1976, le tout premier ordinateur d'Apple, appelé "Apple I", est fabriqué en 200 exemplaires. Les 35 ans d'Apple en neuf chiffres clés. Apple Has Already Approved The Official Google Voice App For iPhone, Expect It Soon. The App Store review office at 1 Infinite Loop has officially frozen over: we've gotten word that the official Google Voice application is on its way to the iPhone in the next few weeks.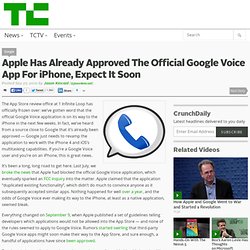 In fact, we've heard from a source close to Google that it's already been approved — Google just needs to revamp the application to work with the iPhone 4 and iOS's multitasking capabilities. If you're a Google Voice user and you're on an iPhone, this is great news. It's been a long, long road to get here.
---