Apple saysbrad.com
All things Apple, Mac, OSX, iOS, iPad, iPod, iPhone, iLife, iWork, iGoingCrazy! Apps, accessories, guides, tips, theory, rumors, you name it. saysbrad.com bradtastic Nov 16
Casio announces iPhone-compatible Bluetooth smart watches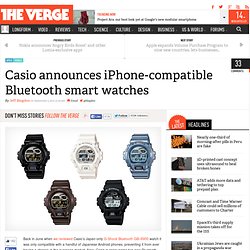 Back in June when we reviewed Casio's Japan-only G-Shock Bluetooth GB–6900 watch it was only compatible with a handful of Japanese Android phones, preventing it from ever having a chance in the overseas market. Now, Casio is announcing two new Bluetooth G-Shocks, the GB–6900AA (above) and GB-5600AA (below), that work with the iPhone 4S; bringing its smart watch functionality to Apple's platform for the first time. Just like the original GB–6900, the new watches sync with your phone over Bluetooth 4.0, notifying you of incoming phone calls, new emails, and alarms. A warning function will let you know if you walk away from your phone, and a Find My Phone-like audio alert is available with a single button press.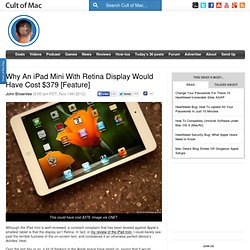 Why An iPad Mini With Retina Display Would Have Cost $379 [Feature
This could have cost $379. Image via CNET. Although the iPad mini is well-reviewed, a constant complaint that has been leveled against Apple's smallest tablet is that the display isn't Retina. In fact, in my review of the iPad mini, I could barely see past the terrible fuziness of the on-screen text, and considered it an otherwise perfect device's Achilles' Heel.
Update (Jul-25-2011): I fixed the "clear launchpad" command to properly remove any empty folders and reset the page count, since some users reported that it was leaving some folders lying around. I just installed Lion today, though I had been using the Developer Previews for a while now. I like Lion, but some things irk me. I've compiled a list of tips that I use to make my experience more sane, most specifically, clearing the list of apps in Launchpad (which I couldn't find discussed anywhere else). 1. Clearing your Launchpad
Clearing Launchpad and other OS X Lion (10.7) Tips (gnuu.org)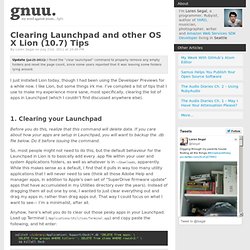 Remove unnecessary language/keyboard files to increase System Memory
Have you ever experienced low memory on your iPhone and want to squeeze everything out of your memory. There is a way to get rid of some unnecessary files like other language files. Here is one solution (for jailbroken iPhones only!) Requirements : SyscleanPro (avaliable with insanelyi Repository http://repo.insanelyi.com) MobileTerminal (free from cydia)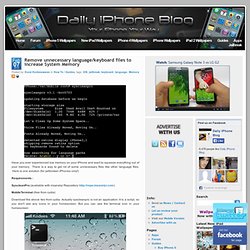 OWC SSD for MacBook Pro with Retina display 2012 - OWC Aura Pro Sandforce Driven
Yes, Apple Can Kill Microsoft Office
NEW YORK (TheStreet) -- Shortly after I published Office Will Determine Whether Microsoft Can Beat Apple Monday on TheStreet, the comments and emails rolled in. People think I'm nuts. That I'm "drinking the Apple (AAPL_) Kool-Aid."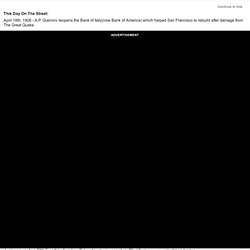 If Steve Jobs Were Alive, He Would Fire Tim Cook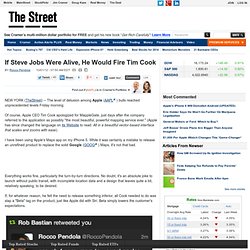 NEW YORK (TheStreet) -- The level of delusion among Apple (AAPL_) bulls reached unprecedented levels Friday morning. Of course, Apple CEO Tim Cook apologized for MappleGate, just days after the company referred to the application as possibly "the most beautiful, powerful mapping service ever." (Apple has since changed the language on its Website to read: All in a beautiful vector-based interface that scales and zooms with ease). I have been using Apple's Maps app on my iPhone 5. While it was certainly a mistake to release an unrefined product to replace the solid Google (GOOG_) Maps, it's not that bad.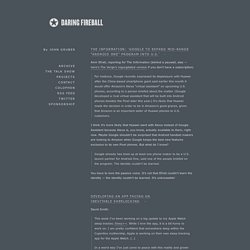 Thursday, 27 March 2014 Pando continues its thorough coverage of the Apple/Google-led no-poaching wage-fixing cartel case. You have to laugh at this, from Sergey Brin, after being shown an email from Steve Jobs: Wow, Steve used a smiley. God, I never got one of those.