Appetizers
Cumin-Dusted Carrot Fries. I've been making these carrot fries for my toddler for awhile now.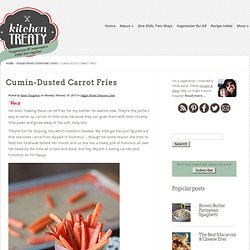 They're the perfect way to serve up carrots to little ones because they can grab them with their chubby little paws and gnaw away at the soft, tasty bits. They're fun for dipping, too, which toddlers loooove. Party Food: Mozzarella Stuffed Meatballs. Parmesan Panko Zucchini Fries. One of the first restaurants I went to when I moved to California in 1972 was The Kettle in downtown Manhattan Beach.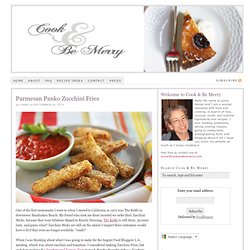 My friend who took me there insisted we order their Zucchini Sticks, because they were fabulous dipped in Ranch Dressing. The Kettle is still there, 39 years later, and guess what? Zucchini Sticks are still on the menu! I suspect their customers would have a fit if they were no longer available. *smile* Fig-Swirl Coffeecake. Stuffed; Never Stuffy. A good recipe is never fully finished, even if it's tested, printed, and published.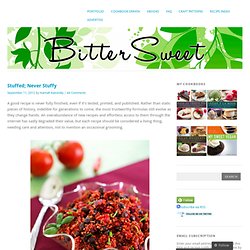 Rather than static pieces of history, indelible for generations to come, the most trustworthy formulas still evolve as they change hands. An overabundance of new recipes and effortless access to them through the internet has sadly degraded their value, but each recipe should be considered a living thing, needing care and attention, not to mention an occasional grooming. One mere flicker of an idea is all it takes to start the wheels rolling, and in my case where the process often stalls. Idea overflow is a common, but happy problem to deal with, so flavor combinations or concepts are initially filed away into little text documents, sprinkled across two hard drives.
If they survive long enough to be found again, and still resonate, only then do they have a fighting chance of being born. Flatbread Recipe: Norwegian Potato Lefse Recipes from The Kitchn. But my interest in my culinary heritage has been growing over the past few years, helped along in no small part by a growing global interest in Nordic cuisine.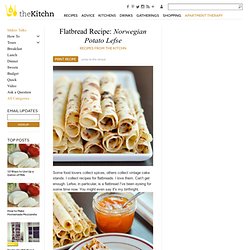 Every church and community cookbook I've inherited has scores of these "Old World" recipes, and without fail, several of them are for lefse. The most quintessential way to eat lefse is to spread it with sweet butter, sprinkle with cinnamon and sugar, and then roll it up. This is makes an afternoon snack of surpassing quality. Zucchini with Yogurt-Dill Sauce Recipes from The Kitchn. Usually, when you offer to snap a photo of fellow tourists, the exchange is quick and polite and you forget each other long before you ever return home.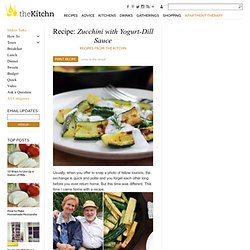 But this time was different. This time I came home with a recipe. This is Helen and her husband Blago, a self-proclaimed "Wild Bulgarian" whom I met on the shores of Vancouver, BC, this summer. As one might expect of someone who introduces himself as a Wild Bulgarian, Blago was quite the character. From the moment we met to our heartfelt goodbyes 40 minutes later, he had no shortage of advice and opinion to share, whether on the subject of healthy fats ("olive oil is king") or posing for photographs. Gobhi Manchurian/Crispy Cauliflower in a spicy chilli-garlic sauce.
Mama, why do you always lose your keys? It's a bit different every time I make it.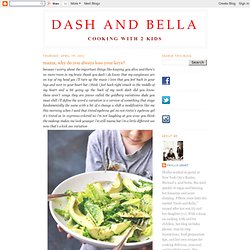 You don't need fancy oil or vinegar. Just vary it a bit every time so that you don't get sick of the flavor. Don't add salt to the dressing. Instead, sprinkle coarse salt on the greens when you toss them with the dressing (use your hands). I usually do 2 parts extra virgin olive oil to 1 part vinegar. Lightly Roasted Tomatoes with Ricotta and Mint Recipe. These sweet and juicy roasted tomatoes are absolutely perfect when topped with creamy ricotta cheese and lots of fresh lemon zest and mint.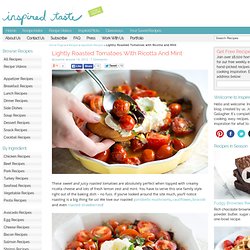 You have to serve this one family style right out of the baking dish – no fuss. If you've looked around the site much, you'll notice roasting is a big thing for us! We love our roasted portobello mushrooms, cauliflower, broccoli and even roasted strawberries! Easy Roasted Tomatoes. 15 Delicious Appetizers To Amaze Your Friends & Family. Nice and Neat: 10 Pretty Appetizers Recipe Roundup.
Party Recipe: Bacon-Wrapped Potato Bites with Spicy Sour Cream Dipping Sauce Recipes from The Kitchn. If you can find tiny new potatoes, those would be even more aesthetically precious.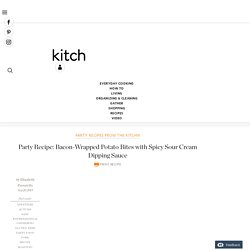 But chunks work fine, too. Just be sure to dice the potatoes smaller than you might think. We found that the smaller chunks actually had a better potato-to-bacon ratio. They were dangerously poppable. Cheese Souffle-Filled Artichokes. 10 Fast Freezer-to-Oven Appetizers Freezer Friendly. A Snack-Heavy Gathering: 10 Simple, Satisfying Recipes. Kids Love to Dip? 5 Healthy Dips that Qualify as Lunch. Previous image Next image Have you ever watched a little kid at a party where there's salsa and chips?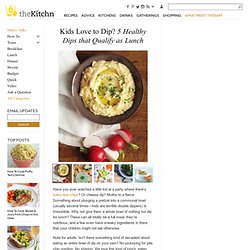 Or cheese dip? Mini Pretzel Dogs. I think I'd like to write a book about how to make friends, entitled How to Make Friends, the almost fairytale.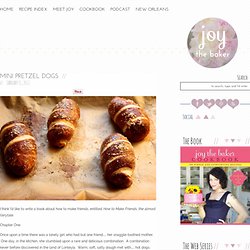 Chapter One Once upon a time there was a lonely girl who had but one friend… her snaggle-toothed mother. One day, in the kitchen, she stumbled upon a rare and delicious combination. Broccoli Spanakopita. Monday, March 19, 2012 Broccoli Spanakopita Rule #1 of food blog design: Never launch a new design or features the day before you go on vacation or travel. I thought I had learned this lesson, oh…..5 WordPress themes ago, but apparently I underwent a momentary lapse of good judgement last Friday. Not only were we going on a family vacation at Disney World, but we were hosting Food Blog Forum in Orlando at Disney World for 100 attendees and their families. (More on those fun times in another post!) Super-Bowl Recipe: Bacon-Cheddar Twice-Baked Potatoes. My love for the twice-baked potato knows no bounds. I mean, we're basically talking about mashed potatoes mixed with cheese and other good things, stuffed inside a potato skin, and baked until crispy.
How could that be bad? Answer: it can't. I'll eat these any old time and with all manner of fillings. But if you're headed to a Super Bowl Party next week, this bacon-cheddar version is a guaranteed hit. Garlic Rosemary Baked Sweet Potato Chips Recipe. Sweet potato and bacon bites! Roasted Head of Cauliflower. Simple vegetable side dishes rarely knock my socks off. I love vegetables, but the passionate exclamations are usually reserved for things topped with melted cheese. This, however, is one of those really great finds that is simple, healthful, beautiful, easy, uses fresh herbs, and tastes lovely. And, there is really nothing to it.
Snack Recipe: Roasted Curried Chickpeas with Rosemary and Thyme Recipes from The Kitchn. Dinner parties deserve snacks, too. And while dips and chips and veggie spreads are all fine and good, there's something quite wonderful about spicy roasted chickpeas. We had a housewarming party this past weekend and made these roasted chickpeas to set out on the table right when folks arrived.
They were such a hit that I barely got to sneak a small spoonful before they were gone. The reason? Sesame honey roasted carrots.
---