Appetizers
I've been making these carrot fries for my toddler for awhile now. They're the perfect way to serve up carrots to little ones because they can grab them with their chubby little paws and gnaw away at the soft, tasty bits. They're fun for dipping, too, which toddlers loooove.
Cumin-Dusted Carrot Fries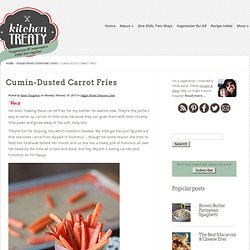 There isn't a meatball on the planet that I'll shy away from, and I'm always game for a new version. Enter these meatballs, which are packed with mozzarella, making them quite the party surprise. Meatball sandwiches are easy to prepare. They're a crockpot's best friend and a great way to have a meal ready when you walk in the door. They're also a handy party food, easy to stab with a toothpick yet satisfying. This meatball recipe is cheese-stuffed, and when has cheese-stuffed anything let you down before?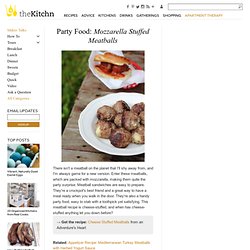 Party Food: Mozzarella Stuffed Meatballs
Parmesan Panko Zucchini Fries
One of the first restaurants I went to when I moved to California in 1972 was The Kettle in downtown Manhattan Beach. My friend who took me there insisted we order their Zucchini Sticks, because they were fabulous dipped in Ranch Dressing. The Kettle is still there, 39 years later, and guess what? Zucchini Sticks are still on the menu! I suspect their customers would have a fit if they were no longer available. *smile*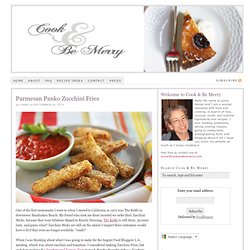 Fig-Swirl Coffeecake
I dream of filling my yard with fruit trees. Nevermind that we don't really have the space for them or that we live in New England - I am dead set on making it happen someday. I absolutely love walking outside to pick herbs and veggies to use in my cooking, I can only imagine how cool it'd be to grab a lemon or a lime from my very own tree! That said, the first priority would be a fig tree.
A good recipe is never fully finished, even if it's tested, printed, and published. Rather than static pieces of history, indelible for generations to come, the most trustworthy formulas still evolve as they change hands. An overabundance of new recipes and effortless access to them through the internet has sadly degraded their value, but each recipe should be considered a living thing, needing care and attention, not to mention an occasional grooming.
Stuffed; Never Stuffy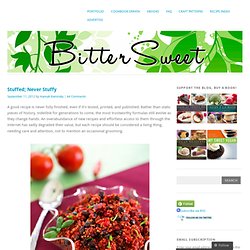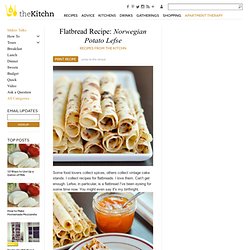 Flatbread Recipe: Norwegian Potato Lefse Recipes from The Kitchn
Some food lovers collect spices, others collect vintage cake stands. I collect recipes for flatbreads. I love them. Can't get enough.
Recipe: Zucchini with Yogurt-Dill Sauce Recipes from The Kitchn
Usually, when you offer to snap a photo of fellow tourists, the exchange is quick and polite and you forget each other long before you ever return home. But this time was different. This time I came home with a recipe. This is Helen and her husband Blago, a self-proclaimed "Wild Bulgarian" whom I met on the shores of Vancouver, BC, this summer. As one might expect of someone who introduces himself as a Wild Bulgarian, Blago was quite the character. From the moment we met to our heartfelt goodbyes 40 minutes later, he had no shortage of advice and opinion to share, whether on the subject of healthy fats ("olive oil is king") or posing for photographs.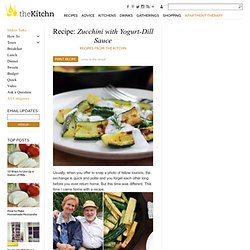 G rowing up, I remember this was one of the few dishes we would expect to eat only in restaurants. Always thought it was too difficult to be made at home or there was some special closely guarded secret to making it. Then one day mom got brave (that she always is and not just about food), using her exceptional skills to be able to tell the components in a dish merely by tasting it, tried it at home.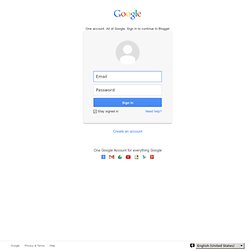 Gobhi Manchurian/Crispy Cauliflower in a spicy chilli-garlic sauce
It's a bit different every time I make it. You don't need fancy oil or vinegar. Just vary it a bit every time so that you don't get sick of the flavor. Don't add salt to the dressing. Instead, sprinkle coarse salt on the greens when you toss them with the dressing (use your hands). I usually do 2 parts extra virgin olive oil to 1 part vinegar.
mama, why do you always lose your keys?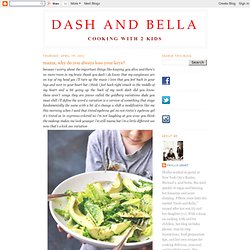 Lightly Roasted Tomatoes with Ricotta and Mint Recipe
15 Delicious Appetizers To Amaze Your Friends & Family
Are you looking for a new appetizer to delight your next gathering of friends or family members? Check out these tasty picks from around the web, as they are great inspiration for making something new at your next bash! FIRST ROW • Eggplant Caponata Crostini from Martha Stewart • Marinated Mozzarella from MyRecipes • Twice-Cooked Potatoes with Caviar from Martha Stewart • Lentil Pate from Martha Stewart • Endive Stuffed with Goat Cheese and Walnuts from MyRecipes
If appetizers were scored like professional ice skaters, most of them would get high marks for technique but low marks for presentation. It's surprisingly difficult to create good-looking appetizers! The ingredients may be stellar, and the end result something incredibly tasty, but sometimes the plate setting is... kind of underwhelming. Here are 10 appetizers that are pretty and tasty. High marks all across the board! TOP ROW • Beet Pickled Deviled Eggs , via The Kitchn • Crudite with Mimosa Aioli , via Sweet Paul • Crustless Mini-Quiches , via The Kitchn • Prosciutto-Wrapped Arugula , via The Kitchn • Fall Salad Served in Apple Bowls , via Yummy Mummy
Nice and Neat: 10 Pretty Appetizers Recipe Roundup
Okay, we're not going to win any awards for thinking up this combination. But hey, these potato bites are easy, delicious, and perfect for a Final Four-loving crowd, should you find yourself surrounded by one this weekend. They even remind us of sports bar food...like little deconstructed potato skins. We decided to make these after countless evenings munching on Juno's Pregnant Dates . Those are also very, very yummy, but we started thinking about other things we could wrap in bacon.
Cheese Souffle-Filled Artichokes
Cut off top half of each artichoke and trim base so that artichokes sit flat. Using a pair of sharp kitchen shears, cut off pointed tips of each artichoke leaf. Set a steamer basket in a large pot. Fill pot with enough water so that it comes just below steamer basket.
Dreading the appetizer prep for your next party? Why not plan ahead for your next gathering and stock up your freezer? These apps make it easy to pull together a stellar spread in a hurry without skimping on the homemade touches.
10 Fast Freezer-to-Oven Appetizers Freezer Friendly
We had a housewarming party last weekend, and decided to start the party at 8 p.m. Lots of drinks were on the menu, and you know what happens when folks stay late and drink: they want to eat. So while we weren't serving dinner, we knew we'd need to have a bunch of heavier snacks to sustain everyone through the night. Surprisingly, we had far more fun planning the food for this snack-heavy party than we have with many of our smaller dinner parties.
A Snack-Heavy Gathering: 10 Simple, Satisfying Recipes
Kids Love to Dip? 5 Healthy Dips that Qualify as Lunch
Mini Pretzel Dogs
Broccoli Spanakopita
Super-Bowl Recipe: Bacon-Cheddar Twice-Baked Potatoes
Garlic Rosemary Baked Sweet Potato Chips Recipe
Sweet potato and bacon bites!
Roasted Head of Cauliflower
Snack Recipe: Roasted Curried Chickpeas with Rosemary and Thyme Recipes from The Kitchn
sesame honey roasted carrots