Actualités
Braz. J. Microbiol. vol.43 no.4 São Paulo Oct./Dec. 2012 Mutations in the quinolone resistance-determining regions of gyrA and p. Mutations in the quinolone resistance-determining regions of gyrA and parC in Enterobacteriaceae isolates from Brazil Luciene A.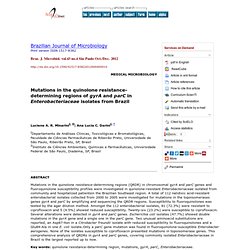 R. MinariniI, II; Ana Lucia C. UNIVERSITE DE GENEVE - 2000 - Thèse en ligne : Impact de la résistance antibiotique et des fluoroquinolones sur l'adhérence à la. CDC EID - SEPT 2012 - Control of Fluoroquinolone Resistance through Successful Regulation, Australia. Interdisciplinary Perspectives on Infectious Diseases Volume 2012 (2012) Global Fluoroquinolone Resistance Epidemiology and Impl.
MEDSCAPE 16/08/12 Control of Fluoroquinolones Resistance Through Successful Regulation, Australia. Friedrich-Loeffler-Institut (FLI) - 2012 - Thèse en ligne : Studies on the prevalence, distribution and organization of extended. ANSES 18/11/11 Antibiorésistance en santé animale : de plus en plus de bactéries résistantes aux fluoroquinolones et aux céphalo. L'actualité a été ajouté à votre bibliothèque Publié le 17/11/2011 18 novembre 2011.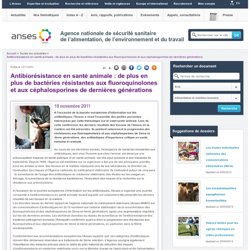 ANTIMICROBIAL AGENTS AND CHEMOTHERAPY 15/11/10 First Molecular Characterization of Fluoroquinolone Resistance in Aerococcus spp. Vincent Cattoir* Aerococcus urinae and Aerococcus sanguinicola are emerging Gram-positive pathogens responsible for urinary tract infections, especially in elderly patients (2).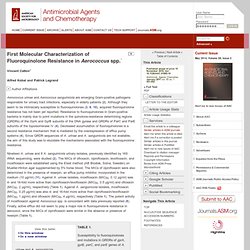 Although they seem to be intrinsically susceptible to fluoroquinolones (3, 8, 10), acquired fluoroquinolone resistance has not been yet reported. Resistance to fluoroquinolones in Gram-positive bacteria is mainly due to point mutations in the quinolone-resistance determining regions (QRDRs) of the GyrA and GyrB subunits of the DNA gyrase and QRDRs of ParC and ParE subunits of the topoisomerase IV (4). Decreased accumulation of fluoroquinolones is a second resistance mechanism that is mediated by the overexpression of efflux pump systems (4). Since QRDR sequences of A. urinae and A. sanguinicola are not available, the aim of this study was to elucidate the mechanisms associated with the fluoroquinolone resistance. RFL - Revue francophone des laboratoires Vol 40, N° 422  - mai 2010 Mécanismes et épidémiologie de la résistance aux fluoroquino. La resistance aux anti-infectieux Mechanisms and epidemiology of fluroquinolone resistance in 2010 Service de biologie médicale, Hôpital d'Instruction des Armées Bégin, 69, avenue de Paris, 94160 Saint-Mandé cedex Received 22 March 2010, Accepted 3 April 2010, Available online 17 June 2010 Choose an option to locate/access this article: Check if you have access through your login credentials or your institution.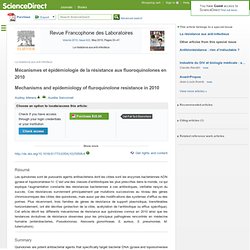 Epidemiol Infect. 2010 Aug 9:1-7. [Epub ahead of print] Risk factors for fluoroquinolone resistance in Enterococcus urinary trac. Diagnostic microbiology and infectious disease  2010, vol. 67, no1, pp. 106-109 Emergence of extended-spectrum β-lactamase and f. Titre du document / Document title Auteur(s) / Author(s) Affiliation(s) du ou des auteurs / Author(s) Affiliation(s) (1) Department of Microbiology, BIOMERIT Research Centre, University College Cork, Cork, IRLANDE(2) Microbiology Department, Mercy University Hospital, Cork, IRLANDE Résumé / Abstract.
J. Antimicrob. Chemother. (2011) A fluoroquinolone-resistant Acinetobacter baumannii without the quinolone resistance-determinin. + Author Affiliations ↵*Corresponding author.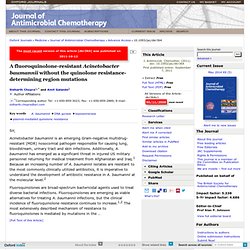 Tel: +1-650-859-3023; Fax: +1-650-859-2889; E-mail: sidharth.chopra@sri.com Sir, Acinetobacter baumannii is an emerging Gram-negative multidrug-resistant (MDR) nosocomial pathogen responsible for causing lung, bloodstream, urinary tract and skin infections. J. Antimicrob. Chemother. (2012) Fluoroquinolone use and resistance of Gram-positive bacteria causing healthcare-associated infe. + Author Affiliations ↵*Corresponding author.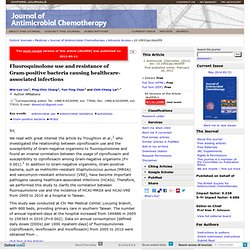 Tel: +886-6-6226999, ext. 77606; Fax: +886-6-6226999, ext. 77610; E-mail: dtmed141@gmail.com Sir, We read with great interest the article by Troughton et al.,1 who investigated the relationship between ciprofloxacin use and the susceptibility of Gram-negative organisms to fluoroquinolones and found an inverse correlation between the usage of ciprofloxacin and susceptibility to ciprofloxacin among Gram-negative organisms (P < 0.001).1 In addition to Gram-negative organisms, Gram-positive bacteria, such as methicillin-resistant Staphylococcus aureus (MRSA) and vancomycin-resistant enterococci (VRE), have become important pathogens causing healthcare-associated infections (HCAIs).
Indian Journal of Medical Research - MAI 2010 - Emergence of fluoroquinolone resistance in Shigella isolated from Andaman & Nico. International Journal of Engineering Science and Technology Vol. 2(10), 2010, 5912-5914 THE PRESENCE OF FLUOROQUINOLONES AS ANTI. Eurosurveillance, Volume 16, Issue 40, 06 October 2011 Au sommaire: Trends in yearly prevalence of third-generation cephalospori. Report from Italy on the testing of neonates after TB transmission from a nurse to an infant in a maternity ward Eurosurveillance, Volume 16, Issue 40, 06 October 2011 Table of Contents Rapid communications.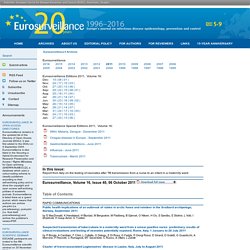 ---