Anonymous
McAfee predicted in its 2013 Threat Report that Anonymous would decline in importance this year. If this is an example of what Anonymous has planned for 2013, we hope McAfee is wrong. KnightSec, a hacking group affiliated with the "Anonymous" collective, posted a YouTube video (embedded) on Wednesday. That video shows teenager Michael Nodianos basking in the "glory" of the gang rape of a 16-year-old girl by his high school football player teammates. Why did Anonymous, or rather, KnightSec, go to these lengths? Because it appears there may be an injustice on the way: Steubenville, Ohio is a football-crazed town of about 18,000, and residents and other teens are reluctant to assist the authorities in their prosecution of these, the town's teenage football stars.
Hackers recover video showing teens laughing about a rape by their frriends - National Technology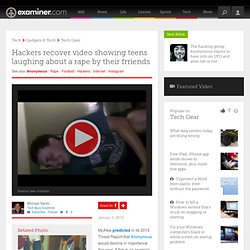 Image Design: Giles Revell No one but Hector Xavier Monsegur can know why or when he became Sabu, joining the strange and chaotic Internet collective known as Anonymous. But we know the moment he gave Sabu up. On June 7, 2011, federal agents came to his apartment on New York's Lower East Side and threatened the 28-year-old with an array of charges that could add up to 124 years in prison. So Hector Monsegur, who as Sabu had become a mentor and icon to fellow members of Anonymous, surrendered his online identity to a new, equally faceless and secretive master: the FBI.
How Anonymous Picks Targets, Launches Attacks, and Takes Powerful Organizations Down | Threat Level
FBI targets Anonymous hacking group in series of raids on homes | Technology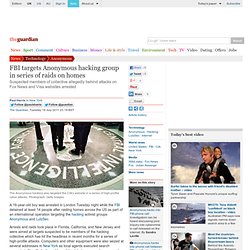 A 16-year-old boy was arrested in London Tuesday night while the FBI detained at least 14 people after raiding homes across the US as part of an international operation targeting the hacking activist groups Anonymous and LulzSec.
The long promised tool that can be used to hijack tweets was recently released on the Anonymous hacker group's official blog, complete with download links, source files and how-to instructions.Even though the infamous cybercriminals claim that the new release is not a hacking tool or an exploit kit, its purpose being "to make it easier for us to tweet faster without copying and pasting constantly," the functions it performs beg to differ. URGE, as it's called, can hijack trending topics of choice, allowing the attacker to tweet messages within them. The Universal Rapid Gamma Emitter was created by Anonymous because "We recently have become tired of seeing trending topics on twitter that were redundant and 'pop culture' like," revealed one of the members. They became mad after noticing that Twitter will not trend topics that "actually serve a cause", only those more appealing to the general public, like those based on TV shows and celebs.
Anonymous Releases Twitter Hijack Tool Called URGE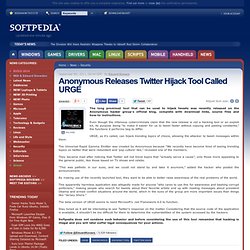 AnonymousIRC (anonymousirc) on Twitter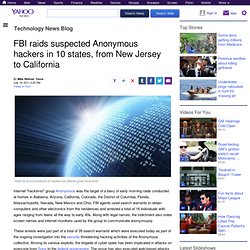 FBI raids suspected Anonymous hackers in 10 states, from New Jersey to California | Technology News Blog
Feds try to put pressure on hackers as attacks grow more bold These arrests were just part of a total of 35 search warrants which were executed today as part of the ongoing investigation into the security-threatening hacking activities of the Anonymous collective. Among its various exploits, the brigade of cyber spies has been implicated in attacks on everyone from Sony to the federal government.
Spain arrests Anonymous suspects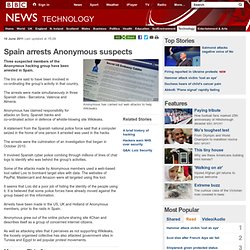 10 June 2011Last updated at 10:29 ET Anonymous has carried out web attacks to help Wikileaks Three suspected members of the Anonymous hacking group have been arrested in Spain.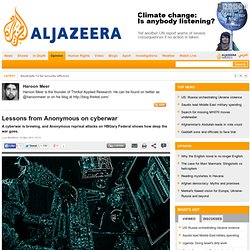 "Cyberwar" is a heavily loaded term, which conjures up Hollywood inspired images of hackers causing oil refineries to explode. Some security celebrities came out very strongly against the thought of it, claiming that cyberwar was less science, and more science fiction. Last year on May 21, the United States Cyber Command (USCYBERCOM) reported reaching initial operational capability, and news stories abound of US soldiers undergoing basic cyber training, which all point to the idea that traditional super powers are starting to explore this arena. Recent activities with one government contractor and Anonymous, however, show clearly that cyber operations have been going on for a long while, and that the private sector has been only too ready to fill the cyber mercenary role for piles of cash. Anonymous vs.
It has been an embarrassing week for security firm HBGary and its HBGary Federal offshoot. HBGary Federal CEO Aaron Barr thought he had unmasked the hacker hordes of Anonymous and was preparing to name and shame those responsible for co-ordinating the group's actions, including the denial-of-service attacks that hit MasterCard, Visa, and other perceived enemies of WikiLeaks late last year. When Barr told one of those he believed to be an Anonymous ringleader about his forthcoming exposé, the Anonymous response was swift and humiliating.