DDoS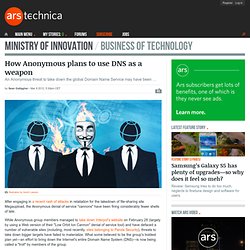 How Anonymous plans to use DNS as a weapon
After engaging in a recent rash of attacks in retaliation for the takedown of file-sharing site Megaupload, the Anonymous denial of service "cannons" have been firing considerably fewer shells of late. While Anonymous group members managed to take down Interpol's website on February 28 (largely by using a Web version of their "Low Orbit Ion Cannon" denial of service tool) and have defaced a number of vulnerable sites (including, most recently, sites belonging to Panda Security), threats to take down bigger targets have failed to materialize. What some believed to be the group's boldest plan yet—an effort to bring down the Internet's entire Domain Name System (DNS)—is now being called a "troll" by members of the group. But this doesn't mean the threat of more targeted denial of service attacks based on DNS attacks have gone away.
Distributed Denial of Service (DDoS) Attacks/tools
Un article de Wikipédia, l'encyclopédie libre. Une attaque par déni de service (denial of service attack, d'où l'abréviation DoS) est une attaque informatique ayant pour but de rendre indisponible un service, d'empêcher les utilisateurs légitimes d'un service de l'utiliser. Il peut s'agir de : l'inondation d'un réseau afin d'empêcher son fonctionnement ;la perturbation des connexions entre deux machines, empêchant l'accès à un service particulier ;l'obstruction d'accès à un service à une personne en particulier.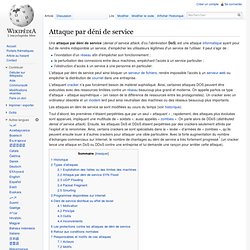 Publié le 10-09-2008 à 23:41:07 dans le thème Réseau - Sécurité Pays : International - Auteur : Christophe X. Pub : Tous les logiciels firewall gratuits disponibles sur Internet Les attaques de type DDOS prennent le pouvoir sur Internet. Comment ce genre d'agression est-elle possible ?
Dans les coulisses du DDoS
L'équilibreur de charge, un rempart contre les attaques DoS ?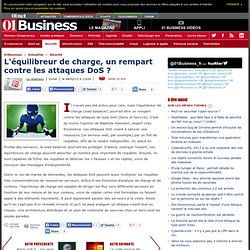 01net le 08/02/12 à 11h24 Il n'avait pas été prévu pour cela, mais l'équilibreur de charge (load balancer) pourrait être un rempart contre les attaques de type DoS (Deny of Service). C'est du moins l'opinion de Baptiste Assmann, expert chez Exceliance. Les attaques DoS visent à saturer une ressource (un serveur web, par exemple) par un flot de requêtes, afin de le rendre indisponible.
LazyWebTools - Free Automatic Page Refresher - Refresh All Live Internet Content Easily
Hijacking Web 2.0 Sites with SSLstrip and SlowLoris -- Sam Bowne and RSnake at Defcon 17 on Vimeo