Animes, mangas...
Guide pour débutant en manga : le manga pour les nuls ! Un récent billet m'a donné l'idée de rédiger un billet loin de ce que je peux rédiger habituellement visant à permettre à un parent de comprendre simplement ce qu'est un manga. Loin de mon article sur l'histoire du manga, ce petit guide a vocation à être plutôt pratique et pas forcément au plus (...)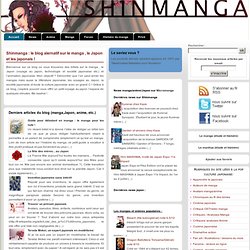 Shinmanga : blog sur le manga et le japon
Today is the big day, everyone! At long last, Studio Ghibli's newest productions have been formally announced at Toho's press conference in Japan. Hayao Miyazaki's Kaze Tachinu ("The Wind Rises") and Isao Takahata's Kaguya Hime no Monogatari ("The Story of Princess Kaguya") will both be released in theaters across Japan this coming Summer 2013. Let's take a quick look at each of the films. Hayao Miyazaki - Kaze Tachinu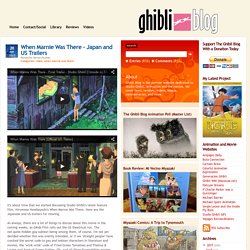 The Ghibli Blog
Omake Books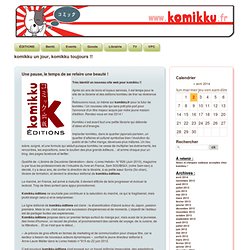 komikku
Très bientôt un nouveau site web pour komikku !! Après six ans de bons et loyaux services, il est temps pour le site de la librairie et des éditions komikku de tirer sa révérence ! Retrouvons nous, ici même sur komikku.fr pour la futur de komikku ! Un nouveau site qui sera prêt pile-poil pour l'annonce d'un titre majeur acquis par notre jeune maison d'édition. Rendez-vous en mai 2014 ! Komikku c'est avant tout une petite librairie qui déborde d'idées et d'énergie.
Buta Connection: news
Hikkikomori Room: Noticias, analisis y mucho más sobre el mundo Otaku
[MP] Naruto Cap. 672 ~ hace 6 mins. Disfruten del nuevo capitulo de Naruto Manga. ¿Que pasara hoy? [RAW] Soul Eater Not! Ep. 1 ~ hace 11 hrs. 45 mins. Siguiendo con los estrenos de temporada, llega el turno de SOUL EATER NOT!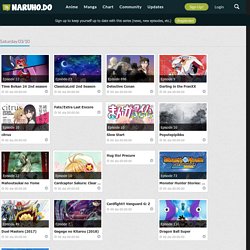 MCAnime.net Beta - Esta vez m?s que s?lo anime...
Welcome | Tezuka in English
Osamu Tezuka (1928-1989) Osamu Tezuka (手塚 治虫) was a manga author and creator of many of the first Japanese animation. While Tezuka's best known creation is, arguably, the world-renowned children's series Astro Boy, he drew more than 150,000 pages of manga in his lifetime - touching on every style and genre. He wrote for every age-group, from young children to mature audiences, and single-handedly created the majority of the genres and character-types we see in manga and anime today. "...All Life is Sacred"
Manga News - Toute l'actualité mangas et anime en France et au Japon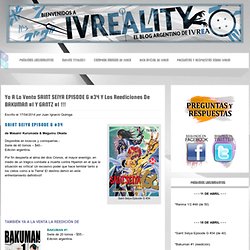 Dragon Ball #36 de Akira Toriyama Disponible en comiquerías (en kioscos sale el miércoles). Serie de 42 tomos – $48.- Edición argentina.
Ivreality
communauté francophone de l'anime, du manga, des figurines et de
A la une Les articles à ne pas manquer Interview de Kenichi Yoshida (MIA 2014)
Shadonia.com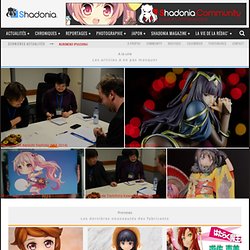 Read Free Manga Online at One Manga. Online manga scans reader.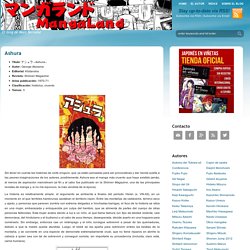 Título: 会長島耕作 –Kaichō Shima Kōsaku– (Presidente honorífico Kōsaku Shima)Autor: Kenshi HirokaneEditorial: KōdanshaRevista: MorningAños publicación: 2013-en cursoClasificación: empresarialTomos: 1 (en curso) Mi intención original era ir leyendo la serie de Shima Kōsaku por orden empezando por la saga Kachō hasta su puesto más reciente en lo más alto y, una vez llegado allí, empezar con las precuelas. Tenéis el índice de las diferentes sagas en este enlace por si os perdéis un poco cuando voy hablando de las varias sagas, por cierto. Pero hace poco estuve de Japón y vi que había salido justo esos días el primer tomo de la saga Kaichō y no pude resistirme a comprarlo y, más tarde, en el viaje de avión de vuelta, a devorarlo.
MangaLand
Welcome | Japanator.com: anime news, original features, and weir
Ayant reçu le spin-off de Parasite Eve depuis quelques jours, je me suis dit qu'il serait de bon ton de vous livrer quelques impressions avant la sortie européenne prévue pour le mois de mars prochain. Baptisé The 3rd Birthday, cet épisode annexe vous place dans la peau de la toujours très charismatique Aya Brea, quelques années après les évènements des deux premiers épisodes sortis sur PS One. Aujourd'hui amnésique ( non, ceci n'est pas une blague…) Aya fait les beaux jours du CTI, une cellule d'investigation formée pour sauver l'humanité de la terrible menace des Twisted, des monstres bien gluants et particulièrement agressifs.
Looking Glass House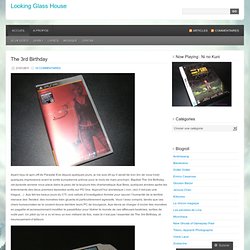 L'Antre de la Fangirl
Impressions sur les séries de l'hiver 2013/2014 (suite et fin) Et voici la suite et fin un peu tardive de mes petites premières impressions personnelles sur les différentes nouvelles séries de cet hiver. J'attendais la diffusion de la dernière nouveauté pour enfin publier ce billet, avec au programme un tour d'horizon d'une vingtaine d'anime. C'est parti~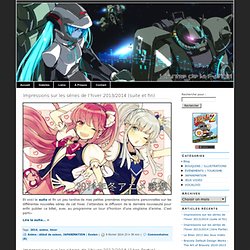 A la hora de seleccionar un nuevo proyecto en el Studio Ghibli es habitual que se inspiren en una novela, un cuento o un manga. Seleccionan aquellas obras que más les han llamado la atención y –si derechos están disponibles para hacer una adaptación animada– en la gran mayoría de los casos les dan ese toque especial que tanto nos gusta. Durante sus primeros años en el mundo de la animación Hayao Miyazaki e Isao Takahata realizaron no pocas adaptaciones de grandes clásicos de la literatura en estudios como Toei Animation, A Production, Tokyo Movie Shinsha o Nippon Animation, entre otros. He tenido la ocasión de leer las novelas en las que se han inspirado para llevar a cabo algunas de las películas del Studio Ghibli, pero hasta ahora no había hecho lo mismo con aquellas obras que sirvieron de base para realizar sus anteriores trabajos.
Studio Ghibli Weblog - La Coctelera
The Scrumptious Anime Blog
THAT Anime Blog | Welcome to our new home!
Reflections on a 3rd Year of Fangirling… Hello, loves! It's been a while, but I couldn't let my 3rd blog birthday pass without something to mark the occasion. Basically, the last twelve months have been mega busy on the personal and work fronts, which meant that I fell behind with watching and blogging the more recent shows. However, I shall quickly add before I get booted off the team that I have in fact been watching (or re-watching, in some cases) lots of classic anime, and some other fun series that finished airing in recent months/ years. These include: xxxHolic, Natsume's Book of Friends, Baccano!
The Anime Blog - Anime and Manga News and Reviews, Japanese Cult
Most Watched Episodes This Week Naruto ShippuudenEpisode 345Hunter x Hunter (2011)Episode 112Mahou SensouEpisode 2Tokyo RavensEpisode 14Hamatora The AnimationEpisode 2Kill La KillEpisode 14Strike the BloodEpisode 14Maken-Ki!Episode 1Inari, Konkon, Koi Iroha.Episode 1Chuunibyou demo Koi ga Shitai!Episode 2Z/X: IgnitionEpisode 2Golden TimeEpisode 14Mikakunin de ShinkoukeiEpisode 2NourinEpisode 2Oneechan ga KitaEpisode 2 Latest Ongoing Episodes
AniLinkz Anime Stream - The BEST place for all your Anime Stream
Shadonia
Mang'Impressions
Alors qu'elle est en classe de sixième, la jeune Chihaya n'a ni loisir, ni centre d'intérêt particulier. Même ses rêves ne la concernent pas directement, puisqu'elle les vit par procuration, par l'intermédiaire du désir de sa grande sœur de devenir mannequin. Quand Arata, un camarade de classe, lui fait découvrir le karuta, un jeu de cartes qu'il pratique assidûment, Chihaya franchit les portes d'un univers qui, jusqu'ici, lui était étranger. Initiée par son nouvel ami et entraînant dans son sillage Taichi, un autre copain de classe, la jeune fille est enthousiaste et avide d'apprendre. Au fil des parties, une franche complicité, puis une amitié naissent entre les trois collégiens.
Total Manga - News manga, japanimation, drama, cinéma japonais,