Anime
AnimeFansFTW
Anime-Loads (german)
ano-n??Â?m - 17.08.2013, 02:30 Uhr Adblock killt unsere Weiterleitung ;_; (HOT) Derzeit blockieren einige Adblocker wichtige Elemente in unserer Weiterleitung.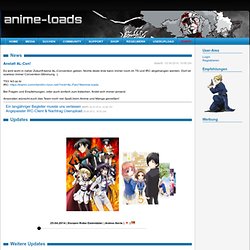 Anime-Sensei
Cyber12
Animetake
AnimeCrazy
realityLAPSE
AnimeA
Monday, January 20, 2014 [HorribleSubs] The Pilot's Love Song - 03 [480p].mkv [HorribleSubs] The Pilot's Love Song - 03 [720p].mkv (show more) [HorribleSubs] The Pilot's Love Song - 03 [480p].mkv [HorribleSubs] The Pilot's Love Song - 03 [720p].mkv [HorribleSubs] The Pilot's Love Song - 03 [1080p].mkv (show less) [C12] Space Dandy 03--Occasionally Even the Deceiver is Deceived, Baby.mp4 [Commie] Space Dandy - 03 [C54C578C].mkv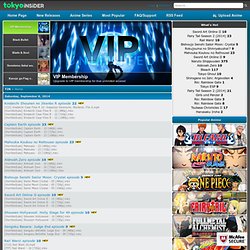 Anime-Access
AnimeShippuuden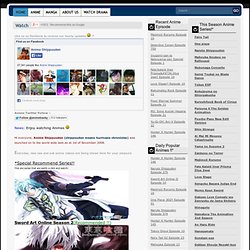 Hi everyone, Anime Shippuuden (shippuuden means hurricane chronicles) was launched on to the world wide web as at 1st of November 2008.Everyday, new raw and sub anime videos are being shown here for your pleasure. Log Horizon SummaryThe story begins when 30,000 Japanese gamers are trapped in the fantasy online game world Elder Tale. What was once a sword-and-sorcery world is now the real world. The main lead Shiroe attempts to su... Watch now !
JustDubs
The North American anime licensing company Sentai Filmworks announced at its panel at Nekocon on Friday that it has licensed the Ebiten, The Pet Girl of Sakurasou, Say, "I Love You"., Kamisama Dolls, and Battle Girls - Time Paradox television anime series. The anime adaptation of SCA-ji and Kira Inugami's Ebiten: Kōritsu Ebisugawa Kōkō Tenmon-Bu comedy manga centers around Itsuki Noya (played by Mariya Ise), a new student who wishes to join the school's astronomy club (tenmon-bu). However, Itsuki actually entered the similarly named Tenmon-bu a club for fujoshi (female otaku) interests.
Anime-Database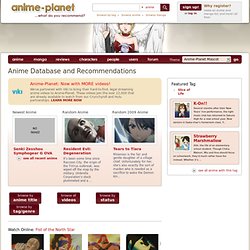 Database and Recommendations
This may seem to be a strange pairing at first, but there are actually a lot of similarities between these shows. In each show, fairy tales and stories are more than they appear to be and come to life in very real ways. Both shows take a while to become spectacular, but they get there, and the early stuff ends up being very important later on. And finally, in each show the characters grow, change, and become better peoplen (and much more interesting to watch) as their relationship develops. These are both very special shows and are incredibly deep, and I feel that both are masterpieces.