Manga @ Anime info
Fairy Tail Announcement Posted Dec 28th, 2013 by Jinn In this week's chapter there's a color page with anime announcement stuff on it.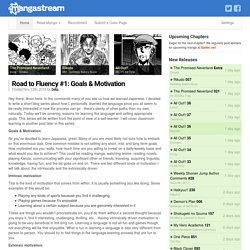 Manga Stream - Read free manga online!
December 31, 2013 New Years 2014 posted by: colje Happy New Years everyone!! Party hard but be safe!!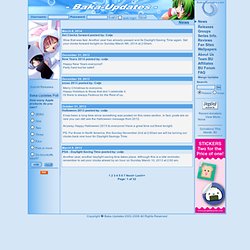 Baka-Updates.com
Aniplex USA I News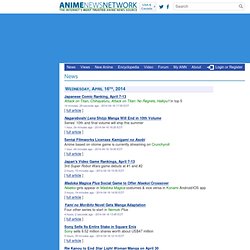 Anime News Network
Saturday, January 11th, 2014 Yoshiharu Sato designs characters for ads about young baker & architect student 1 hour, 42 minutes ago - 2014-01-11 21:00 EST Uta-Pri sells 13,066, followed by Gintama, Game Center CX, Prince of Tennis II, Kabukimonogatari 2 hours, 42 minutes ago - 2014-01-11 20:00 EST 3rd game based on Retro Game Master TV series to ship on March 20
Hiroette.com ||| Japanese Smileys(Emoticons) |||
Anime Online Database - Anime Videos Reviews Pictures Forums And More
AnimeNfo.Com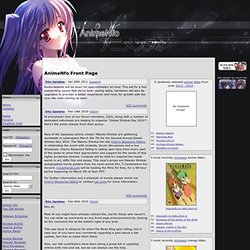 Happy Holidays from everyone at AnimeNfo to you! It's been a while since an actual site update, and for that I apologize. As you might have noticed, the site database, especially when it has come to newer anime entries and information has been a bit sparse. Many of us have been busy with real life commitments, which has unfortunately resulted in the current situation. However, thanks to the work of a few dedicated individuals who have taken up the overwhelming task of helping to update entries, we're slowly but surely bringing the website back up to standard. If you'd like to participate in helping us with updating entries, such as providing information for anime that we might have missed, please create a thread on the forums in the Additions to the Anime Database forum, and post any relevant information (eg: character information, number of episodes, Studio information, etc) and we'll do our best to update the entries with what you provided.
City manga
Manga reader.net
Manga.com