Animals
Elk vs. Photographer. Birth Of An Elephant. The Power of a Moment - Influential Mom Blogger, Brand Ambassador, Blog Network. - StumbleUpon. Pictures that will Make you go Awww. 15 Baby Animals You Didn't Know Were Adorable | 25 Most Beautiful Animals Photography on StumbleUpon | Beautiful Animals. 10 Very Happy Animals. Tiny Animals in Cups—Maximum Cuteness! [25 Pictures] Cat_bird.jpg from degocast.com - StumbleUpon. Whatever happens, don't say Awwww (The CHIVE) & S A V O I A. 6a00d8341bf8f353ef0153926fecce970b-pi from blogs.com - StumbleUpon. A mother like no other. Lisha, a Labrador, is world famous for her mothering skills even though she's never birthed any pups of her own.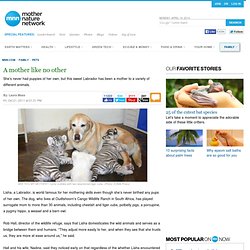 The dog, who lives at Oudtshoorn's Cango Wildlife Ranch in South Africa, has played surrogate mom to more than 30 animals, including cheetah and tiger cubs, potbelly pigs, a porcupine, a pygmy hippo, a weasel and a barn owl. Rob Hall, director of the wildlife refuge, says that Lisha domesticates the wild animals and serves as a bridge between them and humans.
Knut-zoo.jpg from livescience.com - StumbleUpon. Lion_Play_HS7130LG.jpg from digital-images.net - StumbleUpon. Big cats photography. Cutest Paw Gives You the Cutest Animal Pictures Around the World - StumbleUpon. Its a bugs life: Artist creates human sculpture from 20,000 handmade... By Suzannah Hills UPDATED: 22:29 GMT, 30 January 2012 From a distance it looks like a simple red sculpture of the female form.
But artist Gabor Fulop hasn't used marble or paper-marche to create this piece of artwork called 'The Lady Bug' - and has in fact made up his model using 20,000 tiny ladybirds. Using artificial resin, the Bulgarian sculptor handmade the minuscule beetles, before painting them individually. Silly Walk by andreas612. 32 Pictures That Will Make You Say Awwwwwwww - StumbleUpon.
---