Ressources péda
Sites académiques anglais. Worldmapper: The world as you've never seen it before. 4.9.7 Langues - Circonscription de Mulhouse 1. Le guide du web pédagogique 2011 : Anglais. Par Christine Reymond Cette année le coup de coeur est le site de Stéphane Bussutil qui vous propose des ressources actuelles et des idées de mise en oeuvre et d'activités originales, et surtout des tutoriels faciles à suivre pour créer vos propres ressources à partir de logiciels et de l'internet.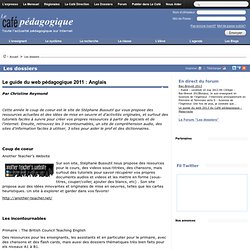 Ensuite, retrouvez les 3 incontournables, un site de compréhension audio, des sites d'information faciles à utiliser, 3 sites pour aider le prof et des dictionnaires. Coup de coeur Another Teacher's Website. Valentine's Day. Histoire Une video niveau B1 de History.com à télécharger à partir de You Tube.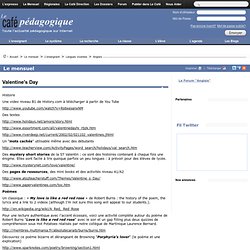 Presidents' Day. President Obama's Second Inauguration - a photo gallery (nytimes.com) See Videos Inauguration Day: Obama sworn in for second term - 20 January 2013 "Barack Obama has officially been sworn in for his second term as US president in a small ceremony at the White House.
" + VIDEO : "Joe Biden takes the Oath of Office for his second term as Vice-President. " (BBC) See Cartoons Beyonce, Fun and Glee on Obama's inauguration playlist (BBC) PRESIDENTS' DAY (neatorama.com) 43 Facts about 44 PresidentsPresidential Superstitions 5 Nastiest U.S. Presidential Elections in History Three Presidential Tragedies (Other Than Assassinations) Great Moments in Presidential Debt A Sitting President's Memorial Grover Cleveland's Deadly Secret Happy Birthday, Teddy Roosevelt! Elllo | English Listening Online.
---