Android
Best Apk - Free Android Downloads
SwiftKey Tablet X Keyboard 2.2.0.113 For ANDROID 2.1 and up Devices. Overview: Next-generation AI keyboard, now with unrivaled prediction and personalization! Similar: A.I.type Keyboard Plus v1.7.2 Keyboard Manager (root users) v2.0 SwiftKey X Keyboard v2.2.0.113 GO Keyboard v1.2.1 Perfect Keyboard v1.3.5 SwiftKey X for smartphones builds on TouchType's SwiftKey keyboard to offer cloud personalization, a new prediction engine and a... Read More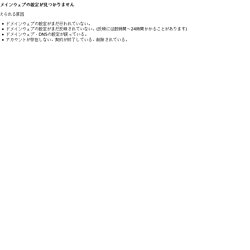 Log in | Blapkmarket.com
Portal - DroidAppz
Current Version: 1.22 Requires Android: 2.1 and up Category: Communication v1.22 update: ** Please give your hand to localize 'Zipper' app **http://androboy.cafe24.com/zipper.htmlYou can download 7zipper app directly.http://androboy.cafe24.com/zdownload.html———- 1.22 update list ———–(Minor) Bug Fix———- 1.19 update list ———–Shortcut for launching the… Current Version: 7.2.0 Requires Android: 2.1 and up Category: Travel & Local v7.2.0 update: Overview: Qunar Travel, Smart Your Travel! The coolest travel application to purchase discount air tickets and hotels online easily and safely with the best user experience…. Current Version: 1.0.3 Requires Android: 2.2 and up Category: Tools v1.0.3 update: – Update latest database- Fix scan bug Overview: CM Security OpenSSL Heartbleed Scanner: Professional detector developed by CM Security, the world's most trusted Android antivirus (over 20,000,000 downloads…
APKTOP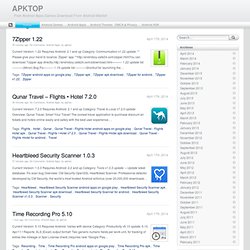 Paid Android Apps For Free
Real Racing 3 v2.0.2 build.2002 Posted by admin on January 14th, 2014 Real Racing 3 v2.0.2 build.2002 Requirements: Android 2.3.3+ Overview: Hyper-realistic. Pure fun. And FREE.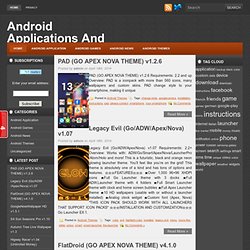 Android Application And Games
Samsung Galaxy S II - XDA
Forum Galaxy S2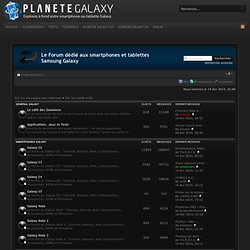 Nous sommes le 14 Avr 2014, 16:48 Voir les messages sans réponses • Voir les sujets actifs
Galaxy S2 - Galaxy SII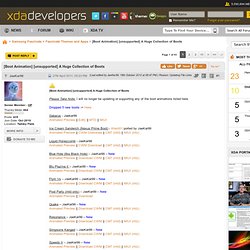 [Boot Animation] [10/10/11] A Huge Collection of Boots ~ Updated
[Boot Animation] [unsupported] A Huge Collection of Boots Please Take Note: I will no longer be updating or supporting any of the boot animations listed here. Dropped 5 new boots -> Here. Galaxus - Jaekar99Animated Preview || Edify || MTD || MIUI Ice Cream Sandwich (Nexus Prime Boot) - Westi01 ported by JaeKar99Animated Preview || CWM Download || CM7 (mtd) || MIUI (mtz)
La date/heure actuelle est Mar 14 Jan - 21:50 Voir les messages sans réponses Effectuer votre rechercheNOUVEAU : Moteur de recherche rapideIl trouve tout, beaucoup plus rapidement, à utiliser sans modération.Astuce: Il trouve la section de votre smartphone en un clin d'oeil !0 Sujets0 Messages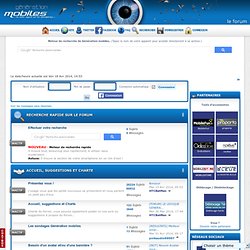 [SG S2] Les ROMs du Samsung Galaxy S2
Les Customs ROMs - Android Forum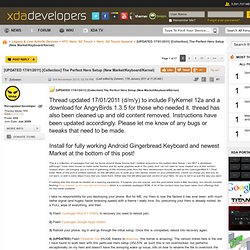 Thread updated 17/01/2011 (d/m/y) to include FlyKernel 12a and a download for AngryBirds 1.3.5 for those who needed it. thread has also been cleaned up and old content removed. Instructions have been updated accordingly. Please let me know of any bugs or tweaks that need to be made. Install for fully working Android Gingerbread Keyboard and newest Market at the bottom of this post!
The Perfect Hero Setup
HTC
HTC training doc hopes to get sales reps to promote the One (M8) over the Galaxy S5 With the US retail launch of the Samsung Galaxy S5 just a few hours away, HTC is going on the offensive. A leaked training document intended for thousands of sales reps working at service providers in the US highlights the "Top 5 reasons why the HTC One (M8) is better than the Samsung ... Read More » AT&T, Verizon and Sprint remove Download Booster feature from Galaxy S5
Android and Me
appxoid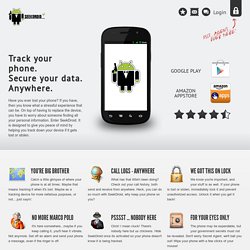 You're Big Brother Catch a little glimpse of where your phone is at all times. Maybe that means tracking it when it's lost. Maybe as a tracking device for more nefarious purposes, or not....just sayin'. Call Logs - Anywhere What has that little'n been doing?
SeekDroid