Android.mk
Problem with LOCAL_LDLIBS -l on Windows/Cygwin - android-ndk | Google Groupes
Discussions - android-ndk | Google Groupes
android-ndk | Google Groupes
How to run HelloWorld on ndk r4 and r5 - cocos2d-x - cocos2d-x.org
This document describes how to run a simple 'HelloWorld' sample under NDK r4 and r5 with Windows (using Cygwin), or Linux. Setting Up Development Environment¶ This document doesn't describe how to set up NDK.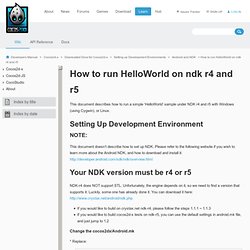 makefile - Android NDK: how to include Android.mk into another Android.mk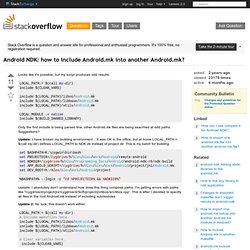 Pretty late here, but in case somebody reads this question, one way to get past the problem of broken paths(pointing to the ndk insted of your files from the jni) is to have in your jni folder: include $(call all-subdir-makefiles) and then in every subfolder of it (libos, libbase and ustils inthe case of OP) an Android.mk of this form: LOCAL_PATH := $(call my-dir) include $(CLEAR_VARS) LOCAL_C_INCLUDES := $(LOCAL_PATH) LOCAL_MODULE := utils LOCAL_SRC_FILES := one.c LOCAL_SRC_FILES += two.c
Dec292011 Firstly, let me say that this document is an abstract information which is available in pdk documents. Secondly, you may want to look at the post that tells how to build Android source code. And now, we can start, at a first glance to Android source codes, we see that applications, libraries, components in framework have Android.mk files in their specific directories.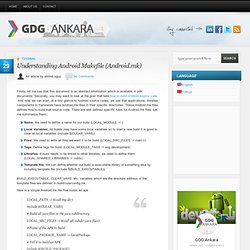 Understanding Android Makefile (Android.mk) | Ankara GTUG
svn.haiku-os.org/webpositive/webkit/trunk/Android.mk
android.mk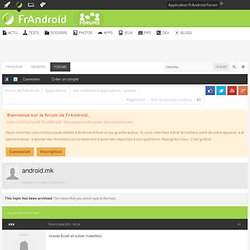 include $(call all-subdir-makefiles) #CODECS := alac ape flac wav wv mpc #codec-makefiles = $(patsubst %,$(call my-dir)/%/Android.mk,$(CODECS)) #include $(call codec-makefiles) ifneq ($(NDK_ROOT),) LOCAL_PATH:=$(NDK_ROOT)/apps/lossless/project/jni else LOCAL_PATH:=apps/lossless/project/jni endif
www.srombauts.fr/android-ndk-r5b/docs/ANDROID-MK.html