Android Apps
Listen & Speak - Android Apps on Google Play
You learn a foreign language and have difficulty understanding live speech? Not enough time for a speaking practice with a teacher? You have enough free time, but nobody near who could verify the correctness of your speech? We offer to transform your device in a foreign language teacher.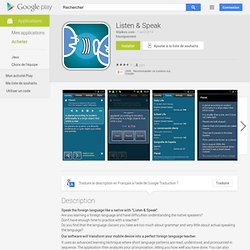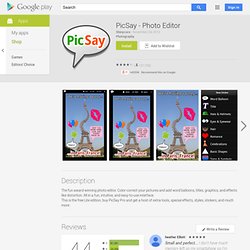 The fun award winning photo editor. Color-correct your pictures and add word balloons, titles, graphics, and effects like distortion.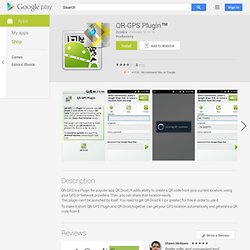 QR-GPS Plugin - Android Apps on Google Play
QR-GPS is a Plugin for popular app QR Droid.
SparkNotes - Android Apps on Google Play
Get today's most popular SparkNotes study guides for literature, Shakespeare, poetry, philosophy, drama and short stories. Access online or download to your device for use offline. Check-in to easily share your location and start a Sparknotes study group right from your mobile.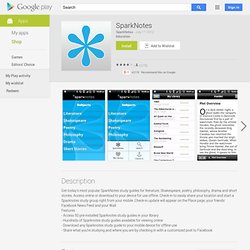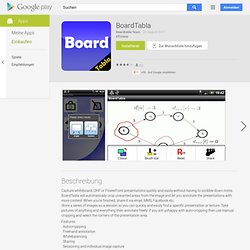 Capture whiteboard, OHP or PowerPoint presentations quickly and easily without having to scribble down notes.
BoardTabla - Android Apps on Google Play
MultiLing Keyboard - Android Apps on Google Play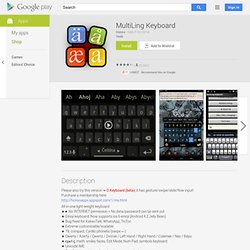 Try O Keyboard (beta) with gesture/swipe input!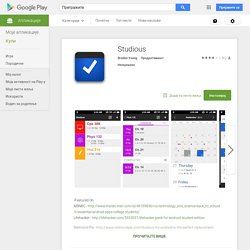 Studious - Android Apps on Google Play
•Featured On: MSNBC - http://www.msnbc.msn.com/id/48189836/ns/technology_and_science-back_to_school/t/essential-android-apps-college-students/
At first, Three Ring seemed a little too simple for me, but after spending time learning the ins and outs, I love it. For me, the most important feature is the unlimited storage. With Evernote, the free version only gives 60MB of uploads per month. With the amount of activity in my various classes, this is not enough and I haven't been bale to justify to myself the extra expense to upgrade. Now, I can use Three Ring for the classroom, and Evernote for personal items and professional development. by harpj Nov 15
* Galerie de photos de haute qualité "indiens" Mythologie images. * Play "Indian Mythology" jeu libre Puzzle. * Réglez «mythologie indienne" Live Wallpaper.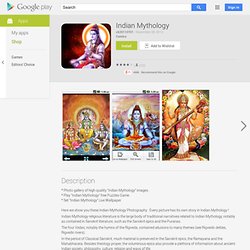 Indian Mythology - Apps on Android Market
Apps by Barron's Educational Series - Android Market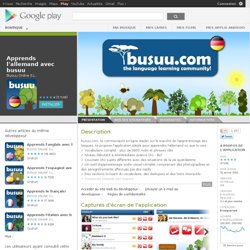 Learn German with busuu.com! - Android Apps on Google Play
busuu.com, la communauté en ligne leader sur le marché de l'apprentissage des langues, te propose l'application idéale pour apprendre l'allemand où que tu sois :
Apps by Smart Tools co. - Google Play
AirDroid to szybka, darmowa aplikacja pozwalająca na bezprzewodowe zarządzanie telefonem z poziomu Twojej ulubionej przeglądarki. =============== Ciesz się poniższymi funkcjami korzystając z Twojej ulubionej przeglądarki używając Windowsa/Maca/Linuxa lub innych urządzeń: (Film instruktażowy: http://youtu.be/WfNnQxpw7Uw )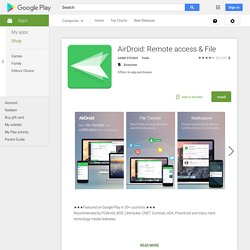 Apps by The App People - Google Play
Apps by Lemberg Solutions - Google Play
Ahora, con el reconocimiento de letras y de la posibilidad de grabar sus propias cartas! (Trabajo de reconocimiento con Android 2.2 y superior, la versión más baja se iniciará el modo libre). Aprender a escribir el abecedario (ABC)
Scripto Schola ABC - Android Apps on Google Play
Greek Mythology Quiz game will test your knowledge of the gods, godesses, titans, heroes, and monsters from greek mythology.
Greek Mythology Quiz - Apps on Android Market
Greek Mythology - Apps on Android Market
Greek Mythology - Apps on Android Market
Stories of Greek Mythology : The Olympin Gods , Pandora , Apollo , Prometheus , Nereus and Proteus , Eros ( Cupid ) , Ares , etc . Greek mythology is the body of myths and legends belonging to the ancient Greeks concerning their gods and heroes, the nature of the world, and the origins and significance of their own cult and ritual practices. They were a part of religion in ancient Greece.
Alphabets - Apps on Android Market
Catch es una app gratuita diseñada para que nunca se te escape una idea. Te permite capturar ideas y descubrimientos en todos tus dispositivos. Cuando estés listo, podrás ponerlas en práctica con amigos y colegas usando sencillas herramientas de colaboración móvil.
Countries of the World - Apps on Android Market
The Oregon Trail: Settler - Apps on Android Market
VidTrim - Video Trimmer - Apps on Android Market
Minus - Apps on Android Market
Any.DO: To Do List | Task List - Apps on Android Market
ColorNote Notepad Notes - Apps on Android Market
Feedly - Apps on Android Market
Announcify.com
SyncSpace Shared Whiteboard - Apps on Android Market
Skitch - Apps on Android Market