Android Apps
Listen & Speak. Android 4 Schools. PicSay - Photo Editor. Cymera is simply the best camera application for portraits.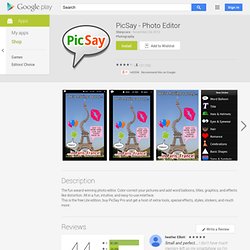 It has everything you need in a selfie camera and photo editor to help you capture and create photos worth awards. It offers a huge variety of lenses and shooting modes, hand-picked filters and the best beauty effects, run through our own face detection technology.All of this plus more than 800 decoration options and the most amazing collage effects.Our All-in-One features include: ■ Powerful Camera - 7 camera lenses inspired on the famous DSLR cameras- Out of Focus, Anti-Shake, Timer, Self-Portrait, Touch Shots and other shooting modes to help you get the best out of your capturing experience. ■ Hand-picked Filters and Borders.
QR-GPS Plugin. GPS area calculator and distance calculator: Planimeter is a map ruler tool for all kinds of measurements on Google Maps: distance, area, angle, bearing.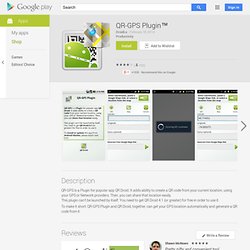 Distance between points or cities on Google Maps and area contained in space can be calculated. This map ruler uses Google Maps and GPS, Network location services. See Quick Guide on webpage: Planimeter software can be used in industries for road repairing, concrete, seal coating, roofing, paving, fence, underground utilities.Useful as map area measure tool for outdoor activities, land survey, sports, range finder applications, bike tour planning, or run tour planning, explore golf area, golf distance meter, run, walk, bike, jog tracking, field pasture area measure, garden and farm work and crop planning, area records, construction, fencing, agricultural fencing, solar panel installation - roof area estimation, trip planning, topography tasks, etc.
SparkNotes. Graphing calculator with algebra.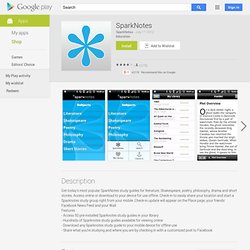 Essential tool for school and college. Replaces bulky and expensive handheld graphing calculators. BoardTabla. Hellste LED-Taschenlampe SuchscheinwerferDies schaltet auf Ihrer Kamera LED-Licht für die Verwendung als ein helles flashlight.Also können Sie den Bildschirm komplett schwarz schalten oder sehen Sie eine Live-Kamera-Feeds (ideal für das Sehen in kleinen Orten).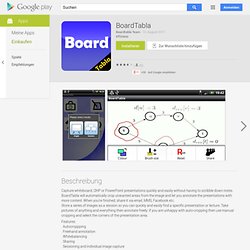 Flashlight App für Ihr Gerät! Unglaublich einfach und doch sehr nützlich Taschenlampe Anwendung. Wird Ihr Gerät die Kamera-LED / flash / Bildschirm als Taschenlampe verwenden.Searchlight Taschenlampe ist derzeit einer der besten LED-Taschenlampen auf dem Markt und hat die beste Unterstützung für mehrere Ton effects.You kann sogar den Bildschirm ausschalten unter Beibehaltung der LED auf. Nur beachten Sie, dass Sie nicht in der Lage, die mit dem Bildschirm aus LED wechseln - schalten Sie den Bildschirm auf, schalte es ggf. dann halten suchen, oder tippen Sie auf ein Symbol.Berechtigungen:• android.permission.CAMERASuchscheinwerfer verwendet den Blitz der Kamera zu leuchten die LED. MultiLing Keyboard. KK Emoji Keyboard is the free and best colorful Emoji,Emoticons,Text Face,Stickers and Smiley Keyboard with Gesture Typing input(Swipe function) you have seen!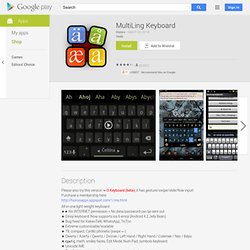 ############Important Note:###########################1.If you need use swipe feature, pls must install your corresponding language dictionary################################################### Studious. Note Atarok an android application.Note keeps a very comprehensive benefits package. the content of the note is the following: Check inphoto cameravideo imagevoice Recordermusicreminder function You can use in many places the application To give an example.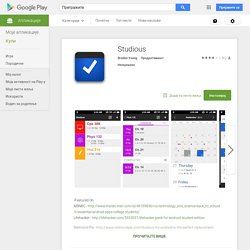 Three Ring | An App for Teachers to Create Educational Portfolios of Student Work with an iPhone, iPad, or Android Smartphone. Indian Mythology - Apps on Android Market. Apps by Barron's Educational Series - Android Market. Daily App Show - Daily Video Reviews of iPhone, iPad and Android Apps. Apps by Smart Tools co. - Google Play. Convertisseur d'unité est un outil additionnel de la collection Smart Tools®.Devise (argent) option de change est ajouté.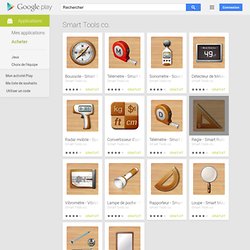 Il ya déjà beaucoup d'applications convertisseur d'unité sur le marché, mais la plupart sont difficiles à utiliser en raison d'avoir une interface trop compliquée. Ce convertisseur d'unité est plus simple et intuitive avec une interface belle et optimisé, qui est conçu pour l'utilisateur occasionnel comme vous. Essayez-le. Il dispose de 15 catégories avec des unités essentielles utilisées dans votre vie quotidienne.
AirDroid. The easy way to transfer content to your new Samsung Galaxy®.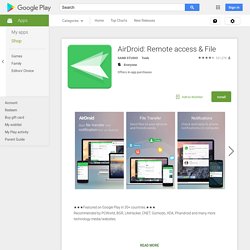 Switching to the latest Samsung Galaxy® device has never been simpler—or smarter. Now you have the freedom to wirelessly move your contacts, photos, calendar, text messages, device settings and more to your new Galaxy device. Plus, Smart Switch™ helps you find your favorite apps for your new device, or will suggest something similar from more than 700,000 apps on Google Play™. Transferring from iPhone: Apps by Lemberg Solutions - Google Play. A lot of wonderful pictures to assemble and 14 languages to master in one app!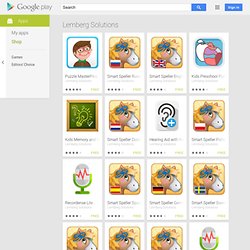 A lite version of the awesome app for kids: with one category open ("Animals") to try it out before you buy a full version of the game (through in-app purchase). The challenge of this educational game is interesting and exciting: a child will move patterned pieces of paper to complete a picture. When the object is created, its name is spelled on the screen and you can hear the word pronunciation - ★★★in any of 14 languages available★★★! Scripto Schola ABC. This app is now optimized for both phones and tablets.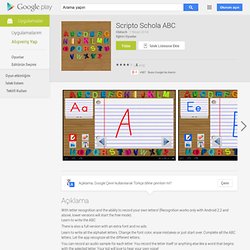 Tip: Try our Kids ABC Phonics FREE first. If you like it (and you will love it), then get this paid version - it doesn't stop at the letter H and offers a child lock. Greek Mythology Quiz - Apps on Android Market. ΓΕΝΙΚΑΔωρεάν ελληνικό εγκυκλοπαιδικό παιχνίδι ερωτήσεων/γνώσεων.Για έναν και για δύο παίκτες! Κατάλληλο για τεστ Δεξιοτήτων του ΑΣΕΠ. 8.500+ ερωτήσεις γνώσεων πολλών επιπέδων δυσκολίας σε θέματα: Ελληνική, Ευρωπαϊκή, Παγκόσμια Γεωγραφία, Ιστορία, Μουσική, Κινηματογράφο, Επιστήμες, Μαθηματικά, Τεχνολογία, Μυθολογία, Aστρονομία, Περιβάλλον, Φυτά, Ζώα, Οσκαρ, βραβεία Νόμπελ, Ιντερνετ, video games κ.ά. Για το σχολείο, την οικογένεια, τους φίλους και τις κοινωνικές συγκεντρώσεις.Aν οι γνώσεις είναι πλούτος, τότε γίνε εκατομμυριούχος! Σχεδιασμένο από έλληνες στα ελληνικά!
Greek Mythology - Apps on Android Market. With GotMythos Classic you can learn everything about Classical Mythology (Greek and Roman).• You can check all the information about Gods, Heroes and Creatures of Greek and Roman Mythology, as if Homer, Ovid or Hesiod themselves were telling you their stories: from its origins, features, symbols and even a bit of their story. • All the images included in the application are pictures of pieces of art, paintings and sculptures. Representations of the Twelve Olympians, icons of the Heroes from the Classical age and also icons of all the Creatures that appear in Classical literature like The Iliad, The Odyssey…• It also includes a Quiz (question and answer game), so you and your friends can prove your knowledge.
It contains more than 200 different questions about the Greek and Roman myths, classified in different categories. Show your knowledge about Mythology!!! • Win emblems with every perfect game you get.• Which are the symbols of Zeus, father of the Gods? Greek Mythology - Apps on Android Market. This is #13 Kung-Fu Chinese series Apps by QLLImmerse yourself in rich language and easily learn Spanish or Chinese, in an entertaining way.All you have to do is download this app. You'll enjoy reading this story while picking up another language with the proven effective technique of storytelling.
Click "…More" to learn why you should download this App today! Alphabets - Apps on Android Market. Countries of the World - Apps on Android Market. The Oregon Trail: Settler - Apps on Android Market. VidTrim - Video Trimmer - Apps on Android Market.
Art Apps
Audio. Books. English. Foreign Language. History. Math Apps. Music. News. Science. Teacher Tools. Dolphin Browser® HD - Apps on Android Market.
Quixey - The Search Engine for Apps. Minus - Apps on Android Market. Mindjet for Android - Apps on Android Market. CamScanner -Phone PDF Creator - Apps on Android Market. Any.DO: To Do List | Task List - Apps on Android Market. ColorNote Notepad Notes - Apps on Android Market. Feedly - Apps on Android Market. Announcify.com. SyncSpace Shared Whiteboard - Apps on Android Market. Skitch - Apps on Android Market.
---