Android Apps
Listen & Speak - Android Apps on Google Play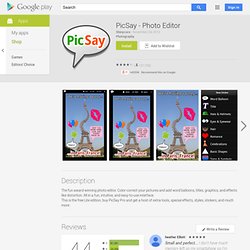 Cymera est la meilleure application pour appareil photo pour les portraits. Elle offre tous les éléments d'un appareil photo et d'un éditeur pour capturer et créer des photos exceptionnelles.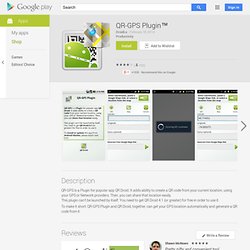 QR-GPS Plugin - Android Apps on Google Play
Planimeter is a tool to measure and calculate distance, area, angle and bearing on a map, to get GPS coordinates of the point.
SparkNotes - Android Apps on Google Play
The StudyUp App allows you to take notes during your school classes with your mobile device; either by typing or free hand writing, You can also record lectures while taking notes, so you can be sure not to miss any important information. Best of all, we make it easy to review your notes or class recordings from anywhere at anytime! StudyUp keeps your notes organized by subject, and lets you share them with your Study Buddies.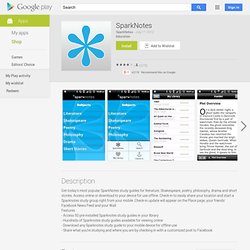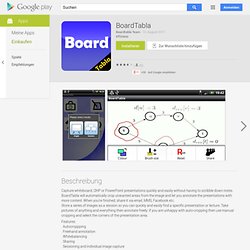 Whiteboard is a collaborative drawing app for the Android, iPhone, iPod touch, and iPad.
BoardTabla - Android Apps on Google Play
MultiLing Keyboard - Android Apps on Google Play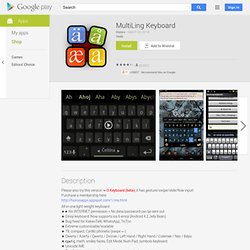 Take command of your Android device's touchpad keypad with a Perfect and smart Keyboard for android.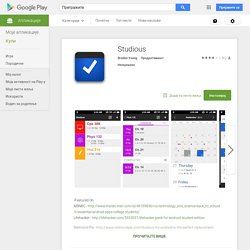 Studious - Android Apps on Google Play
Color Note is a simple notepad app.
At first, Three Ring seemed a little too simple for me, but after spending time learning the ins and outs, I love it. For me, the most important feature is the unlimited storage. With Evernote, the free version only gives 60MB of uploads per month. With the amount of activity in my various classes, this is not enough and I haven't been bale to justify to myself the extra expense to upgrade. Now, I can use Three Ring for the classroom, and Evernote for personal items and professional development. by harpj Nov 15
Insta7 is a free ultimate all-in-one application made for Indians!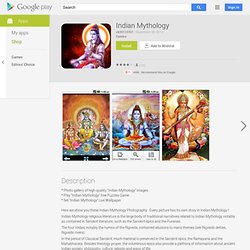 Indian Mythology - Apps on Android Market
Apps by Barron's Educational Series - Android Market
Apps by Smart Tools co. - Google Play
Share Apps really share your apps' installation package(APK) with your friends directly.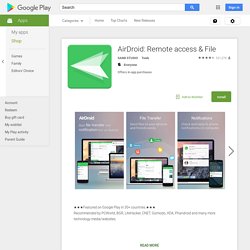 Apps by Lemberg Solutions - Google Play
Tootooni! Games for Toddlers & Kids Free* [NO ADS & NO PERMISSIONS] Fifteen children's games in one, to educate and entertain toddlers and small children.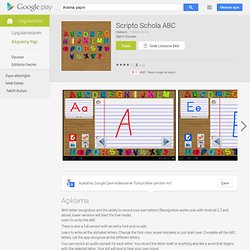 Scripto Schola ABC - Android Apps on Google Play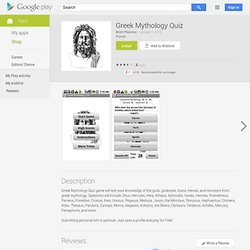 ΓΕΝΙΚΑΔωρεάν ελληνικό εγκυκλοπαιδικό παιχνίδι ερωτήσεων/γνώσεων.Για έναν και για δύο παίκτες!
Greek Mythology Quiz - Apps on Android Market
Learn Greek Deluxe is guaranteed to be the most entertaining way you have learnt Greek so far!
Greek Mythology - Apps on Android Market
Greek Mythology - Apps on Android Market
All of books in this application are free★☆★ You love the mystical and romantic stories as legend in Greek mythology?★☆★★☆★You admire the horrors in legend who are only in imagination with amazing victories like Hecquyn, Odysseus or Illiat? ★☆★All will be collected and selected detailedly in Myth Books – only free App provides you 200 thrilling and attracting Myth books!
Teach your child the ABC's and letters with this fun and educational App.
Alphabets - Apps on Android Market
The best world map app for Android, and it's FREE!
Countries of the World - Apps on Android Market
The Oregon Trail: Settler - Apps on Android Market
VidTrim - Video Trimmer - Apps on Android Market
Minus - Apps on Android Market
Any.DO: To Do List | Task List - Apps on Android Market
Feedly - Apps on Android Market
Announcify.com
SyncSpace Shared Whiteboard - Apps on Android Market