Android apps
Locale for Android
FBReader: FBReader for Google Android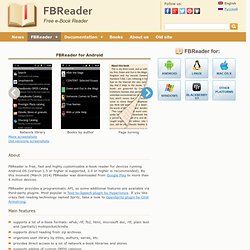 About FBReader is free, fast and highly customisable e-book reader for devices running Android OS (version 1.5 or higher is supported, 2.0 or higher is recommended). By this moment (March 2014) FBReader was downloaded from Google Play to more than 9 million devices. FBReader provides a programmatic API, so some additional features are available via third-party plugins. Most popular is Text-to-Speech plugin by Hyperionics. If you like crazy fast reading technology named Spritz, take a look to OpenSpritz plugin by Clint Armstrong.
What is Sky Map? Google Sky Map turns your Android-powered mobile phone into a window on the night sky. It will identify objects that appear in the sky and allow users to search for them. How can I get Sky Map? The app is available for download at the Google Play. Where is Sky Map be available?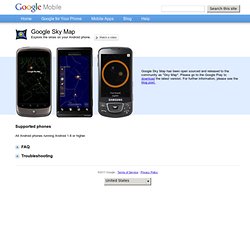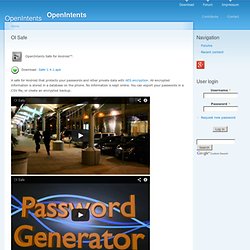 OI Safe | OpenIntents
OpenIntents Safe for Android™. Download: Safe-1.4.1.apk A safe for Android that protects your passwords and other private data with AES encryption. All encrypted information is stored in a database on the phone. No information is kept online. You can export your passwords in a CSV file, or create an encrypted backup.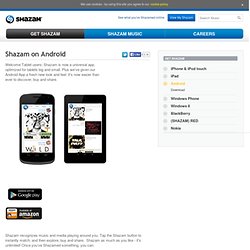 Welcome Tablet users: Shazam is now a universal app, optimized for tablets big and small. Plus we've given our Android App a fresh new look and feel: It's now easier than ever to discover, buy and share. Shazam recognizes music and media playing around you. Tap the Shazam button to instantly match, and then explore, buy and share. Shazam as much as you like - it's unlimited! Once you've Shazamed something, you can:
Shazam on Android
Home (scummvm-android)
ScummVM is a program which allows you to run certain classic graphical point-and-click adventure games, provided you already have their data files. The list of supported games is quite substantial—see the main ScummVM site for the full list. This site covered the port of ScummVM to the Android phone platform during its development. The port is now accepted into the main ScummVM codebase, so you should probably continue your query on the main ScummVM website. You probably want to go and read the FAQ now.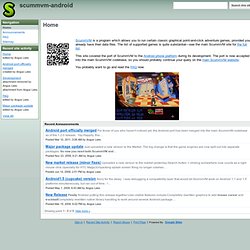 Barcode Scanner Android App Review by AndroidTapp.com | Android
by Antonio Wells Jun 12, 2009 11:17 AM – Install Barcode Scanner. Scan barcodes on CDs, books, and other products, then look up prices and reviews, or search for a word in a book and find where it occurs. You can also scan QR Codes containing URLs, contact info, calendar events, and more.