Android apps
Locale for Android
FBReader: FBReader for Google Android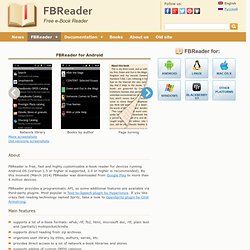 About FBReader for Android FBReader is free, fast and highly customisable ebook reader for devices running Android OS (version 1.5 or higher is supported, 2.0 or higher is recommended). FBReader for Android supports a lot of e-book formats: ePub, rtf, fb2, html, plain text and (partially) mobipocket/kindlesupports direct reading from zip archivesorganizes user library by titles, authors, series, etc.provides direct access to a lot of network ebook libraries and storessupports adding of custom OPDS catalogsis integrated with popular dictionaries like ColorDict, SlovoEd, Fora, etc.can use external TrueType/OpenType fontsis localised for 29 languagesincludes hyphenation patterns for 16 languages History and current version FBReader for Android was written in Java as a clone of original (C++) FBReader book reader.
What is Sky Map? Google Sky Map turns your Android-powered mobile phone into a window on the night sky.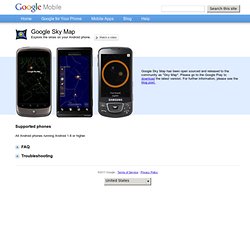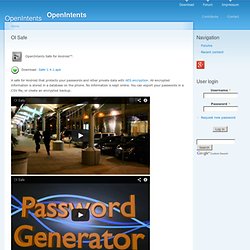 OI Safe | OpenIntents
OpenIntents Safe for Android™. Download: Safe-1.4.1.apk A safe for Android that protects your passwords and other private data with AES encryption. All encrypted information is stored in a database on the phone. No information is kept online. You can export your passwords in a CSV file, or create an encrypted backup.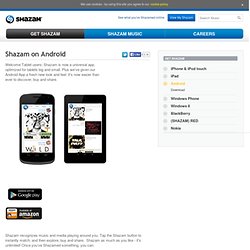 Welcome Tablet users: Shazam is now a universal app, optimized for tablets big and small. Plus we've given our Android App a fresh new look and feel: It's now easier than ever to discover, buy and share.
Shazam on Android
Home (scummvm-android)
ScummVM is a program which allows you to run certain classic graphical point-and-click adventure games, provided you already have their data files.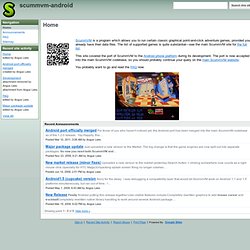 Barcode Scanner Android App Review by AndroidTapp.com | Android
by Antonio Wells Jun 12, 2009 11:17 AM –