English
Word Breaker, the go-to favorite word game solver on Android, is now better than ever! Read on to discover the massive improvements and additions we've made: Word Breaker is the ultimate Scrabble cheat when you're stuck! It supports the following games: Words with Friends, Angry Words, EA Scrabble, Wordfeud, Wordsmith, and Words by Post. TOP FEATURES:- Lightning fast!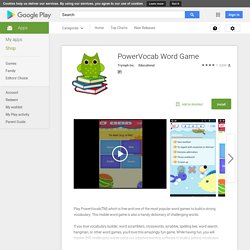 PowerVocab: Vocab Builder Game - Apps on Android Market
EasyBib - Apps on Android Market
I love this app! But there's one problem... I love having the ability to scan books in! As a student that iswrites at least 1 paper a week, this app is very helpful, and if one thing was fixed it would be perfect: EasyBib keeps closing out when I search certain words.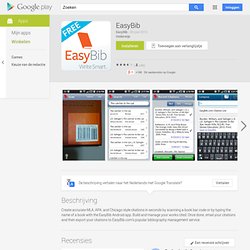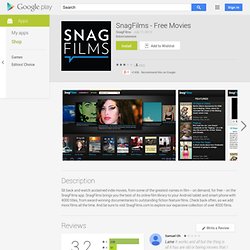 Watch Movies & TV Shows for FREE on your Android phone and tablet!More than 20 million fans enjoy this award-winning FREE app. Crackle provides great new content every month. No signup, no fees, just hit Movies & TV Shows such as Seinfeld & Pineapple Express available for FREE – whenever, wherever.
SnagFilms - Apps on Android Market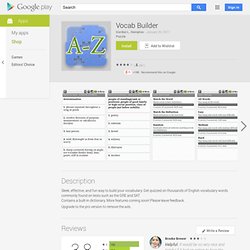 Preparing for GRE/GMAT/SAT or other competitive exams from across the globe? We bring to you Vocabulary Bible to target the verbal sections. Use Vocabulary Bible Lite to learn 150 new words while enjoying the exhilaration of gaming. Play and learn on the go!! So you've bought your Android device but you are yet to buy a vocabulary software. Buy Vocabulary Bible right away!
Vocab Builder - Apps on Android Market
Words, words, words! - Apps on Android Market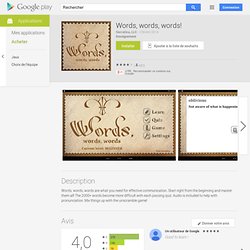 Classic Words Solo is the first word game that lets you play against your Android phone or tablet (solitaire mode). Enrich your vocabulary thanks to the built-in word definitions!6 languages are supported: English, Spanish, French, Italian, German and Dutch.
SnaPanda – Scan a Word, Get a Definition
"ABC Trace meilleur apprendre" est une application ludique , simple griffonnage de peinture de couleur pour les enfants d'âge préscolaire et les enfants à apprendre leur ABC et 123s , il est le meilleur programme de peinture doodle ABC traçage et alphabet pour les enfants! Il s'agit d'une application simple, intéressant et amusant , il est absolument gratuit et est une excellente application éducative très complet pour les enfants. "ABC Trace meilleur apprendre" est un must have doigt le traçage et la coloration app . Un programme de dessin merveilleux pour les enfants de tous âges afin de libérer leur imagination et artiste qui sommeille . Simple , propre , tout plein de possibilité.
123s ABCs Handwriting Fun SET1 - Apps on Android Market