English
Play PowerVocab(TM) which is free and one of the most popular word games to build a strong vocabulary. This mobile word game does not have any annoying ads and also is a handy dictionary of challenging words. New Multiplayer mode: Play with other live user - have fun with social gaming for playing words with friends type of games!! If you love vocabulary builder, word scramblers, crosswords, scrabble, spelling bee, word search, hangman, or other word games, you'll love this amazingly fun game. While having fun, you will master 350 challenging words using our adaptive learning software to build a lasting vocabulary using flashcards.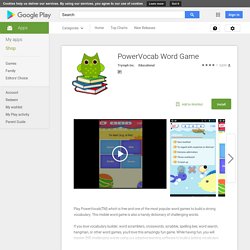 PowerVocab: Vocab Builder Game - Apps on Android Market
EasyBib - Apps on Android Market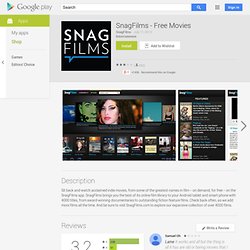 Sit back and watch acclaimed indie movies, from some of the greatest names in film -- on demand, for free -- on the SnagFilms app. SnagFilms brings you the best of its online film library to your Android tablet and smart phone with 400 titles, from award-winning documentaries to outstanding fiction feature films. Check back often, as we add more films all the time. And be sure to visit SnagFilms.com to explore our expansive collection of over 2,700 films.
SnagFilms - Apps on Android Market
Vocab Builder - Apps on Android Market
Words, words, words! - Apps on Android Market
SnaPanda is a free Android app that could help students expand their vocabulary. With SnaPanda installed on your phone you can point it at any clearly printed word on a page in a book, in a magazine, or on a sign and get the definition of that word. To do this just activate the app, point your phone's camera at a word, and touch the word.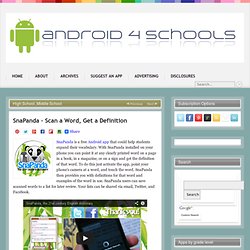 SnaPanda – Scan a Word, Get a Definition
Opiniones de los usuarios Escribir una opinión Inicia sesión para escribir una opinión. No hay opiniones que coincidan con estos criterios. No se ha podido recuperar la página.
123s ABCs Handwriting Fun SET1 - Apps on Android Market