English
According to Oxford University from 3000 is just enough for a native speaker of English communication throughout life , we understand you do not have to worry much in learning all skills : listening, speaking , reading and writing . But you 're boring when learning English vocabulary every day , it would be good to have a game that helps you practice the ability to memorize and recognize vocabulary ? Now you can do it right now ! That's why we do the game "Find the English words " a game that will get you more excited to learn and remember the vocabulary dry , simple easy to use interface for Vietnam .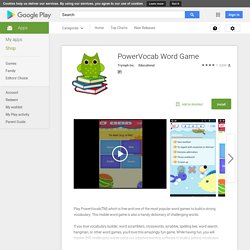 PowerVocab: Vocab Builder Game - Apps on Android Market
EasyBib - Apps on Android Market
Headache-free, BibTeX-based management for your academic reference library. Key Features:- Updated semi-weekly with new features and bug fixes - Integration with desktop BibTeX solutions:-- JabRef (Supports top-level groups and attached files/external links, no nested group support)-- BibDesk (Supports static-groups and attached files/external links, no smart group support) - Dropbox integration-- sync library .bib files, and attachments-- detect changes to attachments and upload new version automatically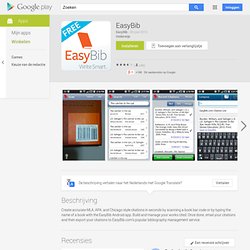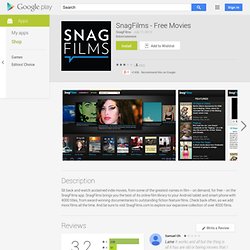 Watch Movies & TV Shows for FREE on your Android phone and tablet!More than 20 million fans enjoy this award-winning FREE app. Crackle provides great new content every month. No signup, no fees, just hit Movies & TV Shows such as Seinfeld & Pineapple Express available for FREE – whenever, wherever.
SnagFilms - Apps on Android Market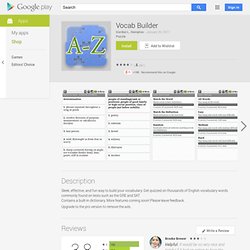 Preparing for GRE/GMAT/SAT or other competitive exams from across the globe? We bring to you Vocabulary Bible to target the verbal sections. Use Vocabulary Bible Lite to learn 150 new words while enjoying the exhilaration of gaming. Play and learn on the go!! So you've bought your Android device but you are yet to buy a vocabulary software. Buy Vocabulary Bible right away!
Vocab Builder - Apps on Android Market
Words, words, words! - Apps on Android Market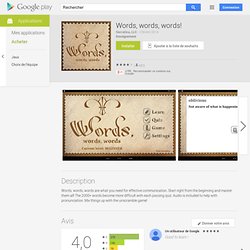 Classic Words Solo is the first word game that lets you play against your Android phone or tablet (solitaire mode). Enrich your vocabulary thanks to the built-in word definitions!6 languages are supported: English, Spanish, French, Italian, German and Dutch.
SnaPanda – Scan a Word, Get a Definition
"ABC Trace meilleur apprendre" est une application ludique , simple griffonnage de peinture de couleur pour les enfants d'âge préscolaire et les enfants à apprendre leur ABC et 123s , il est le meilleur programme de peinture doodle ABC traçage et alphabet pour les enfants! Il s'agit d'une application simple, intéressant et amusant , il est absolument gratuit et est une excellente application éducative très complet pour les enfants. "ABC Trace meilleur apprendre" est un must have doigt le traçage et la coloration app . Un programme de dessin merveilleux pour les enfants de tous âges afin de libérer leur imagination et artiste qui sommeille . Simple , propre , tout plein de possibilité.
123s ABCs Handwriting Fun SET1 - Apps on Android Market