English
PowerVocab: Vocab Builder Game - Apps on Android Market. According to Oxford University from 3000 is just enough for a native speaker of English communication throughout life , we understand you do not have to worry much in learning all skills : listening, speaking , reading and writing .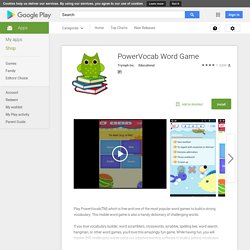 But you 're boring when learning English vocabulary every day , it would be good to have a game that helps you practice the ability to memorize and recognize vocabulary ? Now you can do it right now ! That's why we do the game "Find the English words " a game that will get you more excited to learn and remember the vocabulary dry , simple easy to use interface for Vietnam . EasyBib - Apps on Android Market. Headache-free, BibTeX-based management for your academic reference library.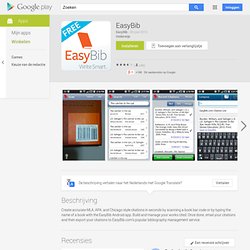 Key Features:- Updated semi-weekly with new features and bug fixes - Integration with desktop BibTeX solutions:-- JabRef (Supports top-level groups and attached files/external links, no nested group support)-- BibDesk (Supports static-groups and attached files/external links, no smart group support) - Dropbox integration-- sync library .bib files, and attachments-- detect changes to attachments and upload new version automatically. SnagFilms - Apps on Android Market. Watch Movies & TV Shows for free on your Android phone and tablet!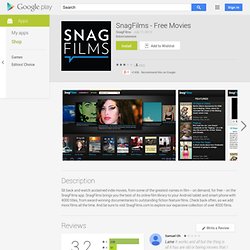 More than 25 million fans enjoy this award-winning free app. Crackle provides great new content every month. No signup, no fees, just hit movies, TV shows & original series such as Seinfeld, Pineapple Express and Comedians In Cars Getting Coffee, available for free – whenever, wherever. Vocab Builder - Apps on Android Market. Learn Spanish vocabulary the FUN and EASY way with Spanish Smash, the AMAZINGLY EFFECTIVE vocabulary training game.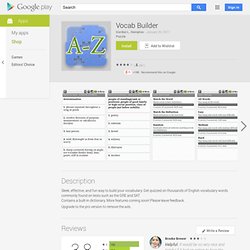 Forget boring flash cards, learn 240+ Spanish words by playing an arcade game instead! √ Learn more quickly than with flash cards. √ No translation! Learn the same way you learned your first language.√ Learn to recognize both the Spanish text as well as the sound, spoken by a native Spanish speaker. √ 3 stages and 41 levels that each get progressively more difficult to ensure your mastery of a set of words. √ Fun arcade style gameplay that makes learning Spanish vocabulary fun instead of tedious.√ Ideal for beginner - intermediate Spanish students. √ Great for travellers to pick up some useful vocabulary whilst on the plane, train, bus or boat. ************** Words are organized into themed language packs and you are required to beat all the levels in each stage for a pack before advancing to the next stage.
Words, words, words! - Apps on Android Market. FunEasyLearn est la nouvelle façon facile et amusante d'apprendre l'anglais, que vous aimiez écouter la musique d'autres pays, voyager à l'étranger, travailler pour une société internationale ou bavarder avec des amis étrangers.Téléchargez l'application de vocabulaire GRATUITE dès maintenant!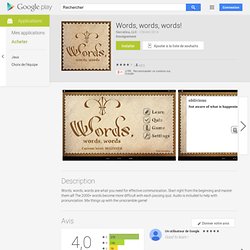 SnaPanda – Scan a Word, Get a Definition. 123s ABCs Handwriting Fun SET1 - Apps on Android Market. Best ABC Color Trace & Learn is a fun, simple Doodle color painting application for preschoolers & kids to learn their ABCs & 123s, it is the BEST ABC tracing & alphabet doodle painting program for kids!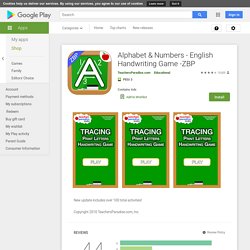 This Simple, interesting and fun app for kids is absolutely FREE and is full featured premium education application. A must have Kids ABC finger tracing & coloring app. A wonderful drawing program for kids of all ages to free their imagination and inner artist. Simple, neat while full of possibility.
---