Anatomy of the brain
Looking into the structure of the brain, how it relates to thought . Also how the brain and thought processes relate to computers/artificial intelligence .Looking into the latest research in these fields .
Khan Academy. Cognitive-Theoretic Model of the Universe.
Super Brain - Part 1 of 8. Super Brain - Part 2 of 8. Super Brain - Part 3 of 8. Super Brain - Part 4 of 8. Santiago Ramón y Cajal quotes. Santiago Ramón y Cajal. Santiago Ramón y Cajal ForMemRS[1] (Spanish: [sanˈtjaɣo raˈmon i kaˈxal]; 1 May 1852 – 18 October 1934)[2] was a Spanish pathologist, histologist, neuroscientist and Nobel laureate.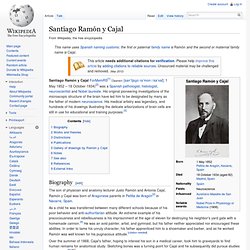 His original pioneering investigations of the microscopic structure of the brain have led him to be designated by many as the father of modern neuroscience. His medical artistry was legendary, and hundreds of his drawings illustrating the delicate arborizations of brain cells are still in use for educational and training purposes.[3] Biography[edit] The son of physician and anatomy lecturer Justo Ramón and Antonia Cajal, Ramón y Cajal was born of Aragonese parents in Petilla de Aragón[2] in Navarre, Spain. As a child he was transferred between many different schools because of his poor behavior and anti-authoritarian attitude. Brain-Machine. Frend. Human Brain · 3D views · 3D (thre. BrainInfo. The Whole Brain Atlas.
---