Analytics
38 days of data, last updated January 17, 2014; next index update: February 14, 2014 Learn more about index updates 249 Million Just-Discovered Links
With the completion of algorithmic transition to Bing, Yahoo! Search has merged Site Explorer into Bing Webmaster Tools . Webmasters should now be using the Bing Webmaster Tools to ensure that their websites continue to get high quality organic search traffic from Bing and Yahoo!.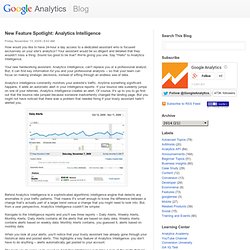 New Feature Spotlight: Analytics Intelligence
How would you like to have 24-hour a day access to a dedicated assistant who is focused exclusively on your site's analytics? Your assistant would be so diligent and detailed that they wouldn't miss a thing. Sound too good to be true? We're giving you one. Say "Hello" to Analytics Intelligence.
Wall Street On Demand