Latin America - Reading...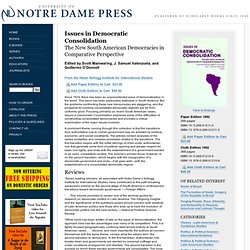 Issues in Democratic Consolidation
The New South American Democracies in Comparative Perspective
Shaping the Political Arena
Critical Junctures, the Labor Movement, and Regime Dynamics in Latin America Ruth Berins Collier and David Collier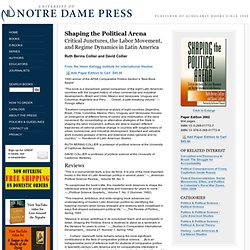 Poverty and Inequality in Latin America
Issues and New Challenges Edited by Víctor E. Tokman and Guillermo O'Donnell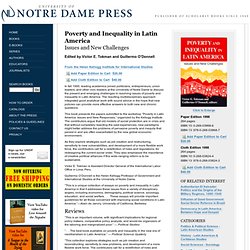 Empire's workshop : Latin America, the United States, and the rise of the new imperialism [WorldCat.org]
The Americas in the Age of Revolution, 1750-1850 by Lester D. Langley - Yale University Press
Fully revised and updated, this unique single-volume survey provides complete and even more up-to-date coverage of the entire region during the critical era that saw the formation and consolidation of its distinctive national institutions, laying the groundwork for contemporary Latin America.
The Emergence of Latin America in the Nineteenth Century: David Bushnell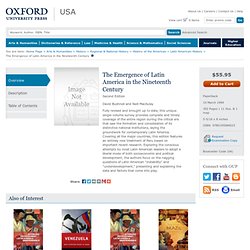 Latin America and the United States: A Documentary History
History-of-Latin-America-Reading-List-2009
duke - modern LatAm reading list
Revolution! South America and the Rise of the New Left - Nikolas Kozloff
(Palgrave-Macmillan, 2008)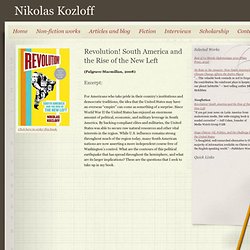 The War of Gods: Religion and Politics in Latin America
How liberation theology has brought politics and religion together in Latin America. The War of Gods traces the intimate relationship between religion, politics and social issues in Latin America over the last three decades, as liberation theology has reinterpreted the vocation of the Catholic Church and as Protestantism has made inroads on traditional Catholic strongholds.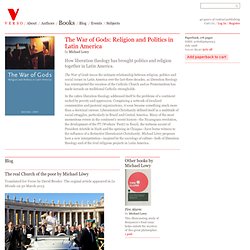 Description
Privatization South American Style: Luigi Manzetti