Amazing Photography
20 Captivating Photographs Take You Back to 1960s New York City. Take a trip back to 1960s New York City without figuring out that darn time machine.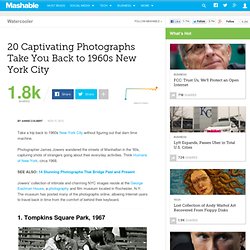 Photographer James Jowers wandered the streets of Manhattan in the '60s, capturing shots of strangers going about their everyday activities. Think Humans of New York, circa 1968. Jowers' collection of intimate and charming NYC images reside at the George Eastman House, a photography and film museum located in Rochester, N.Y. The museum has posted many of the photographs online, allowing Internet users to travel back in time from the comfort of behind their keyboard. 15 Perfectly timed Photos | Coolphoto. Domino chain tours the world - and topples a record-breaking 125,000 bricks in the process. German team sets world records for 'biggest pyramid destroyed' and 'biggest wall destroyed'127,141 bricks toppled over seven minutes in front of cheering crowd By Eddie Wrenn Published: 10:04 GMT, 27 August 2012 | Updated: 11:29 GMT, 27 August 2012 Domino enthusiasts took a grand tour of the world as they demolished 125,000 little bricks in a bid to set three Guinness World Records.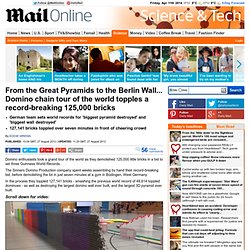 10 funny street artworks. Milky_way_sky-1920x1200.jpg (JPEG Image, 1920 × 1200 pixels) - Scaled (72. Pictures of Moments Speak More than Thousand Words...... Picture can speak thousands of words.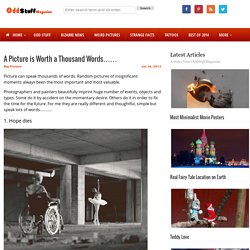 Random pictures of insignificant moments always been the most important and most valuable. Photographers and painters beautifully imprint huge number of events, objects and types. Some do it by accident on the momentary desire. Stefano Unterthiner Photography : Animals Face to Face. Woman takes lion for a walk photo. Random photo Submit your photo Stumble Thru animal photography, people photography Tags: lion.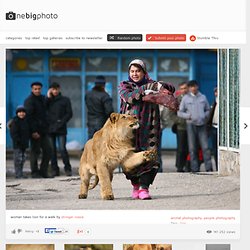 National Geographic Photo Contest 2011. National Geographic is currently holding its annual photo contest, with the deadline for submissions coming up on November 30.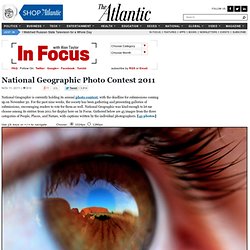 For the past nine weeks, the society has been gathering and presenting galleries of submissions, encouraging readers to vote for them as well. National Geographic was kind enough to let me choose among its entries from 2011 for display here on In Focus. Gathered below are 45 images from the three categories of People, Places, and Nature, with captions written by the individual photographers. [45 photos] Use j/k keys or ←/→ to navigate Choose: Eye Drop. Photos of Sakurajima volcano. 99 Excellent Examples of Forced Perspective Photography | Photography. Forced perspective is a technique that employs optical illusion to make an object appear farther away, closer, larger or smaller than it actually is.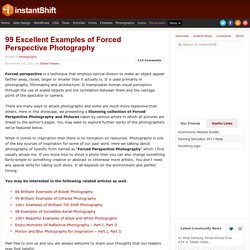 It is used primarily in photography, filmmaking and architecture. It manipulates human visual perception through the use of scaled objects and the correlation between them and the vantage point of the spectator or camera. There are many ways to attack photography and some are much more expensive than others. Here in this showcase, we presenting a Stunning collection of Forced Perspective Photography and Pictures taken by various artists in which all pictures are linked to the author's pages. 21 Images You Won't Believe Aren't Photoshopped (Part 8)
This is the latest edition of our most popular feature, in which we demonstrate that the truth is stranger than Photoshop.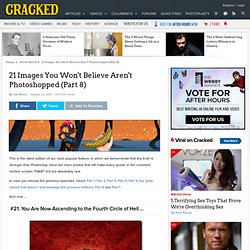 Here are more photos that will make every poster in the comment section scream "FAKE! " but are absolutely real. In case you missed the previous episodes, here's Part 1, Part 2, Part 3, Part 4, Part 5, the gritty reboot that doesn't acknowledge the previous editions, Part 6 and Part 7. And now ... #21. Most popular photography on StumbleUpon! p1070774r800te.jpg (JPEG Image, 800 × 600 pixels) The Top 50 'Pictures of the Day' for 2011. Every day at 5pm the Sifter posts the Picture of the Day.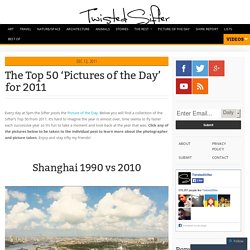 Below you will find a collection of the Sifter's Top 50 from 2011. It's hard to imagine the year is almost over, time seems to fly faster each successive year so it's fun to take a moment and look back at the year that was. Click any of the pictures below to be taken to the individual post to learn more about the photographer and picture taken. Enjoy and stay sifty my friends! SanDiego-CoastlineSunset_01.jpg (JPEG Image, 1024 × 768 pixels) 25 Most Beautiful Animals Photography on StumbleUpon.
Humour / #LOL ! Cute animals. Cute animals. Cute animals.
---