All Things Catholic
An International Work Of Reference On The Constitution, Doctrine, Discipline, And History Of The Catholic Church WELCOME to the home of the largest, most authoritative Catholic Encyclopedia resource on the web. The Catholic Encyclopedia (TCE) was published in 15 volumes between 1907 and 1912 by the Robert Appleton Company. In 1913 the publisher, renamed as Encyclopedia Press, Inc., released a new edition. A year later (1914) a comprehensive Index was released as Volume 16. This Original Catholic Encyclopedia (OCE) site holds the complete 16 volume set with the original text of all articles (~11,500) faithfully preserved.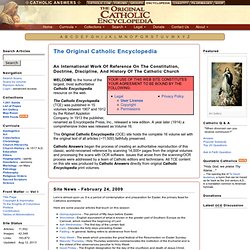 Original Catholic Encyclopedia - Home of the largest Catholic Encyclopedia resource on the web
You've gotta see this Wendy's sign... Here's how the Father of Lies operates... Fr. Dwight Longenecker First the Dark Lord tells everyone that marriage doesn't matter.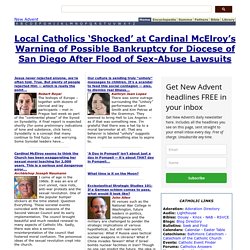 Help further fulfill the promise of the Resurrection by supporting our editorial mission! The Easter season is one of my favorite seasons of the year. It is centered on the pure triumph of the work of Christ on the cross and the glory of His redemptive work on our behalf. While so many people spend their time lamenting the sad state of affairs in the Church and the world, we at the Register work hard to do the opposite.