Alfresco
Index of /jsdoc/share
Community-powered support for Alfresco
Forum Alfresco Francophone • Consulter le sujet - Share dans la version Community 4
alfresco-opencmis-extension - Alfresco OpenCMIS Extension
In Alfresco, aspects are a fundamental concept related to content modeling. Aspects allow the addition of behaviors to existing content types. The CMIS specification does not include aspects in its scope, but it does provide extension points that allow additional functionality.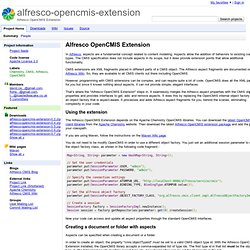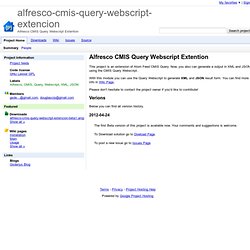 alfresco-cmis-query-webscript-extencion - Alfresco CMIS Query Webscript Extention
This project is an extension of Atom Feed CMIS Query. Now, you also can generate a output in XML and JSON using the CMIS Query Webscript. With this module you can use the Query Webscript to generate XML and JSON result form.
Browse Addons | Alfresco Add-ons Beta
Script console add-on
I was really pleased by the feedback I got when I first talked about Share Extras at Alfresco's Sales Kick-off in Orlando earlier this year, when I showed a few of the initial add-ons. Since then, the list has grown significantly, but I was especially pleased when Peter joined the project and contributed his Google Site News Dashlet and CKEditor Form Control add-ons for Share. For me it marked the point where the project became more than the list of ideas that had been in my head. Now as of last week two contributors have become four, with the addition of two great add-ons from Florian Maul and Romain Guinot. I'm really excited about these both.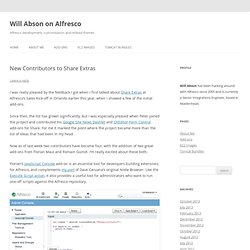 Présentation de Alfresco
Alfresco Software (alfresco) sur Twitter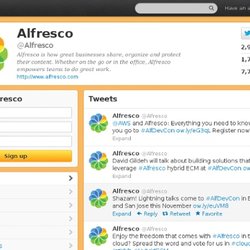 Have an account? Sign in New to Twitter? Join Today » Forgot password?
Alfresco Support (@AlfrescoSupport) sur Twitter
Supported Platforms
Enterprise Support Handbook
Alfresco Software's Presentations on SlideShare
Alfresco Software Presentations
Getting Started with Alfresco in the cloud June 12th, 2012 by Jean Cameron Join Paul Hampton, Alfresco's Director of Product marketing, walk you through a step-by-step tutorial on how to get started with Alfresco's cloud services. Register for this webinar and learn helpful tips and tricks from Alfresco's cloud expert.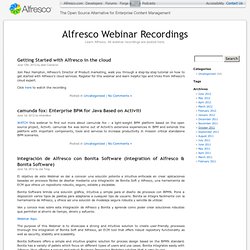 Webcasts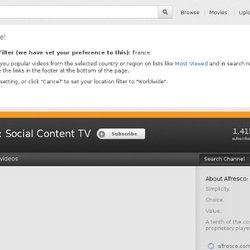 Chaîne de alfresco101
Welcome to YouTube! The location filter shows you popular videos from the selected country or region on lists like Most Viewed and in search results.To change your location filter, please use the links in the footer at the bottom of the page. Click "OK" to accept this setting, or click "Cancel" to set your location filter to "Worldwide".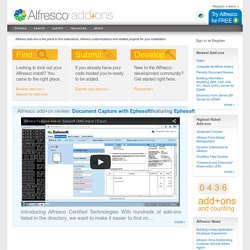 Alfresco add+ons is the place to find customizations, extensions and related projects for your Alfresco installation Looking to trick out your Alfresco install? You came to the right place.
At Alfresco our training curriculum is structured around you and how you use Alfresco. Our courses are delivered in a variety of mediums from self-paced eLearning to full on-site instructor led classes. Whether you are coming to Alfresco for the first time or are in the development and deployment stages of a project, we have you covered.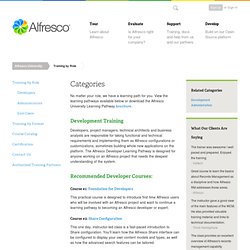 Alfresco Training - Alfresco