Agilité
August 31, 2011 Issues with git-flow I travel all over the place teaching Git to people and nearly every class and workshop I've done recently has asked me what I think about git-flow. I always answer that I think that it's great – it has taken a system (Git) that has a million possible workflows and documented a well tested, flexible workflow that works for lots of developers in a fairly straightforward manner. It has become something of a standard so that developers can move between projects or companies and be familiar with this standardized workflow.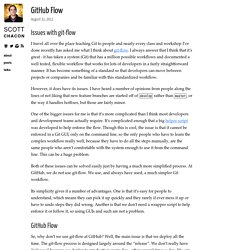 Git - Book
Si vous devez configurer un dépôt privé et que vous désirez faire ça localement, plutôt que d'utiliser un hébergeur, vous avez plusieurs solutions. Accéder au dépôt par SSH En général, la solution la plus simple est d'utiliser simplement Git à travers ssh. Si les utilisateurs ont déjà des comptes ssh sur le serveur, vous pouvez placer le dépôt git n'importe où dans le système auquel ils ont accès et les laisser accéder à ce dépôt grâce à une simple connexion ssh.
Git Book - Configurer un dépôt privé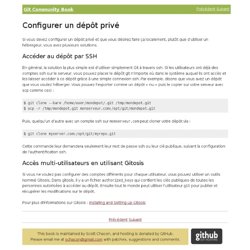 Open and Democratic Project Management
scrumpy #2 : Scrum par Claude Aubry on Vimeo
AgileSoup
1 Introduction 1.1 Objectifs de ce document Ce document a pour objectif de servir d'aide-mémoire et de support de formation succinct au logiciel de contrôle de versions Subversion1. 1.2 Qu'est-ce que Subversion ?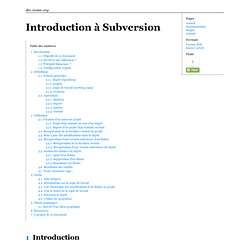 Pomodoro | Pomodoro
Features | iceScrum
Scrumy