Zambia
Zambian president steps aside as 'King Cobra' takes reins. Zambia's newly-elected President Michael Sata (right) was sworn in on Friday.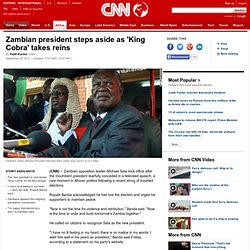 The new president is nicknamed "King Cobra" for his fiery tongue"I have no ill feeling in my heart ... I wish him well," Rupiah Banda says Zambians applaud the outgoing president's concession"I'm happy that democracy won," a Zambian says (CNN) -- Zambian opposition leader Michael Sata took office after the incumbent president tearfully conceded in a televised speech, a rare moment in African politics following a recent string of troubled elections. Rupiah Banda acknowledged he had lost the election and urged his supporters to maintain peace. Zambia Tells Foreign Miners Not to 'Lose Sleep' Over Investments. Foreign miners in Zambia shouldn't "lose sleep" about their investments because newly elected President Michael Sata won't change mining and tax laws without consulting them, his party said today.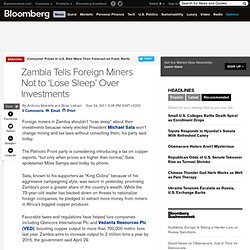 The Patriotic Front party is considering introducing a tax on copper exports, "but only when prices are higher than normal," Sata spokesman Miles Sampa said today by phone. Sata, known to his supporters as "King Cobra" because of his aggressive campaigning style, was sworn in yesterday, promising Zambia's poor a greater share of the country's wealth. While the 73-year-old leader has backed down on threats to nationalize foreign companies, he pledged to extract more money from miners in Africa's biggest copper producer. Favorable taxes and regulations have helped lure companies including Glencore International Plc and Vedanta Resources Plc (VED), boosting copper output to more than 700,000 metric tons last year. US concerns on rule of law in Zimbabwe | Nehanda Radio.
The United States Government takes note of recent judicial verdicts and sentences holding accountable the perpetrators of political violence in 2008 and 2009.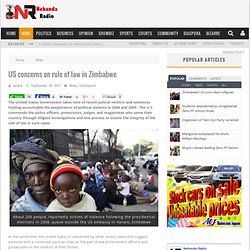 The U.S. commends the police officers, prosecutors, judges, and magistrates who serve their country through diligent investigations and due process to ensure the integrity of the rule of law in such cases. About 200 people, reportedly victims of violence following the presidential elections in 2008, queue outside the US embassy in Harare, Zimbabwe. West's Zambian election coverage shows anti-China bias. In Africa, an Election Reveals Skepticism of Chinese Involvement - Howard W. French - International. Zambians have voted out president seen as closely aligned with China, which has sent thousands of workers and managers here and to other Sub-Saharan countries Chinese President Hu Jintao inspects a Zambian guard of honour on arrival at Lusaka International Airport in Zambia / Reuters On the eve of Zambia's presidential elections last week, one of the most common tropes about the vote was to describe it as a referendum on China.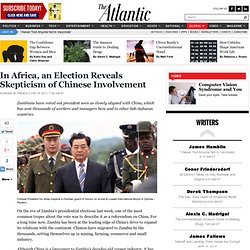 For a long time now, Zambia has been at the leading edge of China's drive to expand its relations with the continent. Chinese have migrated to Zambia by the thousands, setting themselves up in mining, farming, commerce and small industry. Sunday Opinion: Lessons for Zim from Zambia poll. Tanzania and Illusions of Economic Sovereignty. In 1968, Julius Nyerere, the first President of the emerging Tanzanian state, wrote a series of essays entitled Uhuru na Ujamaa or Freedom and Socialism that articulated a distinct vision of African socialism.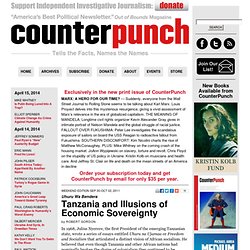 He believed that even though Tanzania and other African nations had nominally broken the chains of colonialism they continued to be shackled by economic policies that limited their ability to achieve full liberation. He argued that traditional African villages organized around an extended family structure had existed prior to colonialism and would provide an effective model for economic organization after it had been eroded.
---