Regional Organizations
African Development Bank AfDB
Home: MFW4A - Making Finance Work for Africa
Internet Library Sub-Saharan Africa
Commission de la Communauté Economique et Monétaire de l'Afrique Centrale (CEMAC)
The Food, Agriculture and Natural Resources (FANR) Directorate of the Southern African Development Community (SADC) Secretariat is tasked with the coordination and harmonisation of agricultural policies and programmes in the SADC region, in line with priorities in the Regional Indicative Strategic Development Plan (RISDP). In order to deliver on its programmes within the areas of Agriculture, Natural Resources and Environment, the Food, Agriculture and Natural Resources is coordinated through the following technical units: Reporting The Food, Agriculture and Natural Resources Directorate is located within the portfolio of the Deputy Executive Secretary: Regional Integration.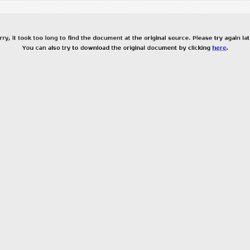 www.sadc.int/fanr/agricresearch/icart/inforesources/SADC-ARD-Directory-Apr09.pdf
Background In 2011, the International Communication Union (ITU) launched the "Girls and ICT Day" to celebrate girls' interests and strengths in Information and Communication Technologies (ICTs), and to encourage them to choose a career in this area. Since then, it is being celebrated on the 4th Thursday in April, through different events organised globally.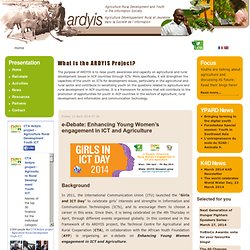 Welcome to the Ardyis project
Community of Sahel-Saharan States
East African Community - Kenya, Uganda, Tanzania, Rwanda, Burundi
African Ministerial Council on Science and Technology
Our Mission To disseminate ICTP scientific contents and programmes throughout the world, via information and communication tools, to more people than are able to visit the Centre. Digital Lectures
Science Dissemination Unit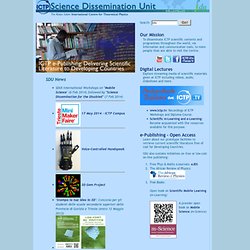 ESAAMLG - Home -
SARUA
The South African LED Network | Networking practitioners developing local economies
Organisation InterAfricaine du Café|InterAfrican Coffee Organisation ::.
Forum for Agricultural Research in Africa