AE TUTS
AETuts + Premium - Rope Bounce - Tutorial
After Effects - CGMOTIONBOX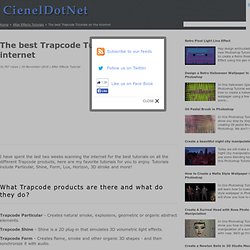 32,767 views | 16-November-2010 | After Effects Tutorial I have spent the last two weeks scanning the internet for the best tutorials on all the different Trapcode products, here are my favorite tutorials for you to enjoy. Tutorials include Particular, Shine, Form, Lux, Horizon, 3D stroke and more!
After Effects Tutorial - The best Trapcode Tutorials on the internet
This is by no means all the keyboard shortcuts in After Effects, but if you're new to the application these are the most important ones to learn. Click on the image below to grab them as an easy-to-print PDF. If you're looking for the full list of keyboard shortcuts, click here. I've spent a lot of time recently creating the latest version of KinectToPin's UI Panel for After Effects. It has a ton of great new features, and makes things a lot easier to use.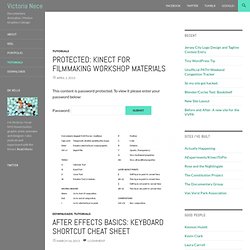 Tutorials | Victoria Nece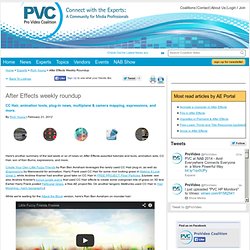 Here's another summary of the last week or so of news on After Effects-assorted tutorials and tools, animation aids, CC Hair, son of Ken Burns, expressions, and more. Create Your Own Little Fuzzy Friends by Ran Ben Avraham leverages the rarely used CC Hair plug-in, as well as iExpressions by Mamoworld for animation. Harry Frank used CC Hair for some nice looking grass in Making It Look Great 3, while Andrew Kramer had another good take on CC Hair in FREE PROJECT: Fiber Particles. [Update: see also Andrew Kramer's bonus jungle scene that used CC Hair effects to create some overgrown bits of grass on 3D text.
AE Portal by Rich Young
After Effects Tutorials | Free After Effects Tutorials | Free Photoshop Tutorials | Free Flash Tutorials | Free Illustrator Tutorials | Forging Fire Studio
Kola Blog : des vidéos de formation gratuites sur le motion design
Scripts
BatchFrame.com - A Motion Graphics and Visual Effects Resource | After Effects Templates | HD Stock Footage
Formations vidéo en ligne et en DVD pour les logiciels Adobe, Open Source, Microsoft - video2brain
TUTO
Mamo World - Tutorials
fx phd
MotionWorks
Mattrunks
graymachine
Stephen Schleicher
VIDEO COPILOT
All Bets Are Off Productions
ayato@web
FILM MAKER.com
Aetuts+
GreyScale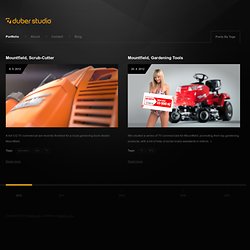 duber
Mountfield, Scrub-Cutter A full CG TV commercial we recently finished for a local gardening tools dealer, Mountfield. Read more
maltaannon.com | Free Adobe After Effects and Production Studio Video Tutorials
an After Effects Portal