AE TUTS
AETuts + Premium - Rope Bounce - Tutorial. After Effects. After Effects Tutorial - The best Trapcode Tutorials on the internet. 32,767 views | 16-November-2010 | After Effects Tutorial I have spent the last two weeks scanning the internet for the best tutorials on all the different Trapcode products, here are my favorite tutorials for you to enjoy.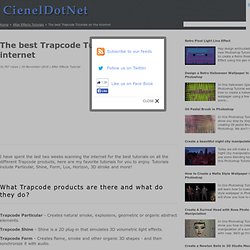 Tutorials include Particular, Shine, Form, Lux, Horizon, 3D stroke and more! Tutorials | Victoria Nece. This FAQ's a bit out of date.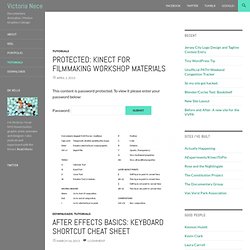 Check out the new KinectToPin website for the latest version of the software and how to use it — it's dramatically easier now. It's been pretty incredible seeing KinectToPin generate interest all over the world, but I've also had a lot of feedback about how difficult and frustrating it is to get it working. One of my big priorities right now is to find ways to make that easier. But in the meantime, here's some additional helpful information: AE Portal by Rich Young. Here's another summary of the last week or so of news on After Effects-assorted tutorials and tools, animation aids, CC Hair, son of Ken Burns, expressions, and more.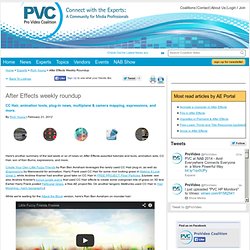 Create Your Own Little Fuzzy Friends by Ran Ben Avraham leverages the rarely used CC Hair plug-in, as well as iExpressions by Mamoworld for animation. Harry Frank used CC Hair for some nice looking grass in Making It Look Great 3, while Andrew Kramer had another good take on CC Hair in FREE PROJECT: Fiber Particles. [Update: see also Andrew Kramer's bonus jungle scene that used CC Hair effects to create some overgrown bits of grass on 3D text.
After Effects Tutorials | Free After Effects Tutorials | Free Photoshop Tutorials | Free Flash Tutorials | Free Illustrator Tutorials | Forging Fire Studio. Kola Blog : des vidéos de formation gratuites sur le motion design. Scripts. BatchFrame.com - A Motion Graphics and Visual Effects Resource | After Effects Templates | HD Stock Footage. Formations vidéo en ligne et en DVD pour les logiciels Adobe, Open Source, Microsoft - video2brain. TUTO. Mamo World - Tutorials. Fx phd. MotionWorks. Mattrunks. Graymachine. Stephen Schleicher. VIDEO COPILOT. All Bets Are Off Productions. Ayato@web. FILM MAKER.com. Aetuts+ GreyScale. Congratulations to Michael Rinnan for winning the Five Second Project for March.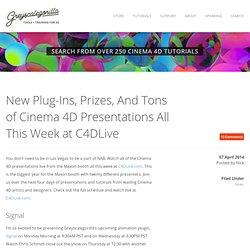 His entry had a great concept and was outfitted with excellent lighting, atmosphere, camera movements and sound design. We wanted to know a little bit more about Michael's entry, so we asked him a few questions regarding his workflow and the process for creating his winning piece. Where do you work? Duber. Mountfield, Scrub-Cutter A full CG TV commercial we recently finished for a local gardening tools dealer, Mountfield.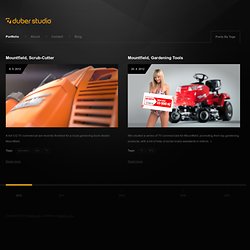 Read more. Maltaannon.com | Free Adobe After Effects and Production Studio Video Tutorials. An After Effects Portal.
---