Presets
Topaz Fusion Express - Bring it All Together. Benefits Topaz Fusion Express allows you to do more of your image enhancement work in a centralized location and eliminates the need for tediously exporting and importing images to Photoshop.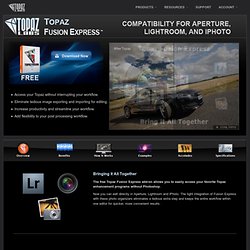 In addition, Fusion Express allows users who do not have Photoshop to still enjoy the use of Photoshop plug-ins. Convenience. When you combine Fusion Express with any of the compatible Topaz plug-ins you gain instant access to your image enhancement tools. Lightroom 2′s Creative Presets | Serious Amateur Photography. Adobe's Lightroom 2 comes with some really high quality creative "presets" that are a great way to create a custom look for a series of images like the ones I displayed in my previous post entitled Life in 1830's Texas.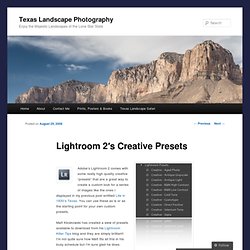 You can use these as is or as the starting point for your own custom presets. Matt Kloskowski has created a slew of presets available to download from his Lightroom Killer Tips blog and they are simply brilliant! Lightroom presets for photographers. PresetsHeaven | Your source to free Lightroom presets (Build 201. 22 Free Lightroom Preset Sources | Rule of Thirds Photography. Lightroom Loves Presets!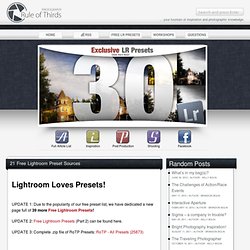 UPDATE 1: Due to the popularity of our free preset list, we have dedicated a new page full of 39 more Free Lightroom Presets! UPDATE 2: Free Lightroom Presets (Part 2) can be found here. UPDATE 3: Complete .zip file of RoTP Presets: RoTP - All Presets (25873) Adobe Lightroom is so powerful that often times you can get away without editing your image in Photoshop! Lightroom Presets. The Ultimate Free List. The power of presets.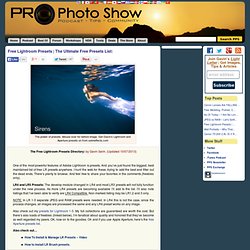 Mouse over for before image. Get Gavin's Lightroom and Aperture presets on from seimeffects.com. Free Lightroom Presets | Rule of Thirds Photography. The Joy of Lightroom Presets Posting & Finding Free Lightroom Presets If you have your own free presets, feel free to comment with a link and we will get you up on the list!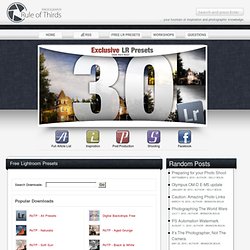 In the mean time, feel free to browse through our growing collection from around the world. If you previously found this page off our old post, you will find this list to be much more extensive… with 37 free presets and counting, there ought to be at least one source with your name on it! Inside Lightroom » Colour Presets. Colour Presets are general colour effects, sometimes to mimic photographic styles, sometimes to mimic effects produced by other software or picture styles.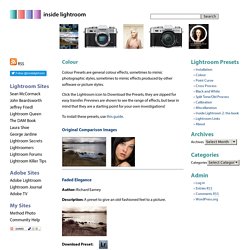 Click the Lightroom icon to Download the Presets, they are zipped for easy transfer. Previews are shown to see the range of effects, but bear in mind that they are a starting point for your own investigations! To install these presets, use this guide. Lightroom Develop Presets. Featured Farewell to Sutro Creative Lightroom preset emulating look & feel of Instagram 1.x's Sutro filter.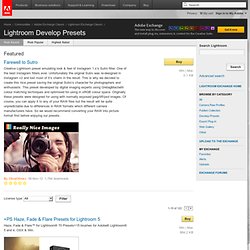 One of the best Instagram filters ever.
---