Everything_Else
Photo Tints Overlay Set contains eleven differently colored overlay tints and one frame (PNG), each overlay measures 2600 X 2000 pixels in size. The tints are meant to alter your photos and give them a colored somewhat vintage feel, and the white frame (PNG) is meant to give the outer perimeters a soft white transparent feel. Don't be afraid to use more than one overlay per image, actually it's best to use two or more to give color and contrast to your images. Hope these can be of some small use to you.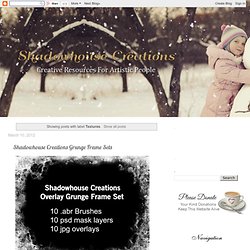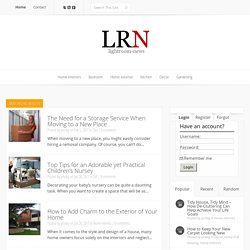 February 19, 2011 – The Turning Gate has released the next major update to its gallery indexing plugin for Lightroom's Web module, TTG Auto Index CE. TTG Auto Index CE creates a self-populating table of contents of your image galleries, a gallery index. You upload a gallery, the index adds an entry automatically. Organizing your image galleries, and keeping your website up-to-date with your latest image collections is easy with TTG Auto Index CE.
Fix it in 90 seconds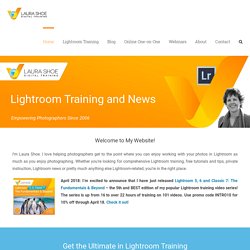 The recording from my March "Developing Photos in Lightroom" webinar is now available to view for free! It will be available for one week, through Thursday, April 3 only. By popular demand, I have extended how long this webinar will be available! Watch as I develop photos in Lightroom in this free webinar.
Lightroom Brasil
Lightroom Forums: Index (Build 20100115144158)
Adobe TV | What's New in Lightroom 3 beta
Alltop - Top Lightroom News
Lightroom Blog is pretty old now, and there's been a lot of topics, tips and tutorials posted and linked. It's funny how the same tips get repeated throughout the net as new stuff, but is still old material being rehashed or rewritten. Sometimes an author is all about a particular nugget of workflow, while others are against it. Neither are right, or wrong for that matter, it's just opinion, and the only way the user can decide is by thoughtful application.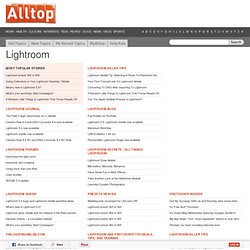 Today . . . design something beautiful Do you love (or just need to know) graphic design? At Before & After, you'll learn how to design Web pages, brochures, presentations, logos, ads, business cards, magazines, business documents, posters, and more — Watch Read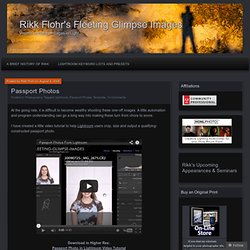 Passport Photos
At the going rate, it is difficult to become wealthy shooting these one-off images. A little automation and program understanding can go a long way into making these turn from chore to snore. I have created a little video tutorial to help Lightroom users crop, size and output a qualifying-constructed passport photo.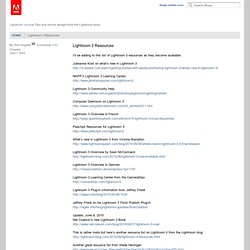 Lightroom 3 Resources - Lightroom Journal
blogs.adobe.com Lightroom Journal Tips and advice straight from the Lightroom team. HOME > Lightroom 3 Resources Lightroom 3 Resources I'll be adding to this list of Lightroom 3 resources as they become available:
The Image-Space Lightroom Resource | Lightroom Tips Tricks | Lan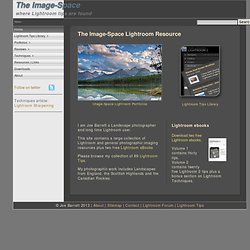 I am Joe Barrett a Landscape photographer and long time Lightroom user. This site contains a large collection of Lightroom and general photographic imaging resources plus two free Lightroom eBooks Please browse my collection of 89 Lightroom Tips. My photographic work includes Landscapes from England, the Scottish Highlands and the Canadian Rockies. Download two free Lightroom ebooks.
With new releases in RAW processing software, I decided to take a look at the newest professional programs and see how they measure up in terms of image quality, features, UI and speed. The results will surprise you. The latest RAW converters preview for 2013 is now available. Read it!
RAW deathmatch – Lightroom 3 vs DXO 6 vs Capture One 5 vs Bibble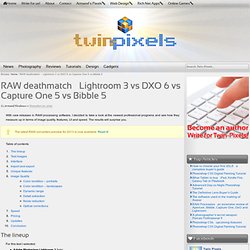 Tutorial 1 : l'outil de suppression des tons directs par Gilles Théophile Tutorial 2 : les copies virtuelles par Gilles Théophile Tutorial 3 : correction des yeux rouges par Gilles Théophile Tutorial 4 : la sauvegarde par Gilles Théophile Tutorial 5 : Les principaux correctifs de Lightroom 1.2 par Gilles Théophile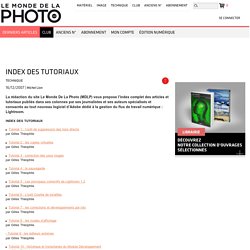 Share this Episode Adjust your embed size below, then copy and paste the embed code above Community Translation Your transcript request has been submitted. Adobe TV does its best to accommodate transcript requests.
What's New in Lightroom 3 beta
image, workflow, technology, business (Build 20100115144158)