NonProfit Management & Public Administration Associations
Why Creativity is the Underestimated Superpower of the Nonprofit World. Creativity is an under-celebrated superpower.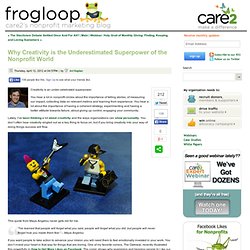 You hear a lot in nonprofit circles about the importance of telling stories, of measuring our impact, collecting data on relevant metrics and learning from experience. You hear a lot about the importance of having a coherent strategy, experimenting and having a better attitude towards failure, about giving up control, engaging your community. Lately, I've been thinking a lot about creativity and the ways organizations can show personality. MSAE. The Midwest Society of Association Executives (MSAE) is the 'association for associations' in the Midwest.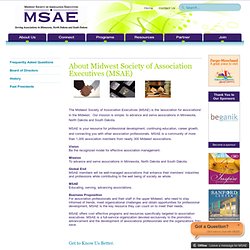 Our mission is simple: to advance and serve associations in Minnesota, North Dakota and South Dakota. MSAE is your resource for professional development, continuing education, career growth, and connecting you with other association professionals. MSAE is a community of more than 1,000 association members from nearly 300 Midwest associations. Vision Be the recognized model for effective association management. ASAE - The Center for Association Leadership. The Society of Government Economists. About PMA - Professional Managers Association. Our Voice for You | Message from the Executive Director | PMA Chapters | Our Sponsors Formed in 1981, by IRS Managers, the Professional Managers Association is a national membership association representing the interests of professional managers, management officials and non-bargaining unit employees in the federal government.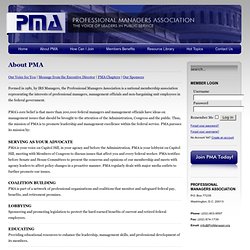 PMA's core belief is that more than 200,000 federal managers and management officials have ideas on management issues that should be brought to the attention of the Administration, Congress and the public. Thus, the mission of PMA is to promote leadership and management excellence within the federal service. PMA pursues its mission by: About Us. Mission To advance the vital role, capacity, and voice of charitable nonprofit organizations through our state and national networks.
Visions for America's nonprofit sectorA nation of sustainable, effective nonprofits that serve the public good by enriching communities and the lives of individuals for the Council of Nonprofits' extended networkA network of nonprofits in every state, served by a State Association that amplifies the voices and builds the capacity of local community-based nonprofits for the National Council of Nonprofits A leading voice for nonprofits and a valuable resource for the State Associations' network, committed to professionalism, teamwork, and learning, and inspired by service to and advocacy for nonprofits.
National Association of State Facilities Administrators (NASFA) Justice Research and Statistics Association. National Academy of Public Administration. Leaders at the Core of Better Communities. Federal Managers Association. Conference of Minority Public Administrators. Council on Foundations. Nonprofit Management & Public Administration Associations.
Educational Sector Focused
Fundraising & Financed Focused. Health-focused. Targeted Demographic Groups. Human Resources Focus. Geography Based. Association for Research on Nonprofit Organizations and Voluntary Action (ARNOVA) The Association for Public Policy Analysis & Managemen. American Society for Public Administration (ASPA) ASPA members can benefit from several presentation opportunities that arise from the association's collaboration with other associations and organizations.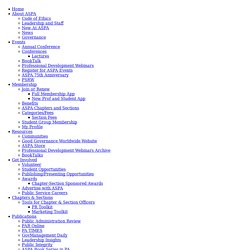 To learn more about the latest call for proposals, upcoming conferences and other presentation opportunities, please return to the ASPA website often or check our Opportunities page. The Young Scholars Workshop will be held in Changchun, China on July 21-24, 2014. This workshop aims to provide young scholars working in public policy, public administration and related fields with an academically rigorous platform for the presentation of research, scholarly exchange and social networking.
The workshop is sponsored by ASPA and Jilin University. To learn more about the workshop, click here. ASAE - The Center for Association Leadership. American Public Works Association. American Evaluation Association. AllianceOnline.
---