ADHD and Diet
How Does Diet Affect Symptoms of ADHD? There is little argument that diet has a contribution in the major diseases of civilization, such as heart disease and type II diabetes.
However, the effect of diet on mental health disorders remains controversial in the conventional circles. I'm not entirely clear why, as it has been known for a decade or more that different kinds of inflammation mediate both metabolic syndrome and the depressive disorders and schizophrenia . It seems logical to me to look for dietary or environmental insults that would predispose one to develop these disorders, and not just in fringe journals, or Australia . But then, I also think it is logical that our immune systems are responsible for heart disease and high cholesterol, not that our livers (in a desperate effort to do us in) mastermind the release of cholesterol into the bloodstream to clog our arteries like an old sock dropped into the disposal. Study: Diet May Help ADHD Kids More Than Drugs. Hide captionAccording to Dr.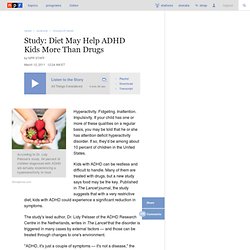 Lidy Pelsser's study, 64 percent of children diagnosed with ADHD are actually experiencing a hypersensitivity to food. iStockphoto.com Hyperactivity. Fidgeting. ADHD Diet. We encourage you to check out Native Remedies, Focus Formula, a natural ADHD remedy.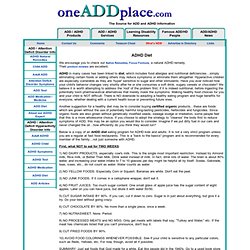 Their product reviews are excellent. ADHD in many cases has been linked to diet, which includes food allergies and nutritional deficiencies…simply eliminating certain foods or adding others may reduce symptoms or eliminate them altogether. The Feingold Diet Program for ADHD. Adhd And Diet | A Closer Look: Diet's role in treating ADHD debated. Kids with attention deficit hyperactivity disorder, or ADHD, are normally treated with behavioral therapy and stimulant medications.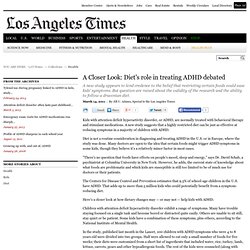 A new study suggests that a highly restricted diet can be just as effective at reducing symptoms in a majority of children with ADHD. Diet is not a routine consideration in diagnosing and treating ADHD in the U.S. or in Europe, where the study was done. Many doctors are open to the idea that certain foods might trigger ADHD symptoms in some kids, though they believe it's a relatively minor factor in most cases.
---