Aventure Adele historique (aah)
Adele shot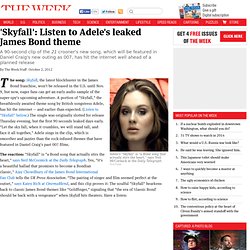 Adele's "Skyfall" is "a Bond song that actually stirs the heart," says Neil McCormick at the Daily Telegraph. YouTube he song: Skyfall , the latest blockbuster in the James Bond franchise, won't be released in the U.S. until Nov. 9, but now, eager fans can get an early audio sample of the super-spy's upcoming adventure. A portion of "Skyfall," the breathlessly awaited theme song by British songstress Adele, has hit the internet — and earlier than expected. ( Listen to "Skyfall" below. ) The single was originally slotted for release Thursday evening, but the first 90 seconds leaked days early. "Let the sky fall, when it crumbles, we will stand tall, and face it all together," Adele sings in the clip, which is smoother and jazzier than the rock-infused themes that have featured in Daniel Craig's past 007 films.
skyfall' (Adele)
Adele rolling
Exactly three years after the release of her acclaimed debut album 19 , which rocketed right to the top of the UK's album chart in January 2008, Adele is giving us a taste of her new album, scheduled for release on 24 January 2011 in the UK and 22 February in the US. The first single to be taken off 21 (yes, the title is again a reference to her age) is "Rolling In The Deep", a bluesy gospel tune that's already getting a lot of blog love. To buid on the hype factor, the track has been remixed by Jamie from The XX and Belgian electro-disco trio Villa.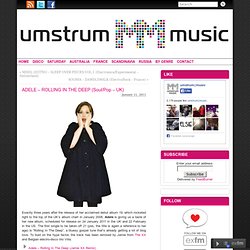 Adele seule
Née le 5 mai 1988 à Londres, Adele Laurie Blue Adkins, alias Adele, grandit dans le quartier de Brixton, élevée par sa mère. Pas vraiment intéressée par l'école, elle préfère passer ses journées à chanter, notamment de la soul. C'est en interprétant le titre « Rise » de Gabrielle durant une fête scolaire que la jeune femme décide de son avenir : faire carrière dans la chanson. Elève à la Brit School, qui a vu défiler Amy Winehouse , Katie Melua et Kate Nash , Adele en sort diplômée en 2006. Du haut de ses 19 ans, la jeune femme fait déjà le spectacle à elle seule, et lorsque se fait sa voix, l'assistance ne peut que confirmer l'affirmation de la chanteuse qui sait pertinemment qu'elle n'a pas sa place au sein d'un groupe : « J'ai essayé de chanter dans des groupes, mais sans succès.
Adele critic's choice