Studying with ADHD
Coaching Students with Executive Skills Deficits. "Dawson and Guare are to be congratulated for writing such a readable yet scientifically rigorous manual that will be invaluable to teachers, counselors, and school psychologists who work with students with executive skills deficits.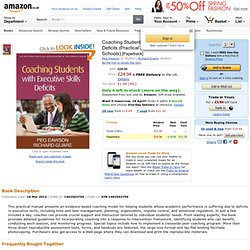 The book is illustrated with fascinating case examples that will be all too familiar to teachers who have struggled to find ways of helping students to reach their potential. It provides constructive, step-by-step guidance on what it means to have an executive skills deficit and how to implement an effective coaching program. " - Peter Farrell, University of Manchester, UK "This is a unique and marvelous book that presents a useful coaching model for students with executive skills deficits, including those who have ADHD. It is the most informative, practical guide available on the topic. Succeeding in College with Attention Deficit Disorders. To be honest I never actually managed to read this book from cover to cover.
However, I have found the book to be useful and regularly refer to it when I have questions. The first few chapters of the book, reads like someone's thesis research and may not be all that interesting if you're just looking for useful tips and strategies. However, further into the book one can find some very useful information. For example Chapter 9 looks at the implications of being a post-secondary student with ADD. Learning outside the Lines: Amazon.co.uk: Jonathan Mooney. Jon and David's book is targeted for college students with learning disabilities and/or ADHD.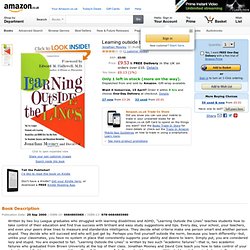 However, the study tips and pointers would be useful for ANY high school student, college student and for most graduate students. The book begins with the personal stories of the two authors - both kids with a lot of problems who went on to transfer to Brown University and succeed despite all odds. Jon had severe dyslexia and didn't even learn to read until he was 12 years old. He tells the story of poignant struggles in grade school and high school that left his self-confidence in shambles. David tells a harrowing story of school and self-control difficulties that led to heavy drug use and dropping out of high school when he was 15. ADD and the College Student: A Guide for High School and College Students with Attention Deficit Disorder: Amazon.co.uk: Patricia O. Quinn. Survival Guide for College Students with ADHD or LD: Amazon.co.uk: Kathleen G. Nadeau.
Coaching College Students with AD/HD: Issues and Answers. The book is written by a pediatrician (Quinn), a coach (Ratey) and a PhD (Maitland).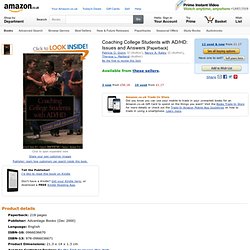 The book is filled with very practical explanations and coaching suggestions and would deserve a raving 4 stars if it weren't for Chapter 6 (Social Skills) and it would deserve even 5 stars if it wouldn't constantly invite the coach to teach the person with ADHD to rely on others and their help. Let's see why I gave it 3 stars. College Confidence with ADD: The Ultimate Success Manual. It's rare that a book comes along that touches your heart while helping you relate to specific problems.
College Confidence with ADD is one such book. Written from the heart, Michael Sandler doesn't preach, but instead shares with you the hurdles involved in succeeding with ADHD, or any learning disability for that matter, how he personally overcame his challenges, and ways you too can succeed. It's really two books in one...the first, a personal account of overcoming challenges, succeeding with a 'disability', and as Michael puts it, and shares through his own story, turning 'challenges into opportunities'. It's a beautiful book written from the heart sharing his touching stories. The second book is a how-to guide on overcoming almost every challenge imaginable, and succeeding in school or in life today. Making the Grade with ADD: A Student's Guide to Succeeding in College with Attention Deficit Disorder: Amazon.co.uk: Stephanie Sarkis. Making it through three or four years of undergraduate study is a challenge.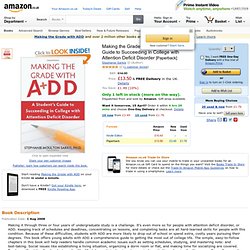 It's even more so for people with attention deficit disorder, or ADD. Keeping track of schedules and deadlines, concentrating on lessons, and completing tasks are all hard-learned skills for people with this condition.
---