Blogs
Blog | Edge ADHD Coaching
Predictable Solutions For ADHD Medications If you or your loved ones suffer with any misunderstandings about ADHD medication treatment strategies, don't be surprised, you're in the majority, not the minority. ... Read more → ADHD – The Galileo Moment The pervasive, unmentionable problem: too many write for meds without any training on the reality of diagnosis or treatment specifics for ADHD, thinking that labels provided sufficient maps for mind travel. Galileo would not approve....
CorePsych Blog | Dr Charles Parker - Brain and Body Neuroscience Measurements Improve Psychiatric Consultation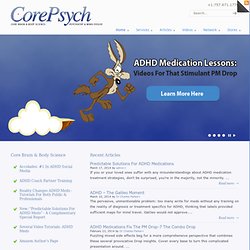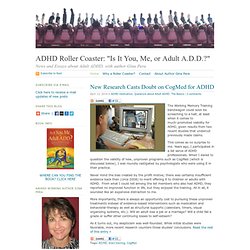 ADHD Roller Coaster: "Is It You, Me, or Adult A.D.D.?" · News and Essays about Adult ADHD, with author Gina Pera
It's unsettling, at best, this idea that you might not notice the return of ADHD symptoms when you decide to stop medication. But it's more common than most people realize. A friend wrote to me last week, marveling at the difference in a co-worker's job performance on medication and off medication. The co-worker didn't seem to notice mounting problems at work, but the evidence was all there in black and white. Here is my friend's account:
I'm leaving my desk job but I am NOT leaving the world of the working, nor am I going to be joining medical studies seeking adults with ADHD. But I AM giving myself permission to, well, do what I do naturally, which is do like, three things at once at all times. I have spent my whole life fighting this, because of the pressure to figure out what one wants to do when one grows up, and it is often implied that you must be a _________ in order to answer that question. Well I AM going to answer that question. I am an entrepreneur. I am a woman of many hats.
18 Channels - my ADHD colored life...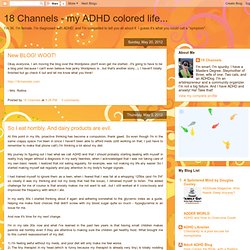 Jeff's ADD Mind