Blogs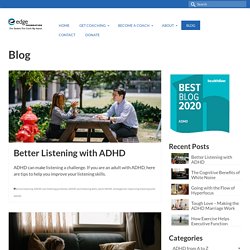 Blog | Edge ADHD Coaching
Last year I wrote of the Law School Admissions Council's (LSAC) practice that discriminates against students with disabilities. LSAC had been flagging their LSAT scores for tests given with accommodations. (One example of common accommodation is providing extended time for completing tests.) LSAC's Discriminatory Practices When providing test results, LSAC's informed law schools that it could not vouch for the validity of any test given with accommodations. LSAC also made applying for accommodations difficult and charges additional fees for providing accommodations that are required by federal law .
CorePsych Blog | Dr Charles Parker - Brain and Body Neuroscience Measurements Improve Psychiatric Consultation
ADHD Roller Coaster: "Is It You, Me, or Adult A.D.D.?" · News and Essays about Adult ADHD, with author Gina Pera
18 Channels - my ADHD colored life...
Jeff's ADD Mind