Blogs
Blog | Edge ADHD Coaching
Predictable Solutions For ADHD Medications If you or your loved ones suffer with any misunderstandings about ADHD medication treatment strategies, don't be surprised, you're in the majority, not the minority. ... Read more → ADHD – The Galileo Moment The pervasive, unmentionable problem: too many write for meds without any training on the reality of diagnosis or treatment specifics for ADHD, thinking that labels provided sufficient maps for mind travel. Galileo would not approve....
CorePsych Blog | Dr Charles Parker - Brain and Body Neuroscience Measurements Improve Psychiatric Consultation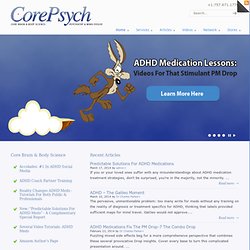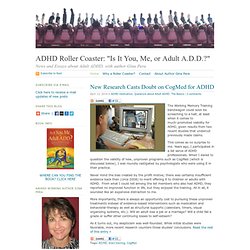 ADHD Roller Coaster: "Is It You, Me, or Adult A.D.D.?" · News and Essays about Adult ADHD, with author Gina Pera
It is impossible to spend even a few minutes with Kay Bone and not be struck by the kindness in her eyes, the intelligence of her words, and the gentleness of her humble manner. To then learn of the tragedy suffered by Kay, her husband Paul, and their extended family—the loss of Sean Bone, who at age 21, impulsively took his life—one is all the more struck by her enduring sweetness, compassion, and generous determination to prevent other families from suffering such a fate. Please consider making a secure donation to the ADDISS fund in his honor, at left. No amount is too small, and you'll have an opportunity to leave a note (anonymous, if you like) in support of ADHD awareness in UK and around the world. I met Kay in March 2009 in London, where we were both speaking at the ADDISS conference on ADHD.
I'm leaving my desk job but I am NOT leaving the world of the working, nor am I going to be joining medical studies seeking adults with ADHD. But I AM giving myself permission to, well, do what I do naturally, which is do like, three things at once at all times. I have spent my whole life fighting this, because of the pressure to figure out what one wants to do when one grows up, and it is often implied that you must be a _________ in order to answer that question. Well I AM going to answer that question. I am an entrepreneur. I am a woman of many hats.
18 Channels - my ADHD colored life...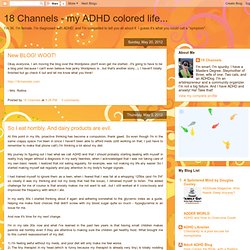 Jeff's ADD Mind