Addiction
Celebs Dead Due to Overdose
High-Dose Methadone Boosts Cardiovascular Risk (Build 20110413222027) Tags: 12 steps. Drug and Alcohol Findings home page. National Institute on Drug Abuse - The Science of Drug Abuse and Addiction. Focus - Nature Neuroscience. Booz&brain - Science of Addiction. The Limbic Lizard The Physiological Basis of Addiction & Understanding how to Defeat Urges and Cravings People begin using alcohol and/or drugs for a variety of reasons.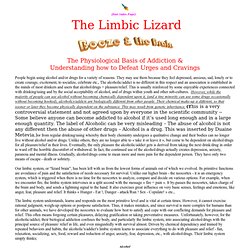 They may use them because they feel depressed, anxious, sad, lonely or to create courage, excitement, to socialize, celebrate etc., The alcoholic/addict is no different in this respect and an association is established in the minds of most drinkers and users that alcohol/drugs = pleasure/relief. This is usually reinforced by some enjoyable experiences connected with drinking/using and by the social acceptability of alcohol, and of drugs within youth and other sub-cultures. The Lizard Brain Addiction Monster.
The Lizard Brain Addiction Monster by A.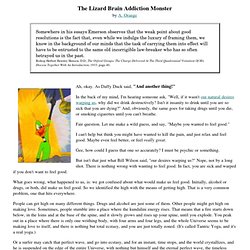 Orange Ah, okay. As Daffy Duck said, "And another thing! " Web of Addictions - What's New. We're Back!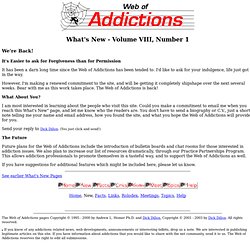 It's Easier to ask for Forgiveness than for Permission It has been a darn long time since the Web of Addictions has been tended to. What makes the 12 steps (and other social support groups) a good part of addiction treatment aftercare? | All About Addiction. University of California, Los Angeles Expectations of 'Recovery' - Changes associated with seeking and entering treatment through an online service-matching system You are asked to participate in a research study conducted by Adi Jaffe, Ph.D. and associates from the Integrated Substance Abuse Programs at the University of California, Los Angeles.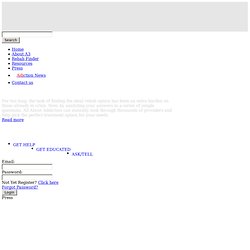 You were selected as a possible participant in this study because of your indication that you are seeking treatment for alcohol or drug dependence or another addictive disorder. Your participation in this research study is voluntary. Addiction as Disease: Policy, Epidemiology, and Treatment Consequences of a Bad Idea. In J.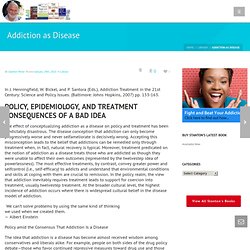 Henningfield, W. Bickel, and P.
Battling Addiction: Are 12 Steps Too Many? This story has been updated from its original version.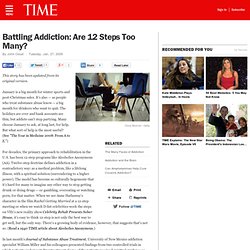 January is a big month for winter sports and post-Christmas sales. It's also — as people who treat substance abuse know — a big month for drinkers who want to quit. The holidays are over and bank accounts are thin, but addicts can't stop partying. Many choose January to ask, at long last, for help. State University - LISTSERV 16.0 - ADDICT-L List at LISTSERV.KENT.EDU. All About Addiction.
---