Actualité
Deux mois avec SarenS, la vidéo est sortie. Reportage : deux mois avec SarenS. DreamHack Winter 2011 - Coverage. [edit] Event Overview DreamHack Winter 2011 was a 64 player StarCraft II tournament held in Jönköping, Sweden.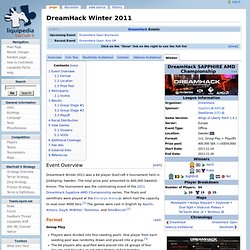 The total prize pool amounted to 400,000 Swedish Kronor. The tournament was the culminating event of the 2011 DreamHack Sapphire AMD Championship series. The finals and semifinals were played at the Kinnarps Arena, which had the capacity to seat over 4000 fans.[1] The games were cast in English by Apollo, Artosis, Day9, MrBitter, Tasteless, and TotalBiscuit.[2] SarenS passe la première phase de poule. Fil info 00h48 : Cette game aura été plus courte que la précédente.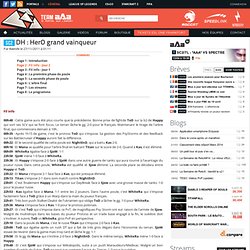 Bonne prise de fightde ToD sur la b2 de Happy qui sort ses SCV qui se font focus. Le terran lâche le gg. 2-0 pour le français. Interview SarenS DH 2011. Starcraft 2 [Actualités], le 24/11/2011 19:55:42 Nouvelle interview de Jack et Spit à la DreamHack 2011.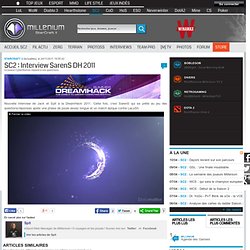 Cette fois, c'est SarenS qui se prête au jeu des questions/réponses après une phase de poule assez longue et un match épique contre LaLuSh. X Fermer la vidé.
---